Dealing with food allergies at school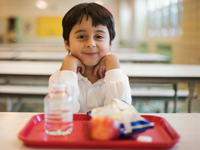 If your child has a life-threatening food allergy, there can be a great deal of apprehension regarding proper allergy management while at school. Le Bonheur allergist/immunologist Jay Lieberman, MD, shares some simple steps to help minimize exposures and reactions to foods.
The Centers for Disease Control and Prevention (CDC) has produced a guide to help parents and schools manage food allergies in the school setting. While the full document is an excellent resource, it can be somewhat dense. Below are some suggestions to help create a safe environment for your child at school. These tips are specific for children with possible life-threatening food allergies, rather than intolerances or food-related disorders.
Inform the school of the exact foods to which your child is allergic.This may sound simple, but it is the obvious first step in minimizing any reactions. School staff may include administration, teachers and lunch workers.
Educate your child as much as possible on acceptable foods.When old enough, your child can be her own best advocate. Many of my patients as young as 3 years old can tell me what they are allergic to and what they can't eat. While relying on a young child to be the only advocate is dangerous, enabling him to understand his food allergy allows him to be safer in all situations.
Understand and educate on the possible signs and symptoms of a reaction. Children, especially younger ones, are not likely to say, "I am having an allergic reaction to peanuts." Therefore, understanding common complaints makes it easier to identify a possible reaction. The CDC provides a list of some common allergic reaction complaints.
Develop a plan for the recognition and appropriate treatment of a reaction. Create a written emergency action plan with the child's name, child's photo, foods to be avoided and a list of symptoms with the recommended treatment (medication name and exact dose). This allows for quick decision making in the event of a reaction and informs anyone involved about which medication to give and when. Examples of action plans can be found here and here.
Visit your child's school and make sure that emergency treatment is readily available at all times. A delay in administration of medication – specifically epinephrine – is associated with more severe outcomes. Therefore, treatments should be easy accessible and readily available. If the medication is locked up and requires a key, make sure that the key is always available – for example, not kept with a single nurse who may be out to lunch. Ideally, medication should be readily available to any school personnel. Provide the medication to the school. Some states are now allowing the school to have a "stock" epinephrine injector that is not specific for a single child. If your school does not allow this, then you should provide an epinephrine auto-injector to the school for your child. This must be updated every school year.
Understand the school policy for administration of medications; knowing the answers to these questions will help you develop a plan for treatment. Does the school allow the child to carry the epinephrine with them? Are teachers allowed to administer the epinephrine? Does a nurse have to administer any medication?
For more information, please read the CDC voluntary guidelines above. In the end, being prepared with a plan of action will allow your child to have a safer school environment and allow you, as a parent, to have more peace of mind.
school