Healthy snacking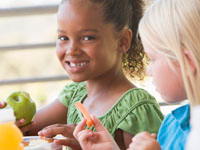 March is National Nutrition Month. So, why not make a commitment to feeding your children (and yourself) a little healthier as we welcome in the spring weather? Making simple swaps at snack time can make an impact on total calorie, sugar, and fat intake. Looking for new snack ideas for your little loved ones? Consider the following suggestions from Le Bonheur Dietitian Katelyn Wolfe, RD.
Do some spring cleaning of your cabinet and fridge to clean out the following snacks high in sugars or fats (or both):
Cupcakes, cookies, snack cakes, donuts, honey buns
Chips, cheese puffs, hot chips, Funyuns
Ramen noodles
Candy
Icees, slushees or regular ice cream
Pizza rolls
Vienna sausages, hot dogs
In place, keep these on hand for snack at home and even on the go. Select one (or a combination) of these snacks that are lower in fats and sugars:
Fresh fruit
Raw veggies with hummus dip or light Ranch
Homemade trail mix with dried cereal, pretzels, nuts and dried fruit
Low-fat or fat-free yogurt or string cheese
Half sandwich with lean lunch meat and veggies
Bowl of whole grain cereal with skim or 1 percent milk
Granola bar
Mini bag of baked chips or pretzels
1-2 cups light popcorn
For older kids and teens, one single snack item may not be enough to satisfy them. If so, pair a couple of healthy snacks together for a more filling effect. For example, a granola bar and a cup of yogurt will usually be more filling than two granola bars.
Parents lead by example. Make sure that your snacking routine reflects healthy eating habits, and your kids are more likely to follow in your footsteps.
nutrition