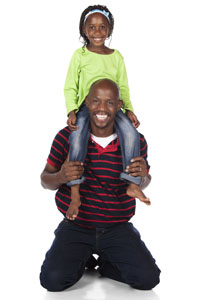 Being a parent is hard work, but it's important to make sure you're being the best you can be for your child. We talked to Jeremy Sanders, program manager of Le Bonheur's Fatherhood Program and a father of two, for tips on being a good dad. Here's what he had to say:
A father should make a commitment to maintain his relationship with his child. And all dads – and moms – can always improve. Parenting is a skill, and you learn as you go. After being a father for 14 years, here are my top 10 tips for other dads:
LOVE. Be sure to tell your child you love him. And show your love, too. It's OK to be affectionate.
Be attached to your children. Be there for your child. Make sure you're accountable and dependable. Your child should know he or she can count on you to be there when they need you the most.
Be concerned with safety. Preventable injuries are the No. 1 cause of death in children. Accidental Make sure your child is safe in and around your home. Safe Kids Mid-South offers good tips creating a safe environment for your child.
Celebrate their mom. Showing your child you care about their mom is important.
Go to their events. There are few better ways to support your child than to go to their sports games, dance lessons and school functions. Show that you're interested in their interests.
Tell them they are GREAT. Boost your child's confidence and build their self-esteem. Make sure they know you are proud.
Show children that you can negotiate differences. Fights and arguments are sure to happen – especially with teens. Hear them out and explain your stance. Your child will appreciate it.
Treat all adult women the way you want your daughter to be treated someday. It's plain and simple.
Be the kind of man you want your daughter to marry and your son to become.
Be the future you want them to have and strive for. Share your successes with your child and be a good role model. There's no better way to inspire your child to succeed and be a productive adult.
If your child's father is not in his or her life, it's OK. There are ways you expose your child to good role models, such as:
Get your child involved with sports. Coaches can be great role models, and sports teach your child discipline and respect.
Connect with local church ministry. Many churches have Big Brother or Little Sister programs that provide excellent role models for your child.
Ask family members that would be willing to be more involved with your child. Have a sibling or father of your own? Ask him to come to your child's sports or school functions. A grandfather, uncle or friend and can be a great, stable person in your child's life.