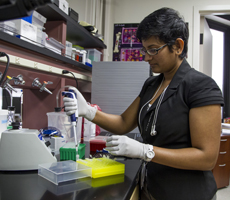 Below are the steps you'll go through with us during the study.
Step 1: Initiation
To request support, complete the online request form. Once the request form has been received, we will coordinate a meeting to discuss the support you will need.
In the initial meeting, we will gather study information, including title, description, study design, study site(s), aims, endpoints, data sources, sample sizes, study duration, data collection period, collaborating investigators, collaborating institutions, etc.
Funding plans will be discussed, including funding source, duration, submission date, budget and grant text (i.e., Data Management Plan) and budget justification.
We will help you determine the appropriate services for your study requirements and budget, such as IT management, data management, study management, analytic support, in-depth guidance and co-investigation.
Following your initial meeting, we will provide a summary report of what was discussed and send it to you and your team for validation. Once confirmed, we will begin working on the data management plan, budget, statement of work and/or service plan.
Step 2: Quote
After confirmation of the summary report, BMIC and BIOSTAT will work with you and your team to determine an appropriate data management plan, including:
Data capture methods and logistics
Best practices and general guidelines
Storage (short- and long-term)
Analysis plan
Possible needs for an informatics Co-I
Resources already available (Le Bonheur/UTHSC)
Budget estimation (for projects targeting funding sources)
Discuss reserving publication rights to informatics work
Estimated cost and timeline for BMIC and BIOSTAT services. Learn about fees for our services.
Step 3: Agreement
Once a data management plan, scope of work and budget have been set, BMIC can start to provide the appropriate text and budget justification for your project/grant. This should include BMIC personnel resources, data-sharing plans, a detailed data management section and other materials to your funding potential.
Step 4: Wait for Funding
Step 5: Implementation
The implementation phase often will require the most attention from you as PI and/or the BMIC's co-investigator (if listed) to ensure that the informatics components are deliverable. This phase includes:
Identifying available resources for the development of your study database
Creating data capture forms
Developing reports to demonstrate study progress and quality measurement
Exporting data into your preferred statistical software package (e.g., R, SAS, SPSS, etc.)
Advising best practices and regular guidelines for protected health information (PHI), HIPAA and FISMA compliance
Step 6: Completion