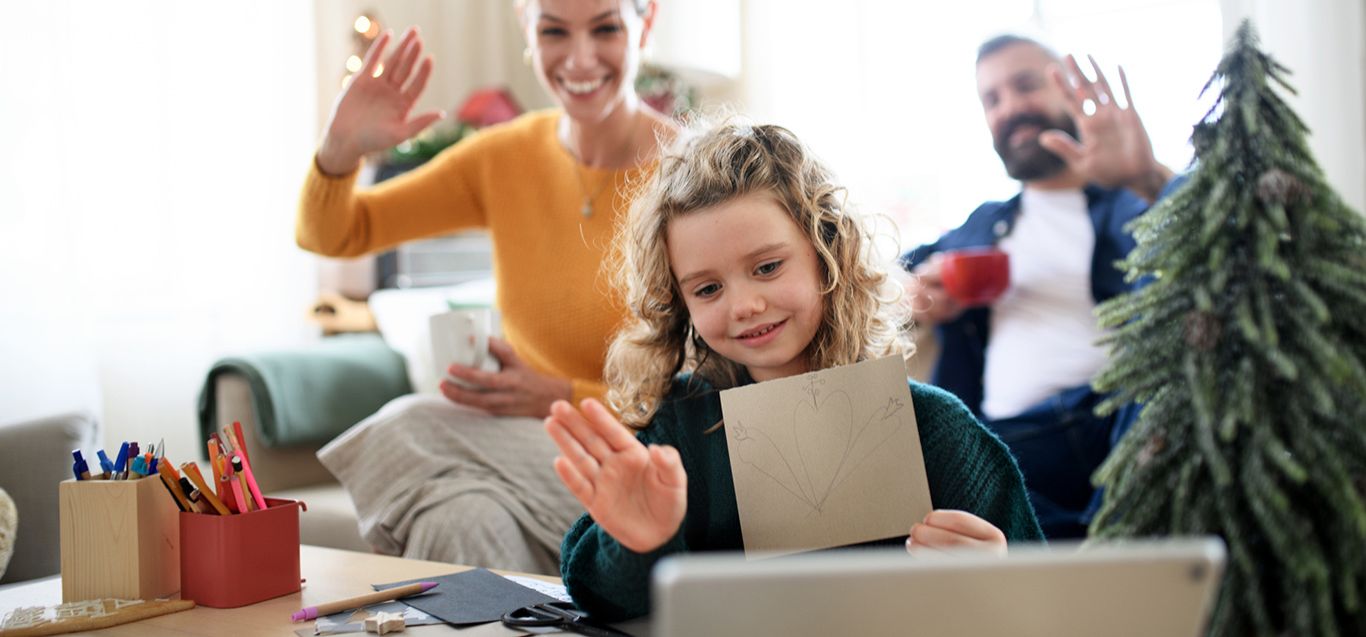 How to help your child prepare for change this holiday season
Posted: November 20, 2020
This year has brought so many changes to our children's lives. School is different, sports are different and socialization has fundamentally changed due to the COVID-19 pandemic. How we celebrate this holiday season will, necessarily, also be different.
The CDC has developed guidelines to help you understand the risk factors that affect the virus spread and help you make the best decisions for you and your loved ones. The American Academy of Pediatrics (AAP) urges parents to learn the risks of mixed household gatherings, but if you do choose to have a gathering with people outside of your household, which increases COVID-19 risk, take steps to help make it safer such as:
Keep the gathering small & short. Keep your guest list as small as possible and reduce the amount of time you would ordinarily visit.
Wear cloth face coverings and keep your distance. People from the same household can sit together, but arrange for those who don't live together to stay 6 feet apart--especially while eating. Remind everyone to wear cloth face coverings whenever they are not eating or drinking.
Open windows & stay outside when possible. If you're indoors, open windows for better ventilation if possible. If weather permits, gather outdoors (think Thanksgiving tailgating!). Consider cooking turkey on the grill or in an outdoor turkey fryer. Remember to maintain physical distance and wear cloth face coverings even outside.
Safer serving. Choose one person to do the serving to avoid everyone touching serving utensils. Remind children to wash their hands often, and keep hand sanitizer easily available.
Remind everyone to follow safety steps beforehand. For two weeks before coming to dinner, ask guests to be sure to follow steps that lower the risk of COVID transmission. This includes wearing cloth face coverings, physical distancing, limiting outings and social gatherings as much as possible, and washing hands often. Consider offering your guests a "self-screening" checklist and ask them to join you virtually rather than in person if they don't pass the screen. (Source: AAP)
Remember that doing things differently can also be great! Instead of focusing on the activities we may have to forego, our pediatric experts recommend having open, honest conversations with children to help them understand why we're celebrating in new ways this year. Here are a few tips to help you prepare:
Start the conversation early
Once you have made your plans for a safe holiday celebration, share them with your children. Ask for their input and see if you can incorporate any of their suggestions into your plans.
Focus on what's most meaningful
Ask your children what their favorite holiday traditions are, and find new ways to accomplish them. Do they love seeing extended family? Plan a special zoom session to connect and share what you are most thankful for. Do your children typically participate in a school or church holiday pageant? Put on a home play with the whole family and record it to share with friends. The AAP suggests focusing on your immediate family and talking about your culture, heritage, values and spiritual beliefs. Cook together​, for example, making favorite family recipes. Many families are doing drop off "pot luck" style meals with friends, families and neighbors – sharing favorite recipes with one another without eating together.
Take steps to de-stress
These are stressful times. This year may provide an opportunity to scale back on some of the activities that might typically cause extra stress on your family. Many families are facing financial hardships that can be exacerbated by the pressure of this "giving" season. Focus on your mental health. Help your children adjust by keeping up with routines during the holiday break, exercise daily, make healthy nutritional choices and get plenty of sleep. If your child's mood or demeanor causes you concern and seems more than a passing feeling, it could be a sign that they need help. Don't hesitate to call your pediatrician with any questions. The AAP offers the following guidance for emotional and behavioral support.