Parents: Why it's important to look at quality scores when choosing a heart program for your child
Posted: February 04, 2019
Each year in the United States an estimated 40,000 parents learn their newborn has a heart defect. The news triggers a whirlwind of critical decisions to be made—and the sooner the better. Does my baby need heart surgery? Who is the best surgeon? Do we need to travel for care, and how will we deal with this financially?
Operating on a heart the size of a walnut requires a team of experts with tremendous skill and experience to support your family through the process. We understand how overwhelming a congenital heart defect (CHD) diagnosis can be. Here are three tips to help you choose the best program for your child.
Learn about the condition, the care your child will need and your hospital choices.
After receiving a complex diagnosis, it's important to take charge of your child's health. Learn as much as you can about the condition and latest treatment options. Ask your current doctor to provide information and referral services, but remember, you are not required to go with the surgeon or hospital that they have recommended. Organizations such as U.S. News & World Report and the Society of Thoracic Surgeons (STS) provide trustworthy information on hospital programs. Looking at programs ranked highly on those lists is a great starting point, but the rarer the condition, the more research you will need to do to determine what center has the best likelihood of helping your child.
Find and compare hospitals based on your findings.
Research shows that not all heart programs are created equal. At Le Bonheur, we measure and track our treatment to improve the care we offer families—and to provide a greater level of transparency about our program. We use the information from STS to compare ourselves to other top programs, and we publish survival rates by procedure on our website. We also publish information on the number of surgeries we perform in our operating rooms, as well as in the heart catheterization lab.
For example, the graph below shows the number of cardiovascular procedures Le Bonheur doctors performed from 2008-2018. The blue bars represent the set of surgeries we perform that do require cardiopulmonary bypass, or a heart-lung machine. The heart-lung machine supports circulation during a part of surgery that requires opening the chambers of the heart.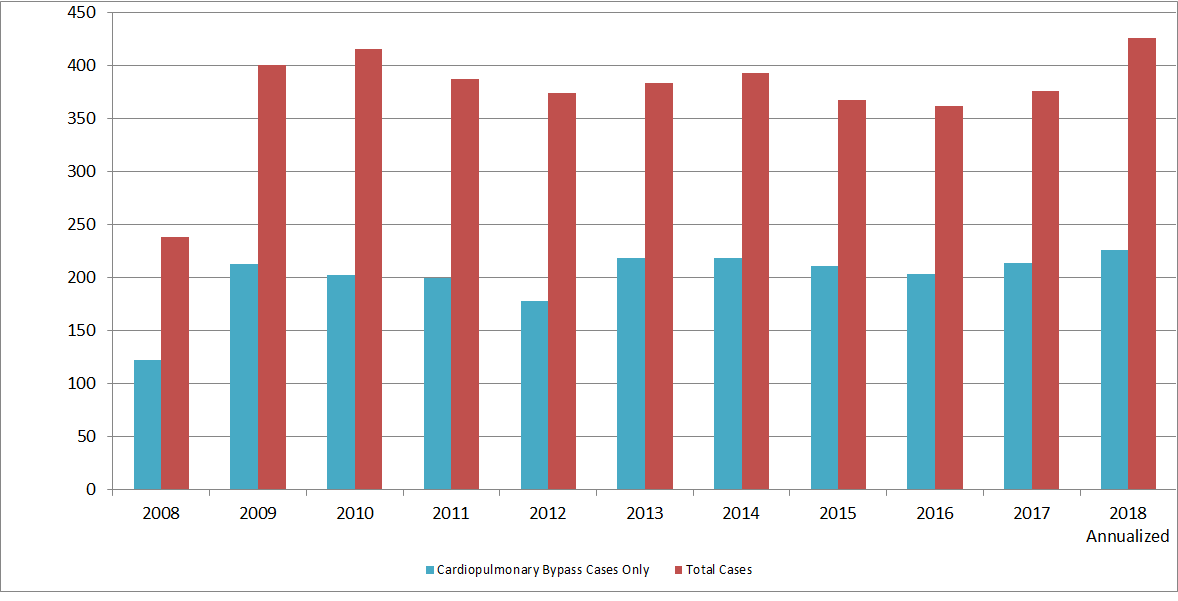 If a program will not provide you quality or outcome information, it is strongly advisable to choose another destination for your child's treatment.
Ask very specific questions, and don't shy away from second opinions.
Once you have learned what your options are, ask your prospective doctors how often they have performed the treatment you are seeking and what the outcomes have been. If your child has a particular condition, such as Down syndrome, find out about the surgeon's experience with other children who have the same condition. Remember that an ethical hospital would never discourage you from getting a second opinion.
"When we went for a second opinion, we had the full support of the staff at Le Bonheur," said Saralyn Crowell, a Le Bonheur heart mom. "Our cardiologist actually helped set up meetings with one of the other centers we went to. That helped us feel better, not only that they were confident enough to send us off but that they cared enough about our emotional wellbeing to send us off so that we could feel good about our decision."
For answers to other questions, such as how to facilitate transfer to a new facility, the importance of a center's own research, options for fetal intervention, and "breaking up" with your doctor in order to go with a second opinion, check out the following Facebook Live Q&A with Le Bonheur cardiologist Vijay Joshi, MD, and heart mom Saralyn Crowell.
Want to learn more about Cardiology at Le Bonheur?
Cardiology
Want to find an appointment for your child?
Call 1-866-870-5570.