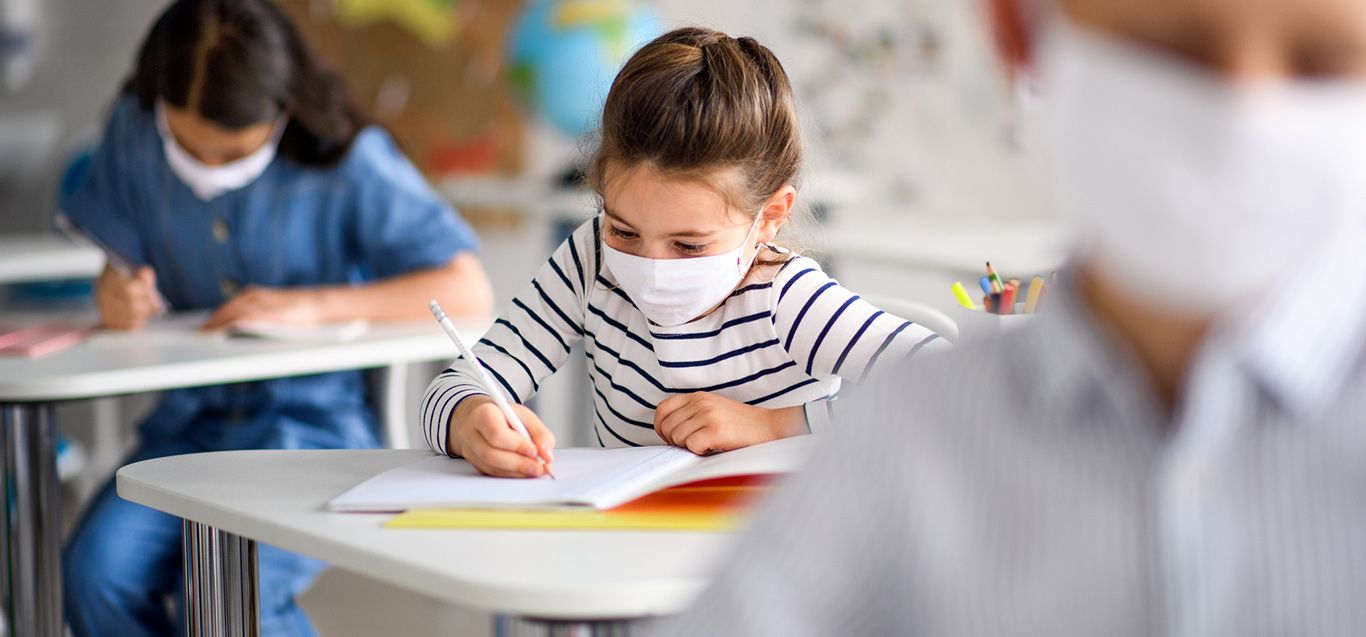 Return to Learning Safely This Fall
Posted: August 11, 2021
Many things have changed in the past year. We continue to learn more about COVID-19 and how it impacts children. Now, we're seeing new variants of the virus pose different risks, and younger people could become more seriously ill. Vaccination is strongly encouraged for those eligible, and masking in and outside of school is important, regardless of vaccination status. Le Bonheur Children's Hospital and the University of Tennessee Health Science Center (UTHSC) worked together to develop guidance to help students, parents, staff and teachers return to the classroom safely for the 2021-2022 school year.
1. Vaccination is strongly encouraged
All eligible staff, faculty and students should get the COVID-19 vaccine.
Vaccinated people do not have to quarantine if they are exposed to COVID-19 and do not have symptoms.
The best way to keep children in school and learning is through vaccination.
Children who are eligible (currently those who are 12 years of age or older) should be fully vaccinated to optimize safety and learning opportunities.
2. Masking and distancing provide an extra layer of protection
All adults, regardless of vaccination status, should wear masks indoors.
Students should be distanced as much as possible from each other to prevent the spread of the virus.

Studies have shown that a distance of 3-feet provides similar protection to distances of 6-feet.

The American Academy of Pediatrics recommends masking for all students in schools.
3. Know the new symptoms
Anyone who has new symptoms that could be consistent with COVID-19 should stay home. This includes students, faculty, and staff.

New, worsening cough
Shortness of breath/difficulty breathing
New loss of taste or smell
Fever (temperature of 100.4°F or greater) or feeling feverish
Sore throat
Muscle aches and pains
Headache
Nasal congestion/runny nose
Nausea/vomiting/diarrhea/abdominal pain

If a child has any of the higher-risk symptoms (fever, cough, shortness of breath, or loss of taste/smell or has two or more of the other symptoms), the child should be seen by a health care provider and tested for COVID-19.
If a child has only one of the lower-risk symptoms (sore throat, headache, muscle aches, headache, congestion, or gastrointestinal symptoms), then he or she should: be kept home for observation or be tested for COVID-19.
Anyone who is a close contact (household contact or within 6 feet for ≥ 15 minutes) of a known COVID-19 case should quarantine at home for up to 10-14 days.
4. Hand hygiene
All individuals must wash and/or sanitize their hands frequently. Hand hygiene should be performed when enter and leaving a classroom, after touching high-touch surfaces like door handles, and before eating meals or snacks.
Handwashing should be done for at least 20 seconds with soap and water.
For more information, including tool kits and protocol updates, visit www.lebonheur.org/coronavirus and www.uthsc.edu/coronavirus.