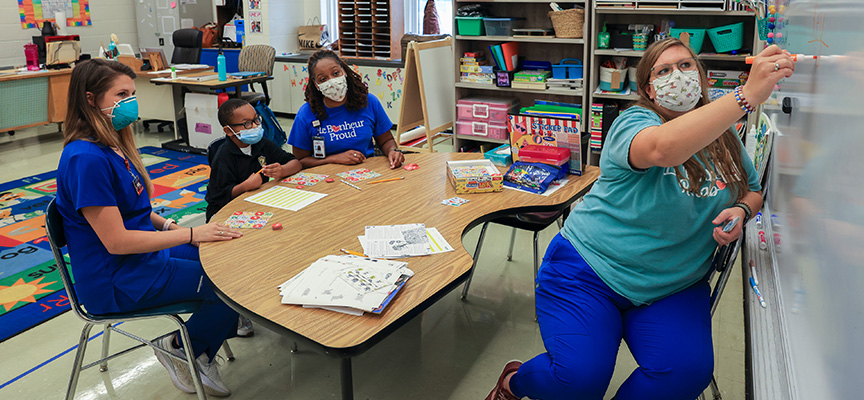 Le Bonheur Children's is home to an accredited school program that provides year-round school services to patients in grades K-12. Our goal is to help your child remain on track with school work while hospitalized. Keeping daily routines, like schoolwork, is also important for your child's emotional well-being during a serious illness. Our school program are available at no cost to families.
The hospital school program may be appropriate if:
the child's expected length of stay is five days or longer
the child is from outside of the Memphis area but receiving treatment at Le Bonheur
the parent of the hospitalized child is continuing his or her high school education
Two full-time licensed teachers with advanced degrees in education see students in one of two dedicated classrooms or through bedside instruction when needed.
Services include:
One-on-one tutoring or direct small group class discussion
Special education for students with an Individualized Education Program (IEP) or a 504 Plan
Instruction based on assignments from students' schools (hospital teachers use textbooks from students' schools as much as possible)State-of-the-art technology
Classrooms with books, games and toys that meet the low vitality and high interest needs of hospitalized students
Collaboration with local schools and teachers to meet each student's individualized needs
Our hospital school teachers will contact your child's school counselor or teachers and request the work that the child is missing. Teachers will follow the Tennessee Homebound schedule of at least three hours of instruction each week. The hospital school teacher may assign homework so that your child does not become further behind on his or her work.
The hospital school teachers will work around your child's schedule of medical treatment, rehabilitation therapy sessions and special activities.
Contact us at (901) 287-6021.