The Fetal Center at Le Bonheur Children's Hospital is the only center of its kind in the area to offer a complete range of services from prenatal diagnosis to fetal intervention. A partnership among Le Bonheur, the University of Tennessee Health Science Center and Regional One Health, the Fetal Center treats babies diagnosed in utero with a congenital anomaly.
Why Le Bonheur?
Families have access to all specialties in one setting, making your appointment as convenient as possible.
We work with you to understand your baby's condition and navigate the plans for prenatal care/intervention, delivery and birth. Our team partners with you and your primary obstetrician to determine the best course of treatment for before and after birth.
Every Fetal Center case is discussed weekly among a group of pediatric experts. A course of treatment is planned by the entire Fetal Center team.
We are the only center in the region to offer laser treatment for twin-to-twin transfusion syndrome and have written the current guidelines on treating fetal anemia.
Our team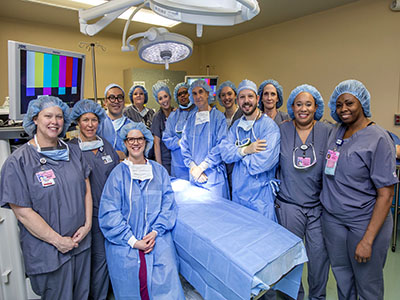 Our multidisciplinary team includes pediatric specialists in:
Our team also includes child life specialists, specially trained sonographers, lactation consultants, counselors and a program director.
Conditions we manage
Some of the common conditions treated in our center include:
Congenital heart defects
Hydrocephalus
Down syndrome
Spina bifida and neural tube defects
Conjoined twins
Fetal Hydrops
Twin-to-twin transfusion syndrome
Fetal oral cyst
Congenital diaphragmatic hernia
Gastroschisis
Omphalocele
Fetal hydronephrosis and pyelectasis
Congenital Cystic Adenomatoid Malformation (CCAM)
Fetal interventions and procedures
The Fetal Center offers the following fetal interventions:
Laser for Twin-to-Twin Transfusion Syndrome
Placement of shunts
Cordocentesis and infusion therapy
Radiofrequency ablations for Twin Reversed Arterial Perfusion Sequence (TRAP Sequence)
Amniocentesis
Amniopatch for latriogenic PPROM
Amniotic Band Syndrome intervention
Chorionic Villus Sampling
EXIT procedures
Fetal anemia treatment
Fetoscopy
Pleurocentesis
PUBS
Vesciocentesis