Batten disease is a genetic disorder of the nervous system. Children with Batten disease appear healthy and develop normally for the first year of life. By the second year, developmental progress may slow (often speech is slightly behind), and the first sign of the disease is usually a seizure.
Batten disease is rare, occurring in an estimated two to four of every 100,000 live births in the United States. The disease has 10 variations.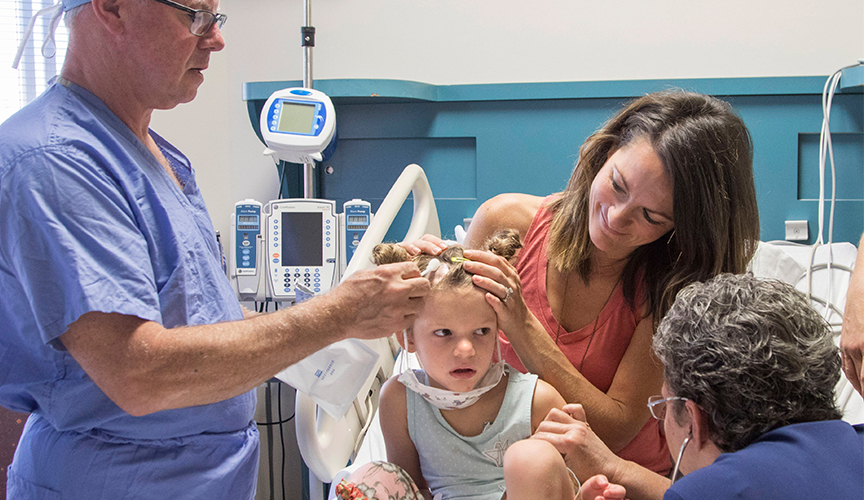 Treatment options
Le Bonheur Children's is one of the first hospitals in the country to offer Brineura, an FDA-approved medication for the treatment of ceroid lipofuscinosis neuronal disease (CLN) type 2 Batten disease. Brineura is the first drug therapy option for this variation of Batten.
Brineura is a replacement therapy medication designed to restore tripeptidyl peptidase 1 (TPP1), an enzyme patients with Batten disease are deficient in. The drug also breaks down the storage materials that cause type 2 Batten disease. The medication is delivered into the fluid surrounding the brain through a shunt.
Other Batten disease symptoms include:
Blindness or vision problems
Personality or behavioral changes
Echolalia (repetitive speech)
Dementia, psychosis or hallucinations
Cardiac issues
Lose ability to walk
Seizures
How is it diagnosed?
Batten disease is diagnosed by enzyme and genetic tests on blood samples.
What should you expect during your first visit?
Your first visit usually will be in an outpatient setting. Families should bring the results of any previous tests that were performed. If the patient qualifies for the medication, it is given every two weeks.
Facebook Live
Watch a recent Facebook Live event where Batten's parents Dana and Frazer Gieselmann discuss their experience with the disease, and Brineura, with Chief Pediatric Neurologist James Wheless, MD, PharmD.
Neuroscience Co-Director James Wheless, MD, speaks with the Gieselmann family to discuss Batten Disease.
FedExFamilyHouse
Out-of-town families may be able to stay at FedExFamilyHouse, a 75-room and suite facility for families with children receiving treatment at Le Bonheur.
For more information
For more information, contact the Neuroscience Institute at neuroscience@lebonheur.org or Le Bonheur Connect at 901-287-PEDS or 1-866-870-5570.