At Le Bonheur's Muscular Dystrophy Association (MDA) Clinic, we provide comprehensive care from a multidisciplinary team in one appointment. Our team includes pediatric specialists in neurology, pulmonology, cardiology and orthopedics. Patients also have access to nutrition/dietitian, occupational, physical and speech therapy, palliative care and social work.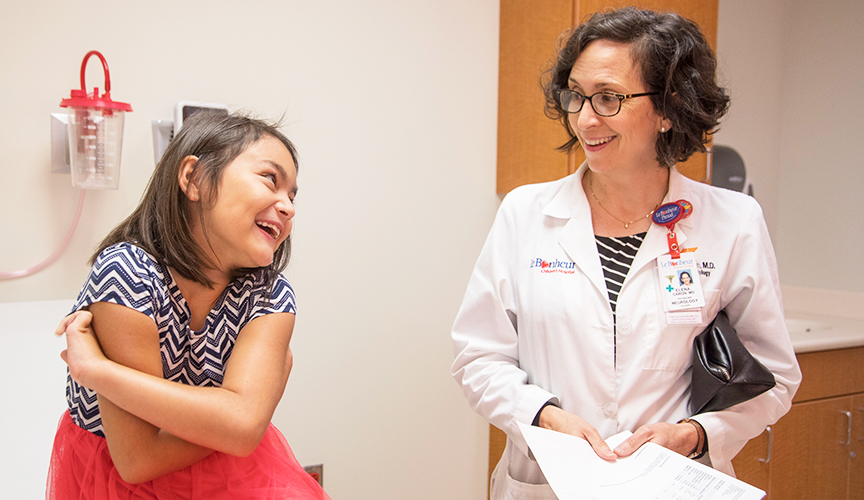 Conditions we treat
The muscular dystrophy team at Le Bonheur cares for children with a variety of conditions including:
Duchenne muscular dystrophy
Becker muscular dystrophy
Spinal muscular atrophy
Charcot Marie Tooth disease
Congenital muscular dystrophy
Congenital myopathy
Myasthenia Gravis
Congenital myasthenic syndrome
Dermatomyositis
Polymyositis
Friedreich ataxia
Facioscapulohumeral muscular dystrophy
Limb girdle muscular dystrophy
Emery Dreifuss
Metabolic myopathy
Mitochondrial myopathy
Research
Our physicians and researchers are working on several studies to improve the treatment of children with muscular dystrophy. Studies underway include:
Exon skipping for Duchenne muscular dystrophy
Cooperative International Neuromuscular Research Group
For more information about research, contact the Neuroscience Institute at neuroscience@lebonheur.org.
We also partner with and provide registry data to MDA. Registry data helps MDA conduct important research to improve survival and quality of life for patients with muscular dystrophy and related diseases.
What is a typical first appointment like?
Your child's first appointment will be arranged by a clinical coordinator who works with MDA patients. Our clinic is held twice a month from 8:30 a.m. to 12:30 p.m. Occasionally patients will be sent to the lab for bloodwork or radiology for X-rays, if ordered by the physician. The purpose of our clinic is to take care of every need for the family and patient.
We encourage families to prepare for a long visit. You are welcome to bring snacks, books or small toys if you'd like. Please bring a list of medications including dosage amount and any paperwork regarding guardianship if necessary. Many families find it helpful to prepare a list of questions for our physicians and staff.
For more information
For more information, contact the Neuroscience Institute at neuroscience@lebonheur.org or Le Bonheur Connect at 901-287-PEDS or 1-866-870-5570.