Our American College of Surgeons (ACS) Level I Pediatric Trauma Center designation means that children in the region have access to exceptional care at the most critical time. This accreditation is a national designation that requires both high quality clinical care and research in the field of trauma with continued innovation. Le Bonheur is also designated as a children's trauma center on the state level in Tennessee, Arkansas and Mississippi.
Why Le Bonheur?
Le Bonheur's Trauma Center has the mission to deliver optimal trauma care, to equip healthcare providers with knowledge, training and resources for trauma care, to engage the community on improved health and well-being of the pediatric patient and families, to provide a safe environment for our children to grow in our communities and to improve the care they provide through evidence-based research.
They accomplish this mission by:
Our Trauma Team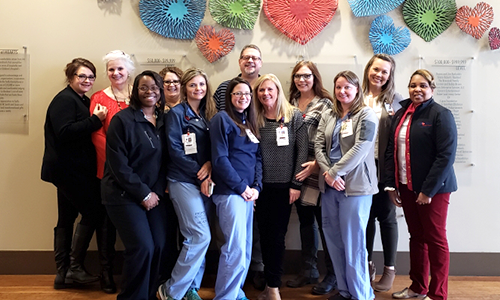 The Trauma Center at Le Bonheur is led by Medical Director Regan Williams, MD. Our dedicated trauma team also includes a Trauma Program Manager Anissa Revels, BSN, RN, coordinators, registrars, nurse practitioners, a research coordinator, Traumatic Brain Injury (TBI) liaison and data analyst.
The Trauma team also works collaboratively with a multidisciplinary team of orthopedic surgeons, neurosurgeons, anesthesiologists, critical care intensivists, emergency physicians, plastic surgeons and otolaryngologists. This coordinated care ensures that a high level of expertise is available for each child.
Outreach Education
Caring for trauma patients takes a whole community. The Comprehensive Regional Pediatric Center (CRPC) Coordinator and our Trauma team teach courses for regional EMS providers, Emergency Department and Pediatric Intensive Care Unit nurses, school nurses and pediatricians. This service also includes didactic and simulation-based training for EMS and rural hospitals in West Tennessee, North Mississippi and East Arkansas. Click here to see our upcoming outreach education events.
Safety is also a concern for Le Bonheur Children's. Injury prevention efforts are led by Safe Kids Mid-South and utilize trauma data to target programs for the most common injuries, including falls, motor vehicle crashes, all-terrain vehicle accidents, drowning, child abuse, sports injuries, pedestrian injuries, burns and gun violence.
Please contact John Wright, CRPC coordinator, to plan any educational training for your facility at 901-287-5326 or John.Wright@lebonheur.org.