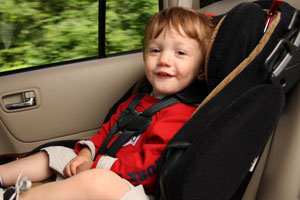 As part of National Child Passenger Safety Week (Sept. 15-21), Safe Kids Worldwide today released "Buckle Up: Every Ride, Every Time," a new study that finds an alarming percentage of parents are not always taking the time to ensure their children are safely secured in vehicles.
The report, funded as part of a $2 million grant from the General Motors Foundation, is based on a national online survey of 1,002 parents and caregivers of children ages 10 and younger. It reveals that one in four parents admit to having driven without their child buckled up in a car seat or booster seat. In fact, more affluent parents, parents with higher levels of education, and young parents are more likely to make exceptions when it comes to buckling up their kids on every ride. Men were also more willing than women to bend the rules.
Report Highlights
The survey asked parents if it was acceptable for a child to ride unrestrained in a vehicle in certain circumstances, including driving a short distance, if the car or booster seat was missing, during overnight travel, as a reward for the child, or if they chose to hold the child in their lap. The results were staggering.
Buckling Up on Short or Overnight Trips
Twenty-one percent of parents said it was acceptable to drive with their child unrestrained if they are not driving far. However, 60 percent of crashes involving children occur 10 minutes or less from home.
Some parents (16 percent) also feel it is acceptable to allow children to ride unrestrained on overnight trips. However, this is the time period when children are most likely to be injured in a crash.
Twenty-three percent of younger parents (ages 18-29) said it would be acceptable to ride with a child unrestrained when traveling overnight compared to 13 percent of older parents (ages 30-49). More than one in four (27 percent) younger parents said it would be acceptable for short rides compared to 19 percent of older parents.
Affluence
One in three of more affluent parents (34 percent), those with a household income of $100,000 or higher, said it was acceptable to leave their child unrestrained if they are not driving a far distance, compared to 15 percent of parents making less than $35,000.
Education
Parents with graduate degrees are twice as likely to say it is acceptable to drive without buckling up their children, compared to parents with a high school education, particularly when they are in a rush (20 percent compared to 10 percent).
Parents and caregivers are encouraged to follow three safety strategies consistently:
1. Buckle up on every ride, every time.
2. Talk to the adults who will be driving your kids about buckling them up.
3. Check that the right seat is used and that it is installed properly.