Families use technology for vital medical, therapeutic services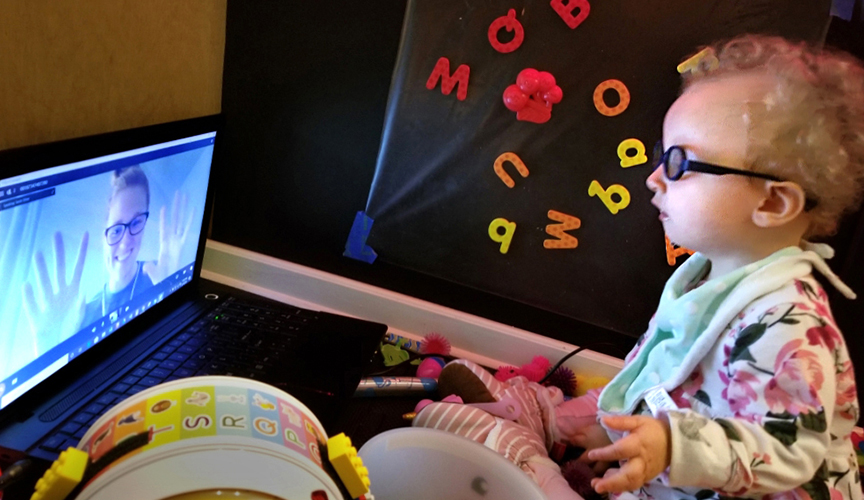 22-month-old Mary Kate Webb receives most of her nutrition from a feeding tube in her stomach, but she'd been close to learning how to eat by mouth when the COVID-19 pandemic hit the Memphis area.
"I feel like we've worked on so much," said mom Meredith Webb. "She's continuing to progress, and it would be hard for me to know what to do next."
She didn't have to.
Le Bonheur therapists quickly developed telehealth sessions for Mary Kate's physical and speech therapy – and were able to cater her services so that she could still receive them at home.
Mary Kate has Wolf-Hirschhorn Syndrome and suffers developmental delays from her diagnosis. She has been working with therapists since she was just a few months old, and missing therapy appointments puts her at risk for
falling behind.
"I wasn't sure how it would go at first," Meredith said of the therapy. "Initially, she was a little bit confused. Now, she gets it and I see a lot of value in it."
Donor support allowed Le Bonheur clinicians to quickly expand telehealth services within days of the first reports of COVID-19 in Tennessee, ensuring that children didn't miss important doctors visits or clinic appointments.
Today, children like Mary Kate who rely on services still have continuity of care in the safest possible environment.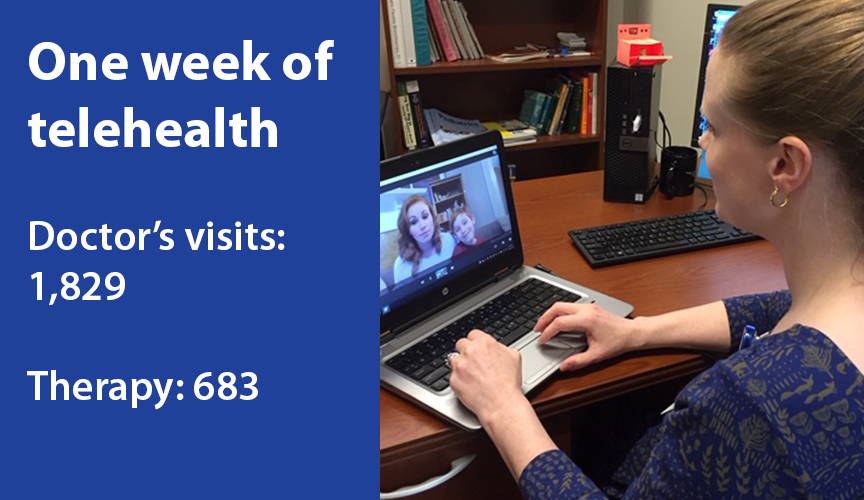 Investments allow mental health support to continue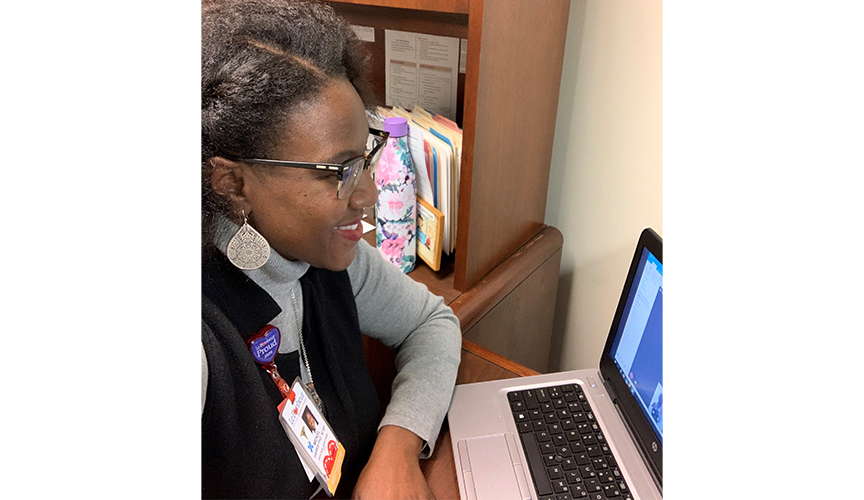 Licensed Psychologist Mekel Harris, PhD, NCSP, knows better than many the effects that parent and caregiver mental health have on the physical health and well-being of children.
And no time has this been more apparent than during the current COVID-19 pandemic. Harris, a Family and Employee Assistance Program (FAP/EAP) provider, has continued to provide mental health support for families – above and beyond what they already do for families facing the hardest times with their children in the hospital.
"Offering therapy services during this time has afforded some families the opportunity to remain socially connected and emotionally supported in a period of incredible uncertainty," says Harris. "This is particularly helpful for families who now have limitations on the number of visitors they can have within the hospital environment."
Focusing efforts on the Neonatal Intensive Care Unit (NICU), the Social Work team continues to offer mental health screening for patients and families upon admission. And thanks to technology, social workers can continue the same process of referring families to Harris for psychological assessment and support as needed.
"I am able to offer telehealth or telephone therapy services for continuity of care where there is concern about potential COVID-19 exposure," says Harris. "Alternatively, I am able to continue meeting with families at bedside while practicing social distancing and exercising universal precautions."
Donor-funded Child Life programs bring normalcy to hospital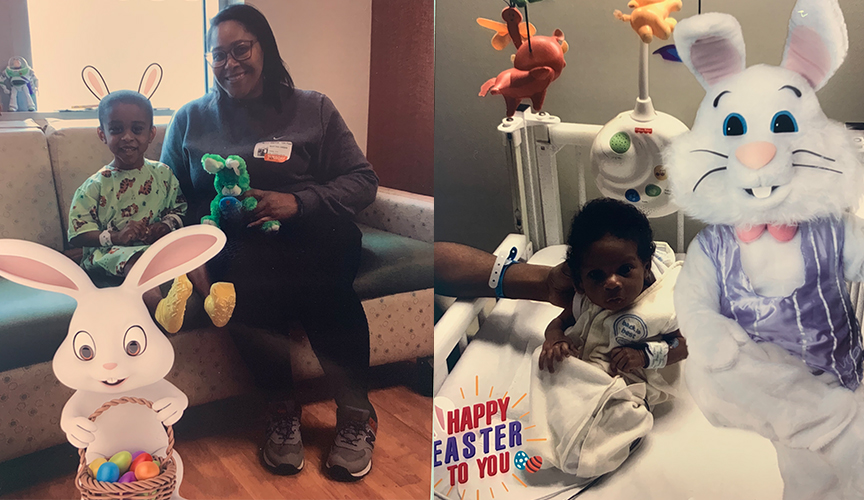 Parties, concerts and game shows are just a handful of activities that the Child Life team provides on a daily basis. But how do you provide activities when children and families need to stay at least 6 feet apart? Flex your creative muscles.
Le Bonheur's Child Life team has looked to technology to help them provide normalcy for children during COVID-19, moving in-person programming to the hospital's closed-circuit TV channel, creating a virtual Easter egg hunt and using an app for children to take pictures with the Easter bunny from their hospital rooms.
Le Bonheur's 31-member Child Life team provides evidence-based therapeutic play and education to address the psychosocial needs of children. All Child Life activities and events are exclusively funded by donors.
"These activities give patients a way to engage in play with our team and other patients and families throughout the hospital, even if they aren't able to interact face to face," said Child Life Director Jessica Liles.
Certified Child Life Specialists are also catering the care they provide based on need. Visitor limitations don't allow for brothers and sisters to visit, so the PICU Child Life Specialist created sibling bags for families to take home. They hope to make the siblings feel loved and supported from afar while they are separated from their family members.
And what is a potentially ill parent supposed to do when they can't enter the hospital to see their child? The NICU Child Life Specialist intervened with a technological solution using video call for families when a mom waiting on the results of her COVID-19 test wasn't able to enter the hospital to see her newborn.
Community-based health workers meet needs for food, formula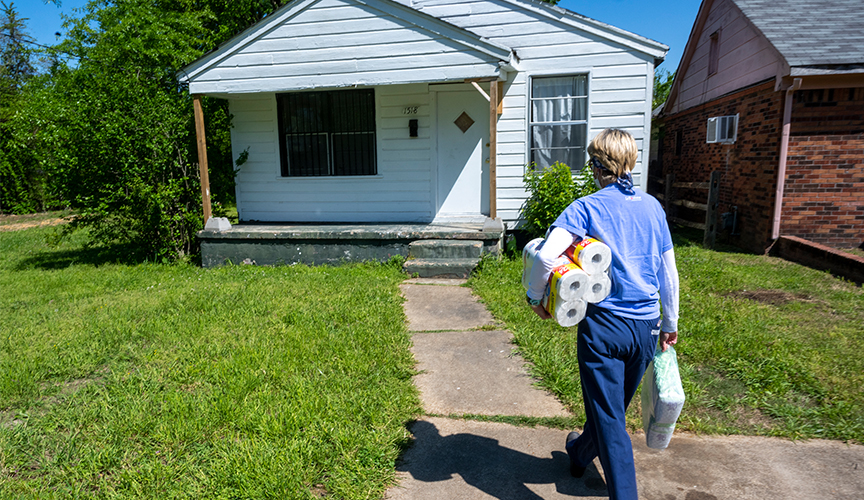 Children living with chronic conditions like diabetes and asthma were on the minds of Le Bonheur's community health workers when they started calling home-based clients. Their concern: would children already living with food insecurity have access to the nutrition they needed to stay healthy during a pandemic?
With schools closed, Le Bonheur staff knew that families would be challenged and stretched. Nurses quickly began calling and offering video chat with families to assess their needs – more than 300 families and growing.
"These children are already at high-risk of hospitalization because of their chronic medical conditions," said Allergist and Immunologist Christie Michael, MD, who serves as medical director of a community-based program for at-risk children with asthma. "Sometimes, access to nutritious food can mean the difference between children staying safe at home and having to be hospitalized."
Community health workers have made no-contact deliveries of food and necessary supplies for these families in need.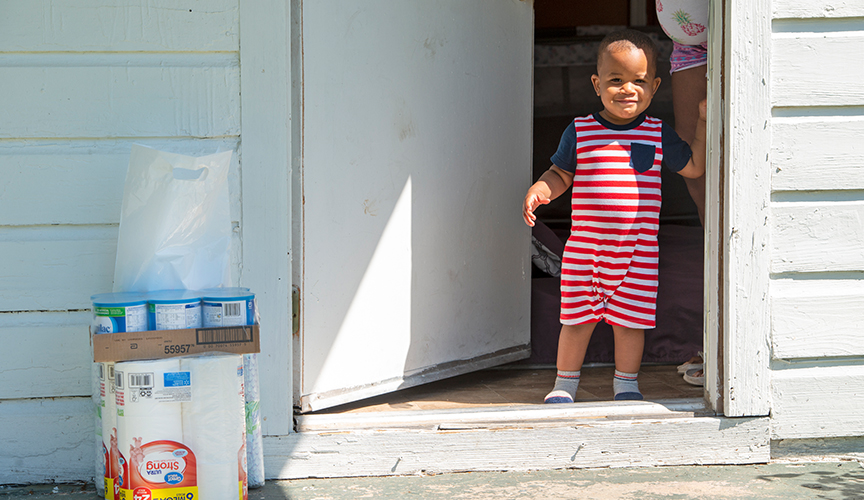 University of Memphis converts lab to 3D print face shield frames for Le Bonheur health care workers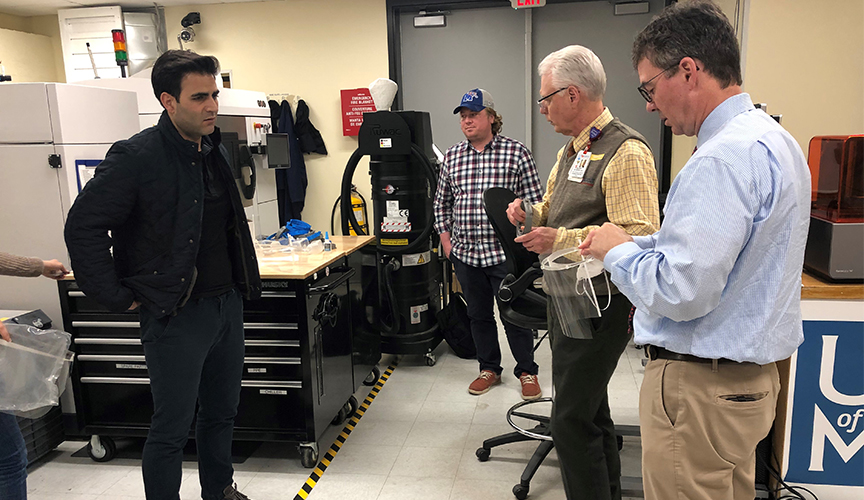 How can you send a soldier to battle without a helmet?
In the war against the novel coronavirus, our soldiers are front-line health care workers, and their armor is medical-grade personal protective equipment, or PPE, like respirator masks, disposable gowns and face shields – which are facing a global shortage.
Thanks to the ingenuity and support of our community, solutions are being found to protect the health care heroes at Le Bonheur Children's Hospital.
At the onset of the outbreak, Le Bonheur leaders took a proactive approach and quickly calculated how much PPE was on hand and would be used on a daily basis, how long that supply would last and how much more would be needed during this crisis.
Face shields, which are worn over masks to protect workers from respiratory droplets or other bodily fluids, were identified as a critical need.
Before supplies ran short, Le Bonheur Chief Medical Officer Dr. Barry Gilmore contacted the state to find out how Le Bonheur could receive additional face shields, and quickly.
Dr. Gilmore and Le Bonheur Surgeon-in-Chief Dr. Trey Eubanks were soon in contact with University of Memphis Mechanical Engineering Assistant Professor Dr. Ebrahim Asadi, who runs a 3D printing lab.
The U of M converted its lab to create face shield frames and began running its 3D printers 24 hours a day. A face shield is made of three components – the plastic frame, an elastic band and a detachable plastic sheet covering. Dr. Asadi worked with other universities across the state to gather all necessary components, and the U of M made its first delivery of 50 new face shields, which can be easily cleaned and reused, to Le Bonheur at the end of March.
"We appreciate the support of community partners like the University of Memphis during this uncertain time," said Dr. Gilmore. "Their offer of help means so much to our clinical experts who are working around-the-clock to help keep kids healthy and well."
By mid-April, the lab had reached its goal of creating 250 new face shield frames, partnering with medical supply company MCR Safety to produce all components locally for quick delivery to area hospitals.
"This opportunity has been really incredible," said Asadi. "I feel lucky I could do something to help doctors and nurses who are on the front lines, saving lives."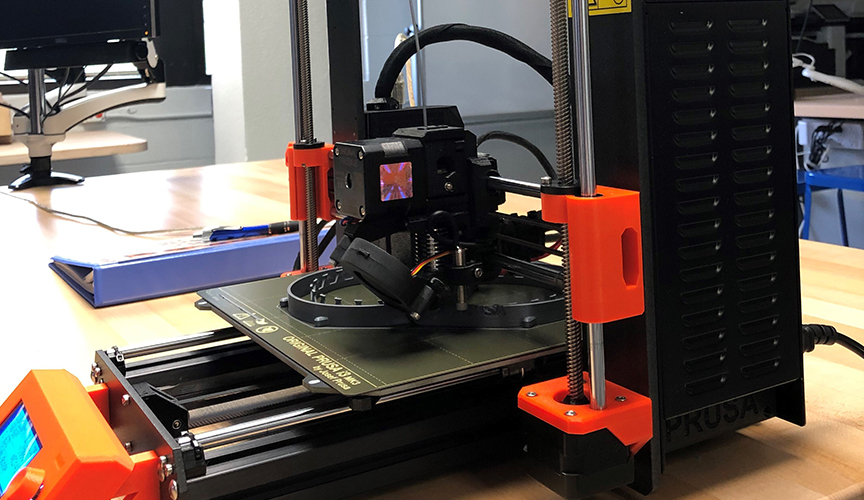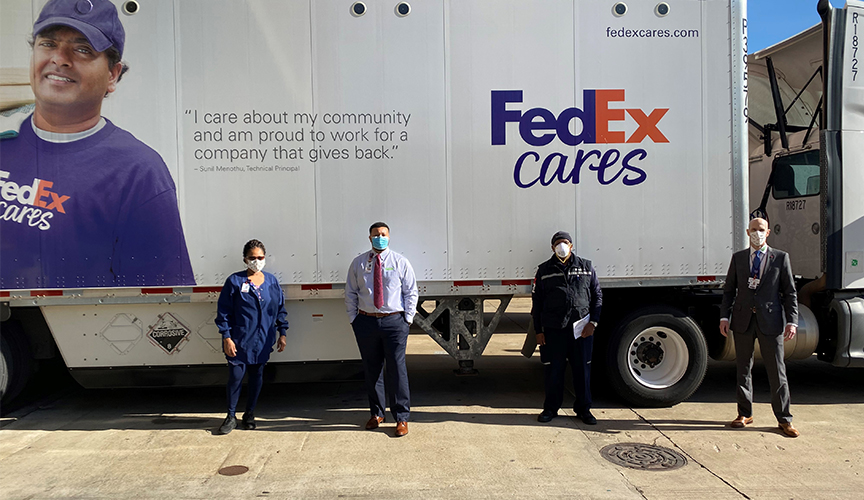 Inspired to give back, community members have found ways to support Le Bonheur and its health care heroes in the past several weeks. Above, FedEx donates 2,000 N95 respirator masks, a valuable and limited resource needed to care for suspected and confirmed COVID-19 patients.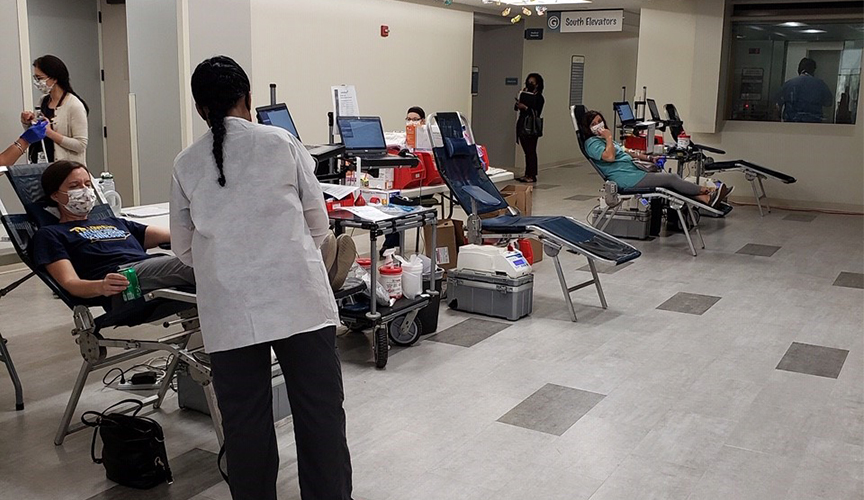 When the call for more blood went out, Le Bonheur staff and community members provided enough blood to save 83 lives (above). And below, Le Bonheur's Emergency Department receives one of the 5,000 meals that local restaurants and donors have provided.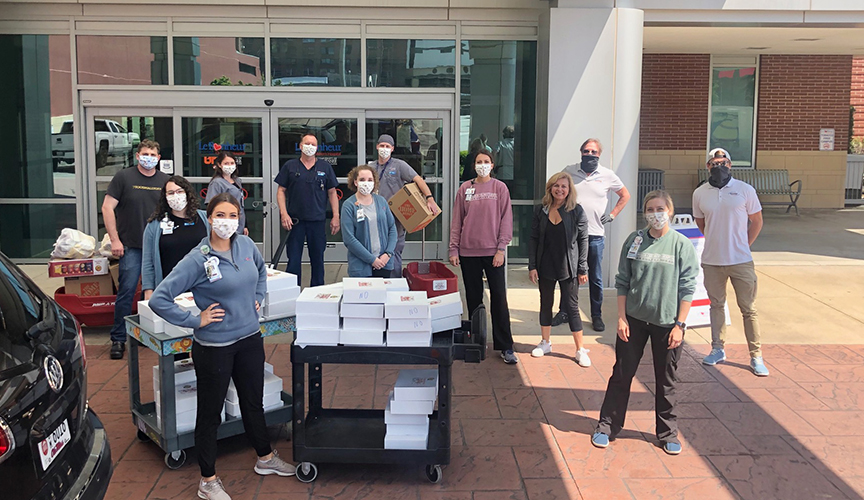 Le Bonheur Nurse-Family Partnership provides vital resources for those most vulnerable during COVID-19 pandemic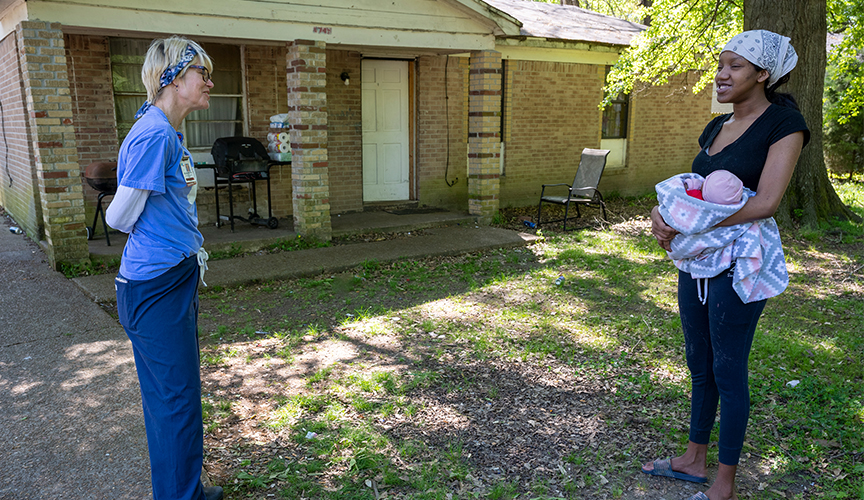 Pregnant, afraid and alone.
The novel coronavirus pandemic has intensified an urgent need for support for many expecting mothers in the Memphis area.
A Le Bonheur community outreach program, Nurse-Family Partnership (NFP), is stepping in and stepping up to help hundreds of new and expecting moms and their babies.
"Everything is more difficult right now," said Le Bonheur Community Outreach Maternal Child Director Sandra Madubuonwu, who is in charge of the hospital's NFP program. "Our clients are in isolation and resources are harder to secure for them. Even before the pandemic, our nurses would sometimes be the only support these moms have."
Nurse-Family Partnership changes the future for the most vulnerable babies born into poverty by giving a first-time mom trusted support through nurse home visitations from pregnancy to her child's second birthday. The program is backed by more than 40 years of scientifically-proven outcomes for mom and baby.
At the onset of the COVID-19 outbreak, Le Bonheur NFP quickly transitioned to "virtual visits" for every mother enrolled in the program.
Out of 176 enrolled family members, 14 did not have smartphones or video conferencing capability. While these moms were still able to speak regularly with their nurse partner over the phone, the national NFP office recently purchased smart phones for these clients so that every mom enrolled in the program can have some semblance of face time with a nurse.
Le Bonheur NFP nurses are also providing contact-free deliveries of essential items like food, milk and diapers for their clients.
Some resources have begun to dwindle because supply is low.
"We are lucky to have local funders that have been so helpful," said Madubuonwu.
One example is an impact fund created through partnership with Slingshot Memphis. The Le Bonheur NFP team is using those funds to provide support for their clients' utility bills, as many have lost jobs but still have bills accruing.
"If a mother is supported in her pregnancy, the outcome of that investment will change a generation," said Madubuonwu.
Her team is currently accepting new referrals and enrollments to help as many expecting mothers as they can during this time.
"The only thing I don't like about this program is that more mothers don't have access to it," said Charol Hewitt, a program participant. Hewitt's son, Gavin, turns 2 next month. The program, said Hewitt, changed both of their lives.
Hewitt's nurse partner, Stephanie Washburn, counseled her through prenatal appointments, helped her prepare for labor and delivery, tackled breastfeeding issues once she arrived home and supported her through post-partum depression.
"It's hands-on, frontline, factual care," said Hewitt. "This program played a major role in my son's life and mine."
Le Bonheur Children's Hospital depends on the generosity of friends like you to help us serve 250,000 children each year, regardless of their family's ability to pay. Every gift helps us improve the lives of children.
Donate Now