Current and Former Fellows
Our fellows train in all aspects of pediatric orthopaedics preparing them for a variety of career opportunities.
Physician

Fellowship Year

Current Location

Kent Walker, DO
2017-2018
Children's Orthopedics of Louisville
Louisville, KY
Ben Sheffer, MD
2016-2017
Campbell Clinic / Le Bonheur Children's Hospital
Memphis, TN
Marielle Amoli, MD
2015-2016
Nemours Children's Clinic
Jacksonville, FL
John Roaten, MD
2014-2015
Cook Children's Hospital
Ft. Worth, TX
Sameer Naranje, MD
2013-2014

University of Alabama at Birmingham




Birmingham, AL

Juan Pretell, MD
2012-2013
Jackson Memorial Hospital
Miami, FL
Jeremy Rush, MD
2011-2012
Brooke Army Medical Center
Fort Sam Houston, TX
Jennifer Brey, MD
2010-2011
Children's Orthopaedics of Louisville
Louisville, KY
Michael Diab
2009-2010
Texas Tech University Health Sciences Center
Lubbock, TX
Shiraz Younas
2008-2009
Memorial Hermann
Houston, TX
Craig Robbins
2004-2005
Paley Institute
West Palm Beach, FL
John Gaffney
2002-2003
Winthrop Orthopaedic Associates
Long Island, NY
David Lin
2001-2002
Orthopaedic Center PA
Cedar Knolls, NJ
Jayson McMath
2000-2001
Georgia Bone and Joint
Newnan, GA
Kerwyn Jones
1999-2000
Children's Orthopaedic Surgery Associates
Akron, OH
Jeffrey Sawyer, MD
1998-1999
Campbell Clinic / Le Bonheur Children's Hospital
Memphis, TN
Kathleen Moen
1997-1998
Dartmouth-Hitchcock Medical Center
Lebanon, NH
Martin J. Herman
1995-1996
St. Christopher's Hospital for Children
Philadelphia, PA
Christine A. Quatro-Ott
1994-1995
Varsity Orthopedics
Hurst, TX
Laurie T. Hughes
1993-1994
John L. McClellan Memorial Veterans Hospital
Little Rock, AR
Lynn M. Lindaman
1989-1990
Lindaman Orthopedics
West Des Moines, IA


Meet our Former Fellows
Martin Herman, MD
Martin Herman, MD, a pediatric orthopaedic fellow with Campbell Clinic and The University of Tennessee/Le Bonheur Children's Hospital in 1995-1996, now uses the lessons he learned in his fellowship to teach his own fellows at St. Christopher's Hospital/Shriner's Hospital in Philadelphia.
"They don't teach in a strict lecture sense," Herman said of his Campbell Clinic mentors. "The method of teaching was like shadowing, and it's my method of teaching residents today: have them partner with you in caring for kids."
Herman completed his orthopaedic residency at the University of Medicine and Dentistry of New Jersey-Robert Wood Johnson Medical School in 1995. When he began applying for his pediatric orthopaedic fellowship, he applied to six programs.The Campbell Clinic fellowship was his first choice. "I mostly chose it because of Campbell's Operative Orthopaedics. Most of the residents used the book, and I thought, well, if co-editors Jim Beaty and Terry Canale are there, I should go."
Herman appreciated having a variety of experiences at Campbell Clinic - clinical and surgical work as well as education for residents and research. "It was such a nice place to work and really have all the resources I needed as a fellow.
The best part of his experience, he says, was getting to know Pediatric Orthopaedic Surgeons Jim Beaty, MD, Terry Canale, MD, and William C. Warner Jr., MD. Beaty helped him learn to pay close attention to details and understand how something worked. Warner taught him to be a great clinician, care for patients and really interact with them. Canale, meanwhile, brought the true academic background he was looking for.
Now the fellowship director at St. Christopher's Hospital/Shriner's Hospital, Herman has sent both a pediatric orthopaedic fellow and trauma fellow to the Memphis program.In addition to his fellowship directorship, Herman also serves as an assistant professor of Orthopedic Surgery and Pediatrics at Drexel University College of Medicine and an attending physician at St. Christopher's Hospital for Children. He also serves as orthopedic director for the spina bifida program at St. Christopher's Hospital for Children.
---
Jennifer Brey, MD
Pediatric Orthopaedic Surgeon Jennifer Brey, MD, graduated from the fellowship program in July 2011. She came to the program after completing medical school at the University of Louisville and a residency at Drexel University College of Medicine in Philadelphia.
"I chose Le Bonheur because I liked the location, the staff and the facilities," said Brey. The fellowship offers a large volume and variety of surgical cases as well as a large amount of research opportunities. I like that I did not have to compete with another fellow for access to interesting cases."
Now, Brey is in private practice in Louisville, Ky. "I learned quite a bit about practice management and office treatment of patients."
---
Jeremy Rush, MD
Pediatric orthopaedics was a clear choice for past fellow Jeremy Rush, MD.
"There is no other specialty in orthopaedics in which you can treat such a wide range of conditions, from traumatic to congenital to developmental to infectious and so on," said Rush. "And the opportunity to treat and to improve the quality of life of children is incredibly rewarding."
Rush studied at Texas A&M's College of Medicine and completed a residency in orthopaedics at Brooke Army Medical Center in San Antonio, Texas.
The pediatric orthopaedic team at Le Bonheur and Campbell Clinic was one of the reasons Rush chose the fellowship.
"I've never met a group of individuals who work so well together and are so dedicated to the care of kids. I felt like they were truly invested in me and my education. I loved coming to work every day, and every day was an opportunity to see something new," Rush said.
After completing his fellowship, Rush returned to the Brooke Army Medical Center before being assigned to the 14th Combat Support Hospital/Joint Task Force Helmand at Camp Bastion in Afghanistan.
---
Marielle Amoli, MD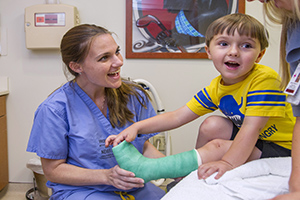 Fellow Marielle Amoli, MD, fell in love with pediatric orthopaedics during her final year of medical school. A month-long rotation with the Le Bonheur/Campbell Clinic team left Amoli ready to pursue the specialty as a career.
"Instantly, I loved the variety of procedures and children you see. I wanted the ability to help them," said Amoli.
After complete medical school at the Medical College of Georgia, Amoli was accepted into the University of Florida-Jacksonville's orthpaedic surgery residency program. Then, she knew she wanted to return to Le Bonheur/Campbell Clinic for further training in pediatrics.
"I knew I wanted to come back here ever since my first experience with Le Bonheur/Campbell Clinic as a medical student," said Amoli. "All of the attendings are wonderful and fully committed to patient care and resident/fellow teaching."
Upon completing her fellowship, Amoli returned to Jacksonville, Fla., to work as a pediatric orthopaedic surgeon at Nemours Children's Clinic.
---
Kent Walker, DO
For former fellow Kent Walker, DO, Pediatric Orthopedics was the obvious for the avenue of medicine he wanted to pursue. "I chose pediatric orthopedics because children are the best patients," Walker said. "They just want to get better and play with their friends. My goal is to help facilitate that."
Walker served as a fellow with Le Bonheur and Campbell Clinic for 2017 – 2018. After studying at Lincoln Memorial University-DeBusk College of Osteopathic Medicine and completing a residency at Wellmont Orthopedic Residency Program, Walker knew exactly what he was looking for in a fellowship program. "When I was applying for fellowships, I wanted to go to a program that was well rounded and had a great staff," said Walker. "I was very lucky and was able to find both at Campbell Clinic and Le Bonheur in Memphis."
One of the highlights of his fellowship experience was the camaraderie and teamwork that he experienced between with the physicians and residents. His time as a fellow taught him valuable lessons not just in pediatric orthopedics, but in life as well. "I learned the value of treating the patient as a whole and not just as an individual. It takes a team effort from the physician, to the patient down to all of the patient's family members," said Walker. "You realize you are not alone in treating the child which I think is something great that you do not experience in adult orthopedics."
Walker now serves as pediatric orthopedic surgeon at Norton Children's Orthopedics of Louisville where he treats all orthopedic conditions with special interest in pediatric spine conditions.