Children's Foundation Research Institute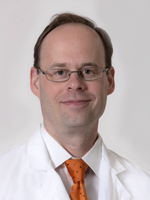 Jon McCullers, MD, chair, Department of Pediatrics
Dr. Jon McCullers is chair of the Department of Pediatrics for The University of Tennessee Health Science Center (UTHSC) and pediatrician in chief for Le Bonheur Children's Hospital. Before joining Le Bonheur, Dr. McCullers worked as a pediatric infectious disease researcher at St. Jude Children's Research Hospital studying influenza and bacterial infections. From the Hampton Roads area of Virginia, Dr. McCullers received his Bachelor of Arts degree in pre-medicine from the University of Virginia. He received his medical degree from the University of Alabama at Birmingham, where he also completed his internship and residency. He moved to Memphis, Tenn., in 1996 for a Pediatric Infectious Disease fellowship with a joint St. Jude/UT program. He joined St. Jude as an assistant faculty member in 2000 and became a full faculty member in 2011.
Contact him.
Dennis Black, MD, director, Children's Foundation Research Institute
Dr. Dennis Black serves as the director of the Children's Foundation Research Institute and vice-president for Research for Le Bonheur Children's Hospital. He is a professor of Pediatrics and Physiology and holds the J. D. Buckman Endowed Professorship in Pediatrics at UTHSC. From the Mid-South, Dr. Black received his medical degree from UTHSC. He completed his pediatric residency and gastroenterology fellowship at Le Bonheur. His research interests include pediatric liver disease, disorders of lipid metabolism and molecular mechanisms of fat absorption in the neonate. The NIH, FDA and several foundations have funded his research. He has served on the executive councils of the Society for Pediatric Research and the North American Society for Pediatric Gastroenterology, Hepatology and Nutrition and on the NASPGHAN Research Committee as chair. Contact him.
Sheon Lynch, MSA, MT (ASCP), administrative director, CFRI
Sheon Lynch, MSA, MT (ASCP), is Administrative Director of the Children's Foundation Research Institute at Le Bonheur Children's. Lynch has held administrative director positions at Le Bonheur and Methodist Healthcare for areas such as Clinical and Anatomical Laboratories, multiple ancillary departments (both clinical and non-clinical) and Quality Improvement. Most recently, she served as administrative director of Transition Management, helping plan the hospital's move into a new 255-bed facility in 2010. Lynch holds a Master of Science degree in Administration, Healthcare Services, from Central Michigan University. She is a medical technologist with a bachelor's degree in biology and a certified Six Sigma Black Belt in Quality Improvement. Contact her.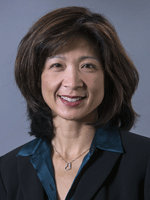 Eunice Huang, MD, MS, chief biomedical research informatics officer, Biomedical Informatics Core, CFRI
Dr. Eunice Huang is clinical director of the Biomedical Informatics Core for the CFRI. A pediatric general surgeon at Le Bonheur Children's, Dr. Huang received her Bachelor of Science degree in psychobiology from Yale University and completed medical school at the University of Southern California, Keck School of Medicine. She did her general surgery residency training at Los Angeles County + University of Southern California Medical Center and her pediatric surgical fellowship training at the UTHSC. She also has a Master of Science degree in Epidemiology from the Department of Preventive Medicine at UTHSC. Dr. Huang is an associate professor of Surgery and Pediatrics at UTHSC and has special clinical interest in Hirschsprung's disease, anorectal malformations, intestinal rehabilitation and multi-institutional pediatric surgical trials. Contact her.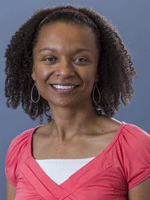 Tamekia L. Jones, PhD, director, Biostatistics Core, CFRI
Dr. Tamekia Jones is a director of the CFRI's Biostatistics Core. She assists investigators with study design, sample size and power calculations and statistical analyses. Jones earned her PhD in Biostatistics from the University of Alabama at Birmingham and served as a senior statistician for frontline Acute Lymphoblastic Leukemia clinical trials in the Children's Oncology Group at the University of Florida. Her research interests include clinical trials, survival analysis, robust statistics, obesity, cardiovascular disease and health disparities. She is also an assistant professor in UTHSC's Department of Pediatrics and Department of Preventive Medicine.
Amanda Preston, PhD, scientific editor, CFRI
Dr. Amanda Preston is a scientific editor for the CFRI and helps faculty and staff prepare and develop scientific publications and presentations. Preston earned her doctorate from the University of New South Wales in Sydney, Australia. She has more than 10 years of experience in conducting, presenting and publishing basic laboratory science and medical research. Contact her.
Christopher E. Smith, EMBA, MLS (ASCPCM), director of finance, research lab operations, CFRI
Christopher Smith coordinates laboratory operations with principal investigators to ensure efficiency and optimal results from the research labs. He also negotiates preventative maintenance contracts, ensures proper safety regulations per TOSHA, OSHA and FDA, and business management for clinical research studies. Contact him.
Venessa Spearman, MPA, director of grant administration and contract development, CFRI
Venessa Spearman assists researchers by identifying funding sources and coordinating proposals to government agencies, foundations and other grant-making organizations. She also facilitates the contracting process for sponsored and investigator-initiated clinical research protocols. Contact her.
Kerry Moore, RN, BS, CCRC, Research Regulatory and Compliance Manager
Kerry Moore serves as the IRB Regulatory Coordinator for CFRI. She coordinates efforts with UTHSC IRB, Le Bonheur and university staff. She has been a certified Clinical Research Coordinator through the Association of Clinical Research Professionals (ACRP) for 16 years, and a nurse for 25 years. Her prior experience includes Manager of Clinical Research and Clinic Nursing Manager. Contact her.
Thomas Hobson, MME, MHA, MT-BC, CCLS, Business Manager, CFRI
Thomas Hobson has been with Le Bonheur Children's Hospital for nearly 15 years, having most recently served as the director of Child Life Services. While working with process improvement, budgeting and other such tasks, Hobson fell in love with the business side of healthcare and is now working with the CFRI as the business manager. His background training is as a music therapist, holding master's degrees in both music therapy and healthcare administration. Contact him.
Billie Masek, MS, MBA, research laboratory manager, CFRI
Billie Masek comes to CFRI from Johns Hopkins University where she served as laboratory manager in the Department of Emergency Medicine and the Division of Infectious Diseases. She has several years of laboratory management, basic research, clinical research and clinical laboratory experience. She has a Master of Biotechnology and Master of Business Administration from Johns Hopkins University. Contact her.