Corporate Philanthropy Inspired by Family's Gratitude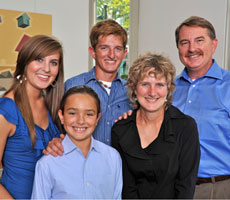 Within the first 24 hours of the birth of their second child, Stacy and Chris McCall knew something was wrong. Call it a mother's intuition or a father's hunch, the young couple who lived in the Mississippi Delta took their concerns to their pediatrician and on his advice brought their newborn son Benjamin to Le Bonheur Children's Hospital for immediate care.
Little Benjamin was born with craniosynostosis, a congenital (present at birth) defect that causes one or more fibrous sutures - connections between skull bones - on a baby's head to close earlier than normal.
During the first two years of his young life, Benjamin underwent a series of surgical procedures at Le Bonheur to help correct and eventually repair his head. Throughout Benjamin's ordeal, his parents always knew they were at the right place for their son's treatment and care.
When Benjamin turned 17 in 2011, Stacy remarked, "You would never know that we almost lost him."
The McCall's are deeply grateful for the specialized care Benjamin received from Le Bonheur's neurosurgeons and brain specialists. His successful outcome is a blessing they have never taken for granted. In gratitude, they have given back to the hospital in numerous ways to ensure that other children who needed Le Bonheur would also be able to receive the best care available.
Their early philanthropic efforts started with the purchase of Le Bonheur holiday cards to honor their family and the friends who had supported them during Benjamin's treatment. "Giving to Le Bonheur was the first time we had ever made a charitable gift outside of our church," says Stacy.
As their family grew and their business expanded, the McCall's eventually moved the headquarters for their ServiceMaster Clean franchise from Columbus, Miss., to Memphis. For them, it was a natural progression to begin to make contributions to the hospital through their company, ServiceMaster by Stratos, a contract janitorial company that provides cleaning solutions to business and industrial clients in Tennessee, Mississippi and Alabama. Their business made a significant gift to the capital campaign.
"We never thought we would be given the opportunity to give back to the hospital that has given us so much," says Stacy. "We are inspired to give to Le Bonheur not only for the blessing in seeing Benjamin today and what Le Bonheur did for him, but what Le Bonheur does for so many children throughout the region. Memphis is blessed to have such a wonderful children's hospital in its backyard. As a parent who had to travel three hours to receive the care my son needed, I understand what it means to have a local presence and this should be comforting to everyone in the community.
"Le Bonheur is a community asset and as corporate stewards, one of our roles is to be an advocate to make everyone we come in contact with aware of how important Le Bonheur is," Stacy continues. "It is truly a blessing to know we can make a difference for our community and for our employees by giving to the hospital we have benefitted so much from. We are proud to say we play a small role in the hospital, and our employees wear it like a badge of honor."