Life-changing event prompts gift that impacts future generations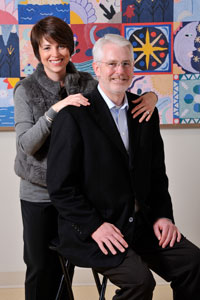 Amy and Bill Rhodes understand exactly what it means to have a world-class children's hospital located in their hometown. Both their pre-teen son and teenage daughter have been patients at Le Bonheur, and their daughter receives ongoing care here for epilepsy.
"You wake up one morning and everyone's healthy and the next day you wake up and learn your daughter has epilepsy," Amy says. "We were scared to death."
After consulting with Dr. James Wheless, the medical director of Le Bonheur's Neuroscience Institute, Bill and Amy, like any concerned parents, sought a second opinion.
"We knew we were receiving the best care at Le Bonheur," says Amy, "but we had so many unanswered questions. This was definitely a life-changing event for our family and we were hungry for knowledge."
"What we learned when we visited the Mayo Clinic was that what we had in Memphis at Le Bonheur under the direction of Dr. Wheless was world-class," Bill adds.
After their daughter was officially diagnosed at Le Bonheur in 2010, the exceptional care she has received since under Dr. Wheless' direction enabled her to run the Memphis Half Marathon this past December with her mom and dad.
Prior to their daughter's treatment here, their son, then 8, fell from a zip line at school and hit his head on the concrete − any parent's nightmare. The paramedics arrived first and by the time Bill arrived, their son was already inside the ambulance, strapped to a back board, wearing a neck brace and breathing through an oxygen tube.
"He had been unconscious and they told us he needed to get to Le Bonheur's Emergency Department immediately," Bill says.
Once their son had been examined and moved to the Intensive Care Unit, the physicians gave Bill and Amy all the information they needed to understand their son's trauma and what to expect over the next few hours.
"The ICU at Le Bonheur is really remarkable and the service is unbelievable," Bill says. "The entire medial team comforted us and found us a place where we could rest. While we were there it was amazing to see all the different challenges the people around us were facing. It reminded us how vulnerable we are. Every family has a story."
Prior to their son's accident, Amy had toured the hospital in the Le Bonheur 101 program, designed to provide a behind-the-scenes view to Le Bonheur donors and supporters. Because she had met many of Le Bonheur's leading physicians and had been introduced to various units in the hospital during her tour, the comfort level Amy and Bill had with their son's care givers was considerably greater than it might have been if Amy had never been inside the hospital.
"The doctors in the Emergency Department were outstanding and the nurses were incredible," Amy says. "We took great comfort knowing the highly skilled, incredibly compassionate Le Bonheur nurses were in charge of our son's care."
In gratitude for the care both their children received at Le Bonheur, Amy and Bill made a significant gift to the capital campaign to build the new hospital. Because both of their children required the care of subspecialists in neuroscience, the couple selected the EEG Clinic as their naming opportunity for their gift.
Their decision to make a gift in honor of Dr. Wheless and his team was an easy one.
"We wanted to give back to Le Bonheur," Bill says. "We have been so incredibly blessed and we believe it is our responsibility to give back. We always look for causes that help a broad population, and who doesn't want to help children? Because we've been personally touched by Le Bonheur and we believe in their mission, we're happy to participate."
"We're so grateful to Dr. Wheless and the Neuroscience Institute," Amy adds. "We'll be dealing with our daughter's care forever and we depend upon Le Bonheur."
Since making their gift, the couple has seen how their donation has made a difference.
"Just walking through the hospital you quickly notice how positive the environment is, even for the sick children," Bill says. "The impact that Le Bonheur has on our community not only helps our children, it, along with the many other important medical community assets, plays a vital role in the economic prosperity of this region."
With the new hospital now a reality, Amy says she and her husband feel privileged to have played a role. "Le Bonheur had the vision and we just helped," she says. "I am proud for the children of Memphis to have Le Bonheur and I am proud for the city of Memphis to have such an incredible resource as Le Bonheur."
"We have one of the best children's hospitals in the country and the more we support it, the stronger it will become. Having community resources like Le Bonheur helps entice potential newcomers to join our community," Bill says. "In Memphis, we are incredibly fortunate to have such a strong health-care community and I believe the strength of our medical community is a significant point of differentiation from other cities."
"You don't know what Le Bonheur means until you need it," Amy adds. "Before we used their services, we knew it was a wonderful place, but we really had no idea how wonderful. You hope you will never have to use their services, but if that day comes, as it has for us, you quickly realize how blessed we are in this community to have Le Bonheur. As a parent, you take tremendous comfort knowing your child is getting the very best care possible."