Teacher makes giving a lifetime pursuit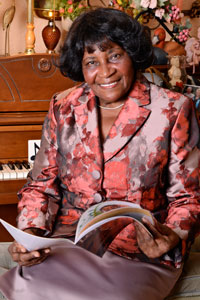 Nearly three decades of giving says something about a person's commitment to the cause that they financially support. For retired Memphis city high school teacher Shadye Parker, once she made her first contribution to Le Bonheur, she never stopped.
What is most inspiring about Shadye's dedication to helping provide for Le Bonheur's patients is that during all these years she has never stepped foot inside the hospital except once and that was in the 1970s to assist one of her students.
"One of my students was crying because she didn't have a way to get to Le Bonheur when her nephew was a patient there," says Shadye. "I drove her to Le Bonheur and waited while she visited and then I took her home."
Yet for 22 consecutive years, Shadye, 74, has made donations to Le Bonheur. "I began making annual contributions to Le Bonheur after my mother died in 1991," says Shadye. "I remembered that student long ago and I also wanted to honor my mother. I know my gifts to Le Bonheur will reach people who really need it. When I was a child, I never had very much and I always said if I got in a position where I had money I would share it. Children have no way to get anything and have to depend on their parents. You just can't go wrong helping a child. Their future depends upon how we treat them."
Children are something Shadye knows a lot about. As a school teacher for 30 years, she recognized early on that hungry kids needed to eat in order to learn. Long before there was a free lunch program in the school system, she made sure her students never went hungry by giving them lunch money if they needed it.
"I always tried to carry myself in such a way that I was approachable, so the kids would come to me if they needed anything," she says.
In return, Shadye asked that the students in her homeroom class gather canned goods for the Thanksgiving food baskets to feed the less fortunate. Over the 20 years she taught at Northside High School, Shadye's students won three trophies and more than a dozen ribbons for their overwhelming efforts.
"I taught my students to give, just like my mother taught me," says Shadye. "All my students were asked to bring in canned food and money to help make the baskets because it was important that they learn how to share what they have with others."
Even though Shadye retired from teaching in 1989 to care for her 93-year-old mother, she says she still gets calls and visits from many of her students — several of whom became doctors, lawyers, teachers, school principals, a fire chief, two city court judges, an optometrist and many professional business leaders — who thank her for what she taught them.
"I had the achievers," she explains. "As a teacher, you don't always get your thanks in pay but when it comes from your students, then that is thanks enough."
Born and raised in Memphis, Shadye graduated from Manassas High School along with her three sisters and two brothers. They had it rough growing up and she doesn't like to talk about those days. Her father, a World War I veteran, was paralyzed from the waist down after a feed mill accident and spent most of his life in a wheelchair. Her mother was a domestic worker and refused to accept any assistance. To help the family, Shadye and her siblings worked at a local café and picked cotton.
"My mother didn't have much to give but she gave blood when a friend of hers was ill and needed it," says Shadye. "She never gave it a second thought. Any child in the neighborhood who was hungry would be invited to our house to eat. We didn't have much except love and we helped each other."
Shadye recalls when she was 12 her mother sent her to mop the floor of a neighbor who was in a wheelchair. "My mother encouraged us to go work for her but told us we weren't to accept any money for it," says Shadye. "That's how I learned about giving. I like giving. It's a good feeling to know you're helping somebody."
Shadye received a scholarship to LeMoyne-Owen College and later finished her master's degree from Memphis State University (now the University of Memphis) in 1967. A whiz in math, Shadye was singled out early in her career to teach trigonometry. She later received three grants from the National Science Foundation to attend courses in modern mathematics at Memphis State, Lane College and the Illinois Institute of Technology in Chicago.
Even after all these years, Shadye believes her contributions to Le Bonheur still make a difference.
"I know my gifts to Le Bonheur will be used properly and won't be misspent," she says. "With my help, at least the children will have a chance and that's important to me. It enriches your soul to know you are helping somebody. Giving is not new to me. I know where I came from and I don't mind giving. If you give from the heart, you will be rewarded. The Lord has been good to me and I intend to always give to Le Bonheur."