Tragedy Leads Father and Daughter to Dedicate Room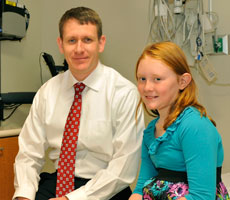 When the Pedersen family left their home in North Little Rock, Ark., to meet some old friends in Memphis, they never imagined their weekend of fun would end with a life-changing tragedy.
Carrie and Jim Pedersen, married a little more than 11 years, had met while attending the U.S. Air Force Academy. They married the day after they graduated. A family soon followed.
The whole family was looking forward to the trip, particularly Ashley, 6, and her younger brother Lucas, 2-and-a-half years old. Ashley adored Lucas and Lucas always wanted to do whatever Ashley was doing. The whole family was looking forward to the trip together.
They arrived in Memphis on a Friday night and were joined by their friends who had chosen Memphis for a stopover as they traveled from Alabama to Missouri. Memphis was a convenient place for all to meet, with plenty of activities for their weekend reunion.
Sunday came, and it was time to say goodbye and head back to Arkansas. On their way home, a terrible car accident occurred. Lucas and Ashley were both brought to Le Bonheur Children's while Carrie was declared dead at the scene.
Sadly, Jim and Ashley lost Carrie and Lucas on that day.
"Nothing could be done for Lucas but I know if there had been any chance for him, Le Bonheur was the right place for him to be," says Jim Pedersen. "At first the doctors were unsure of the severity of Ashley's head injury but after a thorough examination, they did a magnificent job managing her trauma. I am very grateful that both she and Lucas came to Le Bonheur."
For Jim, the days after the accident were extremely tough, having lost Carrie and Lucas while at the same time worrying about Ashley's care and treatment. "If there was one positive aspect of the crash, it was that it happened near Le Bonheur," Jim says.
Ashley, now 10, is active in her school sports program, playing basketball and soccer. She is bright and excels in math and like all parents Jim proudly boasts that she does very well in all her school subjects.
For the first time since the accident, Jim and Ashley returned to Le Bonheur in 2011, this time to tour the new hospital and to see the examination room named in honor of the gift Pedersen made to the new hospital and dedicated in celebration of Lucas' life.
"We are all proud that Lucas' name is on the room," Jim says. "It feels good to help others in his memory."
"Bad things happen to children, as did in our case," Jim continues. "But seeing all the great things that Le Bonheur offers children and their families is comforting. Looking back on the care that Ashley received after the crash and how Le Bonheur supported her and our family, we thought it was fitting that we dedicate a room in the Emergency Department to Lucas. I can't think of a better way to honor him and it feels good knowing that there is a place that will always have his name on it."
Jim and Ashley now live in Colorado Springs. He works at the Space Innovation and Development Center at Schriever Air Force Base on space and cyberspace issues. They have a wonderful support team from both sides of their family which has been a positive force in healing everyone.
"When I reflect on the week when Ashley was a patient at Le Bonheur, I attribute the care she received there as the reason she recovered 100 percent physically and is doing so well today," Jim says. "No parent wants to see their child suffer. There are many needs in Memphis as well as across the country. Positioning Le Bonheur to meet those needs for the long term is the right thing to do."