Annabelle Meacham: The Pond
Location: Emergency Waiting
Underwriting Cost: $20,000

Annabelle Meacham turned to a quilting book for inspiration when she was commissioned to do an art piece for the new Le Bonheur Children's Hospital.
"Quilting exhibits love, and it's something used to comfort a child," said Meacham. "I, like almost everyone else in this region, know Le Bonheur and have been there with a child. I understood the need for comforting images, but also the need for them to be interesting and incite story-telling."
With quilting patterns as borders and backgrounds for 19 circular disks to be hung on the walls of the Emergency Room waiting area, Meacham picked a theme from nature to place in the center of each circle. Her work is titled "The Pond," and all of her subjects such as frogs, flies and fish can be found in that particular setting.
To create each disk, Meacham scanned drawings and used a tracing sheet to place them onto a primed disk. The disks are varying sizes, reaching up to 30 inches in diameter. From the trace, Meacham and her helpers filled in with paint much like one would a coloring book, and she finalized each piece with shading.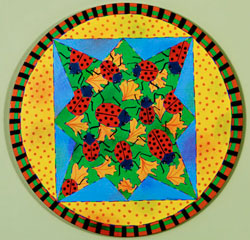 "I consider nature to be a part of our lives. I chose to illustrate subjects that even an inner-city child would be able to recognize—a skunk, a ladybug or a hummingbird," she said.
Meacham describes herself as a "southerner who has traveled."
Meacham graduated from Florida State University and later attended the Memphis College of Art. She has traveled in China, much of Europe, Greece, Egypt, Israel, Mexico, Canada, and around the United States. She is currently represented at L.Ross Gallery in Memphis, , and Jay Etkin Gallery in Santa Fe, New Mexico.
In addition to several solo exhibitions, Meacham has had work selected for juried exhibitions by the curator of the Phillips Collection (Washington, DC), the curator of Contemporary Art at the Brooklyn Museum of Art (New York City), and by well-known Chicago artist Ed Paschke. New York art critic Peter Plagens recently visited her studio and selected her as an artist for the Mississippi Museum of Art Biennial Invitational Exhibition.
In 2003, the annual reader's poll of Memphis Woman Magazine named Meacham their favorite artist. Meacham lives and paints in northwest Mississippi, about 40 miles from Memphis.
If you would like to inquire about underwriting this or any of the other pieces in the Le Bonheur Children's Hospital Art Collection, please call the Le Bonheur Children's Hospital Foundation at 901-287-6308.