Carol DeForest: Mapping Our Lives
Location: 2nd Floor Waiting
Underwriting Cost: $20,000
Local artist Carol DeForest had a vision for "Mapping Our Lives," a massive sculpture combining hundreds of hand-made clay casts, before the project even began.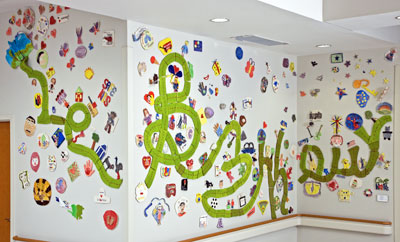 But what she never could have imagined was the profound impact the process of making this collaborative piece would have on everyone involved. DeForest hosted a series of workshops at Le Bonheur Children's Hospital, where more than 200 patients, families and Associates contributed to the winding road that now spans three walls on the second floor in the surgery waiting area.
"It was a really intense experience to do these workshops," said DeForest. "If the staff from Le Bonheur gives care as diligently as the work they did on this project, I know where I want to go if I get sick."
Workshop participants expressed themselves in the casts that dot the road, which spells Le Bonheur. The pieces range from representations of the Memphis music scene or favorite sports teams to local landmarks. Others go deeper—an intricately designed breathing machine from a pulmonary nurse or a sickle-shaped cell from a Le Bonheur parent.
Patients who were well enough to leave their rooms created some of most original and personal pieces. One of DeForest's favorites is that of a red rose with the words "65 roses" stamped into black clay.
DeForest later learned that "65 roses" is a common nickname among children with cystic fibrosis.
"It was an unbelievable series of workshops," said DeForest, "because you just didn't know what was going to happen."
The Neighborhood School, a private school for at-risk children in the Binghampton neighborhood, played host to one of the 10 workshops. Many of the kids were familiar with Le Bonheur from personal experience.
Of the 60 pieces that the schoolchildren contributed, one stood out to DeForest. When a young boy was suffering from artist's block, DeForest asked him to begin by painting his handprint—a common trick that DeForest uses when working with children. He seemed reluctant at first, but agreed. And the handprint, she said, was extraordinary. Only after the workshop did she discover that the hand he used had been disfigured from severe burns.
"He was brave enough to reproduce something that scary," said DeForest. "He could have chosen another subject or drawn his other hand, but instead he chose to accept it and express it through his art...It was such a beautiful moment."
DeForest has worked on several public projects in her 30-year tenure as a professional in the region. She came to Tennessee from her hometown in Texas to attend Rhodes College, where she received her bachelor's degree in art. She also received a BFA from Memphis College of Art and has worked as a resident artist for the state. She has lent her talents to the Dixon Gallery and Gardens, Memphis City Schools, Memphis Area Transit Authority and the Central Police Precinct.
Her most recent public project was for the City of Memphis' new vehicle inspection station on Appling Road. She additionally teaches several classes at Memphis Jewish High School and a clay class for adults. DeForest embraced the communal aspect of the Le Bonheur project and said she found the experience more rewarding than she had ever anticipated.
"It was a huge deal for me to have worked on an art project for the hospital. It made me become familiar with the hospital. It gave me a sense of ownership of it as well," she said. "This is something so important for our community, and I'm very thrilled that I got the chance to do a piece for our hospital."
If you would like to inquire about underwriting this or any of the other pieces in the Le Bonheur Children's Hospital Art Collection, please call the Le Bonheur Children's Hospital Foundation at 901-287-6308.