Kiersten Williams: My Happy Place
Location: Corridor to Emergency Waiting
Underwriting Cost: $7,500
Because art in the new Le Bonheur Children's Hospital is meant to heal and soothe patients, Memphis artist Kiersten Williams asked kids in her art workshop one simple question: What makes you happy?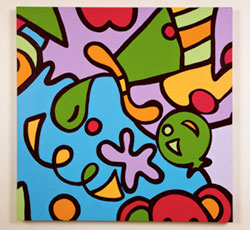 The responses she got from the children, who range in age from 6 to 12, were a random mix of childhood objects, including candy, teddy bears, cats and books.
Williams used their ideas to design a piece for the corridor that leads to the Emergency Department waiting room. To start, she drew a giant mural of the kids' suggestions and then traced the design onto 20 wood panels, measuring 40 inches by 40 inches. Williams then asked the kids to fill in the objects with bright acrylic paint, much like a paint-by-numbers project. She outlined each object in a dark burgundy.
"I really wanted to involve kids in the project," said Williams. Williams calls the collection of panels, which hang in groups of twos and threes, "My Happy Place."
A Memphis native, Williams graduated with a business degree from the University of Memphis. After deciding that the corporate world was not for her, she got back into creating art, specifically mixed media collages. Williams now spends her time doing public art projects inside her studio, Marshal Arts. One of her pieces is featured in the "I Have a Dream" art tour around the country.
If you would like to inquire about underwriting this or any of the other pieces in the Le Bonheur Children's Hospital Art Collection, please call the Le Bonheur Children's Hospital Foundation at 901-287-6308.