Le Bonheur Children's Hospital and West Tennessee Healthcare are working together to improve access to specialized pediatric care in West Tennessee. This collaboration will improve the health status of West Tennessee children by enhancing access to expert, cost-effective care. Our desired outcomes include:
Improving access to expert pediatric care, closer to home when possible – while achieving high levels of service and excellence.
Developing more comprehensive pediatric specialty programs in West Tennessee
Strengthening the coordination of care for patients who need to travel to Memphis by providing seamless transition among providers when children need complex pediatric care.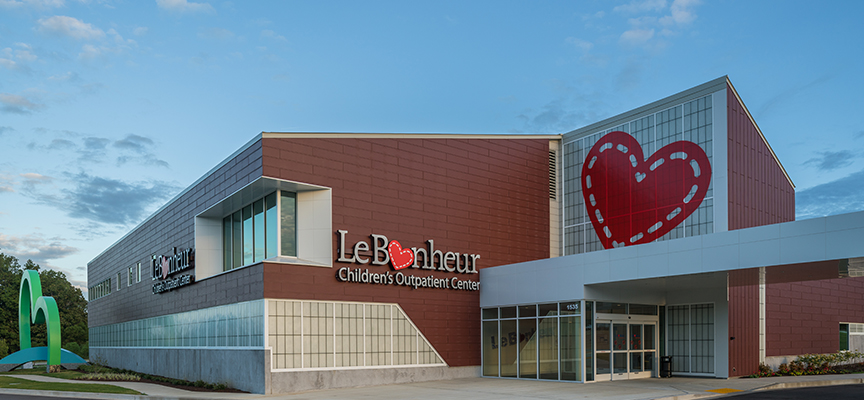 Our shared mission will give West Tennessee kids access to expert pediatric care close to home. We know that keeping kids close to home is always the best option, and together Le Bonheur Children's and West Tennessee Healthcare will provide expert care for kids in West Tennessee.
Le Bonheur Children's and West Tennessee Healthcare have long been committed to taking care of children in West Tennessee. Now we'll do it together.
Frequently Asked Questions
Children of West Tennessee are our priority. West Tennessee Healthcare has served children of this region well, and Le Bonheur wants to collaborate with West Tennessee Healthcare to build on that care to offer services that will most help West Tennessee children.\n\nJackson-Madison County Hospital's staff has cared for children for years. The state of Tennessee has granted us approval of our collaboration to enhance care with Le Bonheur pediatric specialists who will work closely with West Tennessee Healthcare staff to provide greater access to Le Bonheur's pediatric expertise. The pediatric unit, which would be licensed to Le Bonheur Children's Hospital, will be the first of its kind in West Tennessee. We want the unit to be staffed by Le Bonheur experts, and offer all the specialized pediatric services that families deserve.
Our primary goal is to provide expert care for West Tennessee children closer to home. When more complex care is needed in Memphis, together we can provide a higher level of coordination among our teams.\n
We were recently granted apporval from the state of Tennessee to move forward with our collaboration. We'll let you know more as soon as further plans are developed.
For many years, Jackson-Madison has been there for West Tennessee kids and will continue to be. We're focused on making sure that the transition into a collaboration between Le Bonheur and West Tennessee Healthcare is seamless and will provide more pediatric specialty services in West Tennessee. Kids in this community are our top priority.
Yes, we want the pediatric team at Jackson-Madison General Hospital to continue to work in Jackson and be part of this collaboration. We know that the Le Bonheur and West Tennessee staffs are the heart of all we do, and we look forward to bringing these two groups together.
No, the Jackson Outpatient Center will continue regular operations.