Test Anxiety? Parents, here are some ways to help
Posted: February 10, 2016
With state testing coming up for school-aged children, it can be normal for students to feel a little stressed – especially for children with test anxiety. Le Bonheur Psychiatrist Valerie Arnold, MD, shares some helpful information for parents who want to help ease their child's anxiety about testing.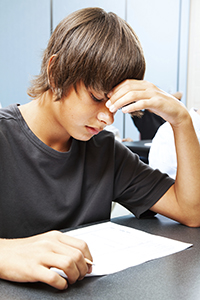 Everybody has anxiety, says Arnold. In fact, anxiety is actually helpful in some situations. When it starts to cause problems – insomnia, physical stress, avoidance of certain situations, etc. – that's when you should seek help.
Signs your child's anxiety is worrisome include:
Insomnia or trouble sleeping before a test
Headache, nausea or diarrhea before a test
Becoming irritable or keyed up before a test day
Muscle tension or difficulty concentrating
Is there a reasonable reason your child is feeling anxiety? Is he prepared? If not, help your child plan ahead and do a little work or studying each day – even if it just builds confidence.
Other tips that might help:
Talk to your child's teacher. He or she can help you determine how reasonable the anxiety is and offer suggestions. Many schools offer tutoring.
Reassure your child. Help them process the upcoming test and be reasonable. Let them know that no one fails the state exams, like TCAP. The tests are used as a way to evaluate the schools, not the students. College-entry tests, like ACT and SAT, can be repeated, and there are prep courses if needed.
Exercise. Sports or physical activity can help ease tension and reduce stress.
Therapy and non-sedating medications are available if your child fails to respond to reassurance of support.