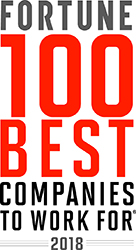 Le Bonheur Children's Hospital is a Magnet-designated facility and recognized among the nation's "Best Children's Hospitals" by U.S. News & World Report for 12 consecutive years and named a Top Children's Hospital by The Leapfrog Group – one of the most competitive honors hospitals can receive when it comes to safe patient care.
Le Bonheur has a family-like culture and work environment that allows staff to be at their very best and feel like they are making a difference in the lives of children. We value our staff's opinions and not only encourage, but expect, staff to provide input and question. Our Associates enjoy longevity, stability and personal growth.
Why Memphis?
Memphis blends a friendly community, a thriving and growing downtown and a low cost of living. With many theaters, museums, parks, malls, and sporting events, there's always something to do. Good food, nice weather and great people make Memphis a wonderful place to live.
Memphis is ranked as "America's largest small town," featuring big city amenities, cultural diversity and economic opportunities alongside small town staples like a tight-knit community and low cost of living. Memphis was on Time Magazine's "The Top 25 Cities Where Millennials are Moving," and is a growing city with opportunities to be seized, problems that need to be solved and a fun city with so much to enjoy.
At Le Bonheur and in Memphis, our team values our mission, and knows we're making a difference every day. Click here to learn more about our city.
Working at Le Bonheur
We strive to provide the most exceptional healthcare for all children. And for almost 70 years, we have done just that. A staff of more than 3,200 Associates focuses on providing the best family-centered care for children throughout the Memphis region and across the country. Our reputation as a dedicated and compassionate community makes it the preferred place of employment for many healthcare workers.
Le Bonheur also offers:
Tuition Assistance
Continuing Education
Matching 403(b) up to first 6%
Comprehensive Medical, Dental, & Vision
Company paid Short-term Disability and Long-term Disability
Flexible Spending Accounts (FSA)
Paid Time Off (PTO)
Credit Unions
Employee Assistance Program (EAP)
All Heart for Kids
Everything about our children's hospital is designed especially for kids. From specially sized equipment to colorful artwork, red wagons and playrooms, our Associates understand the special needs of children and adolescents.
Patient- and Family-centered Care
Our staff wants to create partnerships with families that help children get better quicker. As part of the Le Bonheur family, you would work alongside our pediatric professionals and patient parents to develop and carry out treatment plans that apply evidence-based medicine in a safe and supportive environment.
Ready to join our team?
Apply for a job at Le Bonheur
Visit our online career center and select "Le Bonheur Children's Hospital" from the list of Methodist Le Bonheur Healthcare facilities.