Palliative Care
Pediatric palliative care is specialized medical care for children with chronic and complex illnesses. The Palliative Care Program, Threads of Care, provides a family-centered, culturally-sensitive approach to the care and provides patients and families with:
guidance in medical decision-making
understanding of prognosis
relief from the symptoms and stress of a serious illness—whatever the diagnosis
Our goal is to improve quality of life for both the child and the family. We are a consult service that provides expert, patient-and family-centered care. We do this by collaborating with the primary medical team, and by respecting the goals, wishes and cultural values of the patient and family.
Our team
Le Bonheur's palliative care team includes doctors, a nurse practitioner, a social worker, a chaplain, a coordinator, a parent mentor and volunteers who develop collaborative partnerships with patients, specialists, primary care physicians and the family to provide continuity, care coordination and additional support.
How does the palliative care team help?
Our palliative care team will partner with you to support your child and family throughout your child's illness. The team helps you to understand treatment options and promote your goals as well as helping with management of symptoms. Working together with your primary teams, the palliative care team provides:
Care coordination and collaborative care planning
Guidance with medical decision-making throughout the duration of your child's illness
Education to help you fully understand the disease process
Promotion of the highest quality of life for you and your child
Collaboration with the primary teams and your family to define intermediate and long-term care goals
Optimization of symptom control to improve quality of life
Telephone contact after discharge to ensure that your child's care plan is in place
Assistance with discharge planning to determine palliative care needs
Emotional support and guidance for managing complex illness and care needs
Alternative therapies
Fellowship program
The University of Tennessee ACGME approved Hospice and Palliative Medicine Fellowship Program offers comprehensive, multi-disciplinary training in Hospice and Palliative Care, providing fellows with a unique skill set to deliver outstanding clinical care, achieve board certification in hospice and palliative medicine and position themselves for diverse and rewarding career opportunities. Learn more.
Contact
If you would like to talk to someone about whether palliative care may be of benefit to your child, please call (901) 233-9768 at any time of day or night to speak with a member of Threads of Care, our palliative care team.
Care Through it All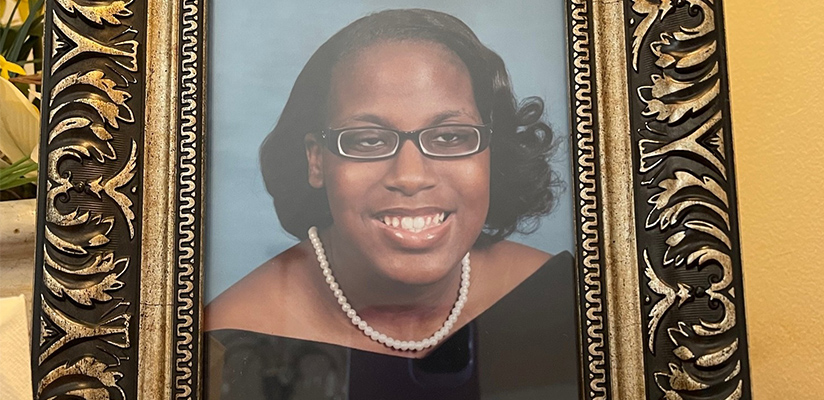 Throughout her life, Dedra Jarret received care from Le Bonheur Children's Hospital for epilepsy and associated intellectual delays. At the age of 23, Dedra's epilepsy had progressed and her overall health began to decline. During this time, Dedra and her mom, Goldie Harwell, were introduced to the palliative care team here at Le Bonheur.
"The whole time they cared for my daughter, the palliative care team treated my daughter and me with respect. They guided us through this journey, and helped me fully understand everything that was to happen next," said Goldie.
The palliative care team made themselves available 24/7 to answer any questions that Goldie might have. They made sure that her wishes and wants for her daughter's final moments were respected. They even checked in daily to see how Goldie was doing and helped make sure she was caring for herself.
When asked what advice she would give to parents in her situation, Goldie said this, "I can't describe the pain of losing a child, but listen to these doctors. They are there every step of the way. Le Bonheur's Palliative Care Team is unmatched when it comes to care. I can't explain in words how much they helped me along this journey. The pain of losing a child is extreme, but due to the education I received, I am able to cope."