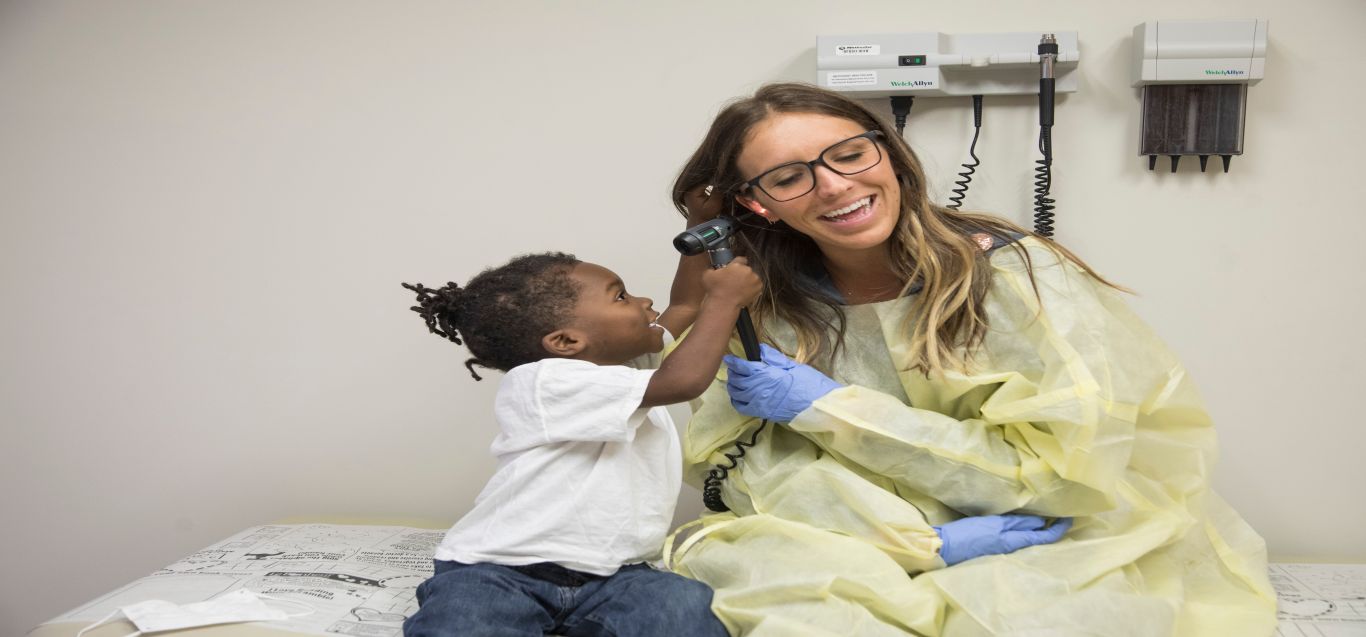 10 ways child life specialists help children at Le Bonheur
Posted: August 03, 2020
It is never easy to have a child hospitalized. The hospital experience can be very difficult to navigate. Certified Child Life Specialists are educated and clinically trained in the developmental impact of illness and injury. Through the use of play, preparation and education, they may be able to reduce fear, anxiety and pain during a healthcare visit.
We sat down with a few of our child life specialists here at Le Bonheur, who see patients in the inpatient, critical care and outpatient setting. They highlighted several ways in which they help families during their child's visit to the hospital.
1. Normalizing the healthcare environment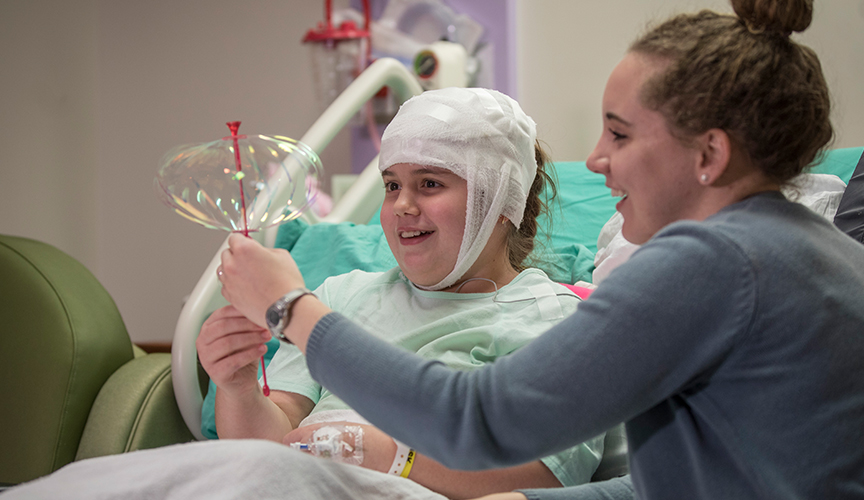 Child life specialists work to help make the healthcare environment feel as normal as possible and help kids be kids. Through the use of play and conversation, they are able to get to know your child and assess how to best support them. Providing favorite comfort items and opportunities to play are two easy ways to help your child feel more comfortable in the hospital. A child life specialist can help address any concerns that you might have, and help walk you through what to expect during your visit to help you feel comfortable while you are here.
2. Diagnosis teaching
As a parent, it can be difficult to know where to begin to explain a new diagnosis to your child. Often a new diagnosis comes with new terms and new routines for your child and family. Child life specialists are able to assist with finding the appropriate words to help your child understand what comes with their diagnosis. Their goal is to empower you as a parent to lead the conversation about a new diagnosis, but child life specialists are available to provide you assistance at whatever level your child/family needs.
3. Support during procedures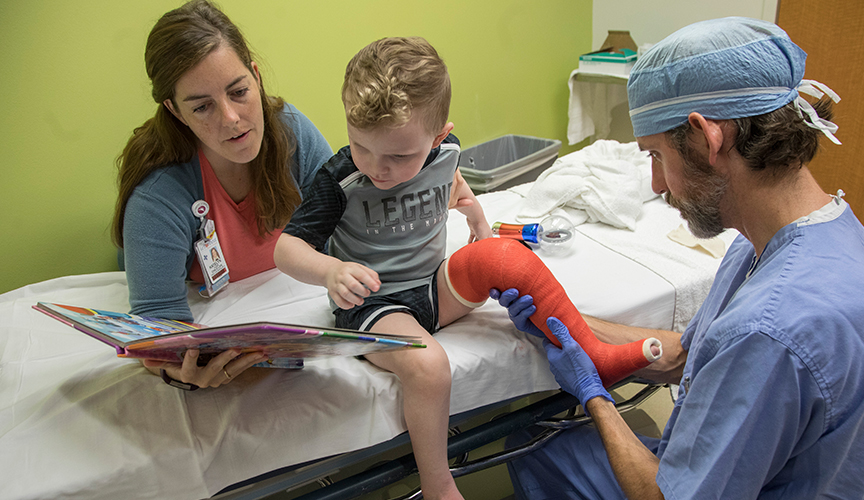 Some procedures may be uncomfortable or scary. Having a child life specialist present during these procedures may help to decrease your child's anxiety. They may use distraction or coping techniques, like deep breathing, to help your child through their procedure.
4. Non-pharmacological pain management
Managing your child's pain is important to us at Le Bonheur. While we may not be able to completely remove all pain, our goal is to keep their pain under control. Child life specialists may be able to provide activities or items that will divert your child's attention away from the pain. A child life specialist can also provide you and your child education about coping techniques to help manage pain.
5. End of life support
Families who experience the loss of a child at Le Bonheur do not have to walk that journey alone. As part of the psychosocial team, child life specialists collaborate with other team members to provide support to families at end of life. This may include providing memory making opportunities for your child and family. Child life specialists are also available to provide the help you need to discuss death with other children in your family.
6. Play and developmental stimulation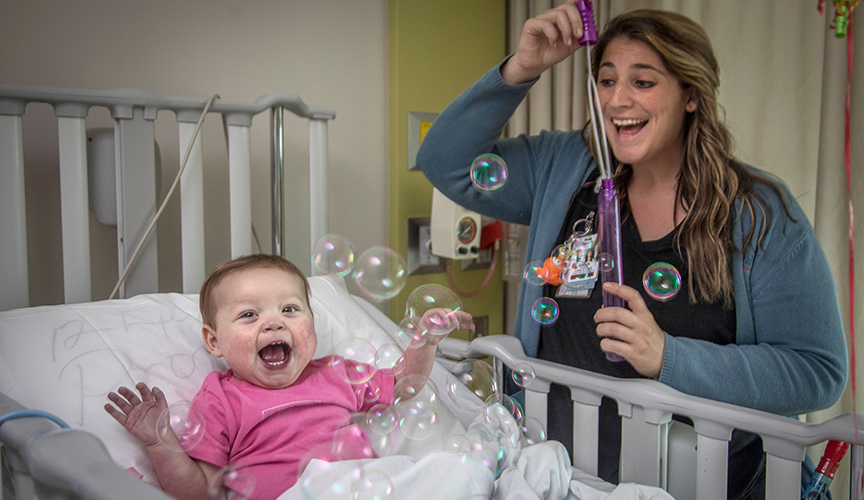 Play is a significant part of the life of any child. It is through play that children learn, grow and develop. It is important that children have the opportunity to play, regardless of their age or developmental level. Through one on one interactions or access to group activities, the opportunity to play should exist wherever you are in the healthcare setting.
7. Anxiety and stress reduction
As previously mentioned, the healthcare setting may be stressful and overwhelming. Child life specialists work with children to reduce their stress and anxiety. By identifying stressors, they are able to collaborate with you and your child to create a plan focused on coping. Coping plans are unique to each child and may include practicing deep breathing, offering choices to promote a sense of control, or helping your child advocate for their needs.
8. Family and sibling support
When meeting the needs of your child, we strive to also partner with the family, the people who know your child best. Child life specialists support caregivers by being an additional support and advocate for your family. Visiting the hospital may be overwhelming for a sibling. Child life specialists may be able to help prepare the sibling to visit the patient's bedside by explaining what they may see, hear, smell and touch. A child life specialist can also help the sibling navigate and express their feelings about having a brother or sister in the hospital.
9. Preparation for procedures or surgery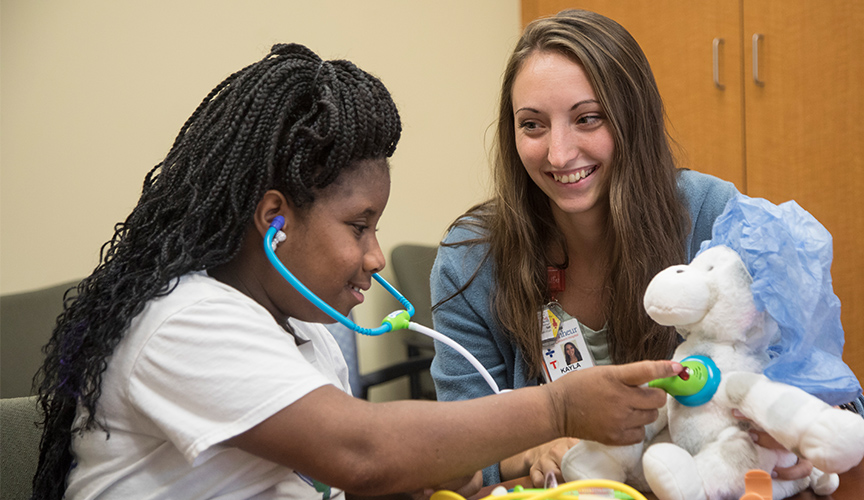 Children benefit from understanding what is happening around them. Child life specialists use developmentally appropriate methods to help children understand what will happen while they are at the hospital. They might use pictures, real medical equipment and play medical items to help your child understand what is happening around them. By focusing on what your child may see, hear, smell, feel or taste, the child life specialist is able to help them better understand the steps involved in their procedure or surgery.
10. Emotional support
Child life specialists are not trained as counselors, but are educated on ways to support you and your child. As active listeners, they are able to hear you out when you express concerns or frustrations. While they may not have the answers, they can help empower you to be your own self advocate, as well as advocate on your behalf to the medical team about questions or concerns you may have.
Child life specialists are here to help. They serve our downtown location seven days a week and four days a week at our Humphreys location. If your child is at Le Bonheur and needs additional support, feel free to ask for a child life specialist. They will try to be available to meet your child's need. Do you have a planned visit and want to speak with a Certified Child Life Specialist? You can email them at child.life@lebonheur.org