The mission of the pediatric critical care medicine (PCCM) fellowship program at UTHSC is to train clinician scientists. Le Bonheur Children's Hospital provides a rich learning environment for pediatric critical care fellows with multi-ICU locations including a PICU (20 beds), CVICU (10 beds), Neuro ICU (6 beds) and Intermediate Care Unit (15 beds) as well as a rotation through the onco-critical care unit (8 beds) at St. Jude Children's Research Hospital. The fellowship program emphasizes extracorporeal therapies and supports a Level 1 Trauma Center.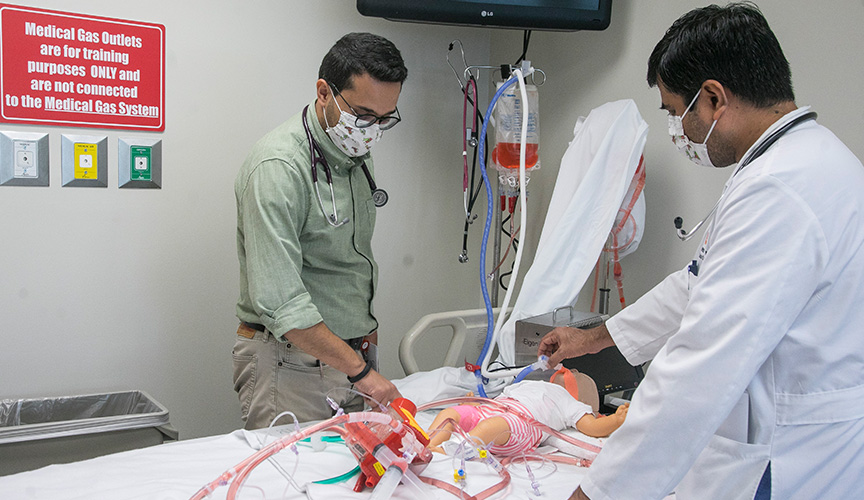 The PCCM fellowship training program follows an ABP-oriented curriculum with protected educational time and access to mentored research at UTHSC or St. Jude. Our fellows participate in simulation boot camps, ultrasound training, ECMO course (didactic and simulation-based training) and communication/debriefing training. Combined fellowship training is available with pediatric cardiology, hematology-oncology and infectious diseases.
Learn more about UTHSC's critical care medicine fellowship program and apply.
Fellow Awards
Alyssa Smith – 2022 AAP Section on Critical Care Best Quality Improvement Award
Timothy Flerlage – 2019 PALISI Fellow Presentation, Spring Meeting 2019
Karan Karki – 2019 Outstanding Fellow Abstract Award, UTHSC Pediatric Research Day
Madhura Hallman – 2018 Outstanding Fellow Abstract Award, UTHSC Pediatric Research Day
Shyam Popat – 2023 AAP Section on Critical Care Scholarship for POCUS training, AAP National Conference and Exhibition, Washington, DC
Research Interests
Severe Sepsis/Multiorgan Dysfunction Syndrome
Pediatric Neurocritical Care
Global Onco-Critical Care (St. Jude Children's Research Hospital)
Social Determinants of Health/Adverse Childhood Experiences in PICU
Artificial Intelligence in the Pediatric Critical Care setting
ECMO-related research
Palliative Care/End of Life Care
ARDS
Program Staff: Critical Care Medicine
Program Director
Associate Program Director
Fellowship Research Director
A. Nico West, MD, PhD
Assistant Professor, Department of Pediatrics
Postdoctoral Fellowship: Department of Physiology, University of Tennessee Health Science Center
Fellowship Coordinator
Victoria West, MBA
vwest@uthsc.edu
901.287.5269