Le Bonheur provides a rich learning environment for fellows with three ICU locations.Combined fellowship programs are available, including pediatric critical care medicine (PCCM) training with cardiology, hematology-oncology or infectious diseases. The PCCM fellowship follows an ABP-guided, faculty-directed and fellow-driven curriculum with protected educational time for the fellows' lectures and additional clinical and research educational opportunities.
Fellows lead pediatric resident education and develop their teaching skills with one-on-one support from faculty. With a special emphasis on hands-on training, our fellows participate in monthly simulations, including procedural skills, communication and debriefing.
Research Interests
Severe sepsis and multiple organ dysfunction syndrome (MODS)
Artificial intelligence applications in critical illness recognition
Neurocritical care, including traumatic brain injury treatment, outcomes and associated neuroendocrinopathies
Acute lung injury and acute respiratory distress syndrome
Pulmonary hypertension
Global health
Hemophagocytic lymphohistiocytosis (HLH)
Long-term outcomes following PICU hospitalization and extracorporeal membrane oxygenation (ECMO), including neuropsychological outcomes
Program Staff: Critical Care Medicine
Program Director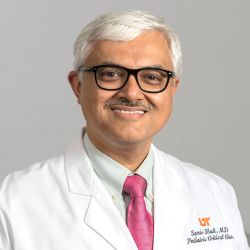 View Profile
Dr. Shah is a Critical Care Intensivist.
Associate Program Director
Fellowship Research Director
A. Nico West, MD, PhD
Assistant Professor, Department of Pediatrics
Postdoctoral Fellowship: Department of Physiology, University of Tennessee Health Science Center
Fellowship Coordinator
Rhonda Gray
rgray25@uthsc.edu
901.287.6034