The pediatric emergency medicine (PEM) fellowship offers superior training at a Level I, free-standing pediatric hospital with an annual ED census of approximately 85,000 patients. Our fellows care for a variety of high acuity medical illnesses and traumatic injuries. Mentors are provided early in fellowship, and our supportive faculty are involved in quality improvement and research activities. A broad curriculum provides competency in PEM using bimonthly didactic sessions with lectures, interactive learning sessions and monthly simulation training. Fellows work alongside a PEM attending but still have plenty of opportunities to develop autonomy, supervise and educate residents.
Fellows Awards
Tucker Anderson - 2018 PEMPix Judge's Award at AAP, 2017 EmergiQuiz selection at AAP
Robert Stewart - 2018 EmergiQuiz Honorable Mention at AAP, 2018 PEMPix presentation at AAP
Sri Aravapalli - 2016 AAP PEMPix presentation, 2015 AAP PEMPix presentation
Research Interests
Use of high-dose intranasal fentanyl in the emergency department (ED)
Early administration of IV magnesium to severe asthma exacerbation decreases the hospital
admission rate
Impact of terbutaline as adjuvant therapy in the treatment of severe acute asthma exacerbation in the
pediatric emergency department
Financial impact of NPO times for sedation in the ED
FIRe: Firearm injury research
Bedside ultrasound for confirmation of gastrostomy tube placement
HIV testing in the ED
The impact of the COVID-19 pandemic on pediatric non-accidental trauma
Reducing time to resolution of pediatric diabetic ketoacidosis: Does it help to start insulin early?
Program Staff: Emergency Medicine
Program Director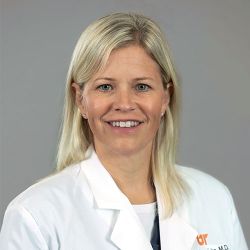 Mindy Longjohn, MD, MPH
Assistant Professor of Pediatrics Residency: University of Tennessee Health Science Center
Associate Program Director
Fellowship Coordinator