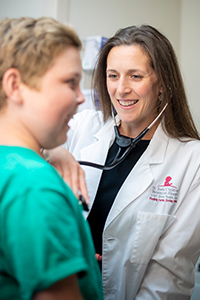 UTHSC's pediatric hematology-oncology fellowship program is located primarily at St. Jude Children's Research Hospital. This three-year, ACGME-accredited fellowship trains the best future leaders in academic pediatric hematology-oncology.
Children of all ages with problematic hematologic findings and potential malignancies are seen and followed at Le Bonheur. The program provides fellows with a thorough understanding of the pathophysiology of pediatric malignancies and hematologic disorders.
For more information visit: www.stjude.org/hemonc-fellowship.
Program Staff: Hematology-Oncology
Program Director
Justin Baker, MD
Member, St. Jude Faculty
Associate Program Director
Rachel Brennan, MD
Associate Member, St. Jude Faculty
Associate Program Director
Sara Federico, MD
Associate Member, St. Jude Faculty
Program Coordinator
Leeanna Fox Irwin, MAEd, C-TAGME
leeanna.foxirwin@stjude.org
901.595.3026