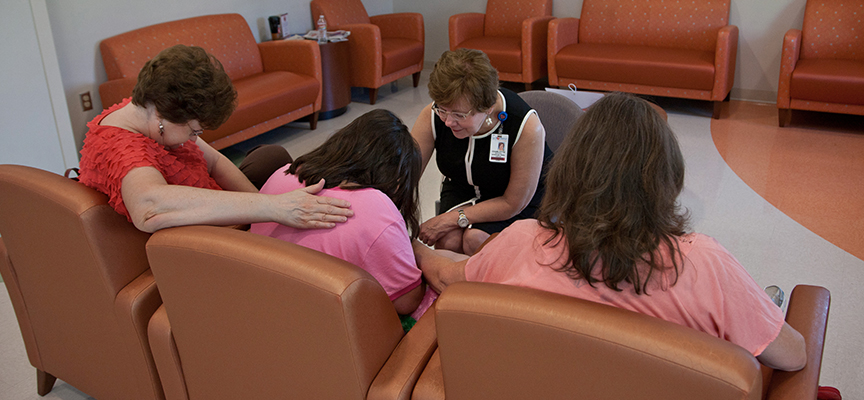 Our Spiritual Care team provides spiritual support to our patients and their families during difficult times.
Hospital ministry to people of all faiths
Our chaplains have specialized training in hospital ministry. They are available to listen to concerns and feelings, pray with you, read scriptures and administer the Sacraments.
We are committed to caring for persons of all faiths. The chaplains can make arrangements to accommodate your special needs and requests for specialized ministries by calling a minister of like faith, a Catholic Priest, Jewish Rabbi, or Muslim Imam.
Chaplains are available to visit with your family to bring God's presence and spirit into the midst of difficult and uncertain times. We are available for you 24 hours a day, seven days a week.
A quiet place for prayer
A chapel is located on the Lobby Level of the hospital near the Family Resource Room. There are two quiet rooms for private prayer and reflection. The Wishing Wall is a place where patients, families and friends can write down prayer requests or reflections. Our chaplains pray over the concerns at services held each Thursday and Sunday at 2 p.m.
Ethics consultation
Should an ethical question arise that involves your child's treatment, you can request a consultation with our ethics committee.
Spiritual Care Contact:
(901) 418-4022 or (901) 287-6024
On Call Pager (24 hours a day, 7 days a week): (901) 418-4022