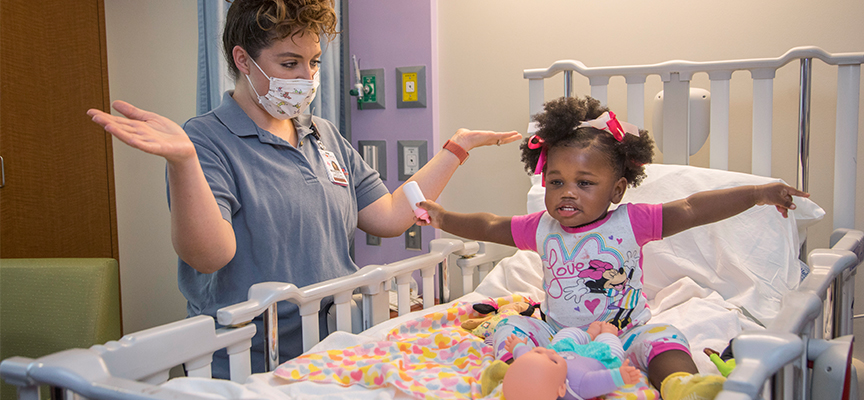 We know that healing requires much more than medicine. It requires treating the whole child in order to encourage recovery.
Certified Child Life Specialists focus on:
psychosocial needs of children
collaborating with parents and members of the health care team to ease a child's fear and anxiety
encourage understanding and cooperation
advocate for family-centered care
promote normalization
consider the needs of patient and family members
support families confronting grief
provide education and resources
Specialists use play, art and music to help children deal with their questions and emotions. Through play child life specialists prepare children for surgery, provide diversion and medical play in times of anxiety, assist families with bereavement support, and educate staff and family members on positioning for comfort for children during medical procedures.
Each day, we broadcast activities for our patients and their families on Channel 8.
Services include:
We have playrooms on inpatient units located throughout the hospital for children of all ages. A teen room is also reserved for those 12 years and older.
The hospital school program helps children maintain their school studies, under the supervision of two teachers, while hospitalized.
The Creative Arts Studio is a special place where kids can paint, color, make jewelry, create scrapbooks and have fun.
The pet therapy program allows patients and their families the opportunity to interact with a trained therapy animal. Pet therapy is used to increase patient motivation and promote therapeutic goals.
Patients can participate in bingo and trivia games on Le Bonheur's own in-house television channel, Studio 8.
Special events are a way for individuals in the community to do something meaningful for the patients and families. Special events can be arts and crafts, choirs, puppet shows and various other programs. For more information, contact (901) 287-6021.
Practicum and Internship
Child Life has also established a practicum program and internship program for students pursuing a career as a Child Life specialist.
Contact
Contact Child Life directly by calling 901-287-6021.