Le Bonheur Chief Dermatologist Teresa Wright, MD, first saw 1-month-old Kimberly Femat in her clinic in early 2020. Kimberly was born with a vascular birthmark on her left arm and chest, but wasn't experiencing any problems. Wright decided to watch her closely to see if the birthmark would change or grow. The next time Wright saw Kimberly, her condition had deteriorated significantly. Kimberly had landed in Le Bonheur's Emergency Department with swelling and a lesion in her upper chest — a drastic change in her birthmark. Physicians also discovered that she was very anemic, even after receiving a recent blood transfusion from another local hospital.
Kimberly was suffering from a complex vascular anomaly, a condition where blood vessels develop abnormally. She appeared to be having internal bleeding, but it wasn't immediately clear where. She needed a team of specialists from multiple divisions to uncover what treatment she needed. Fortunately, Le Bonheur is home to a multidisciplinary Vascular Anomalies Program that brings together every specialty Kimberly needed for diagnosis and treatment.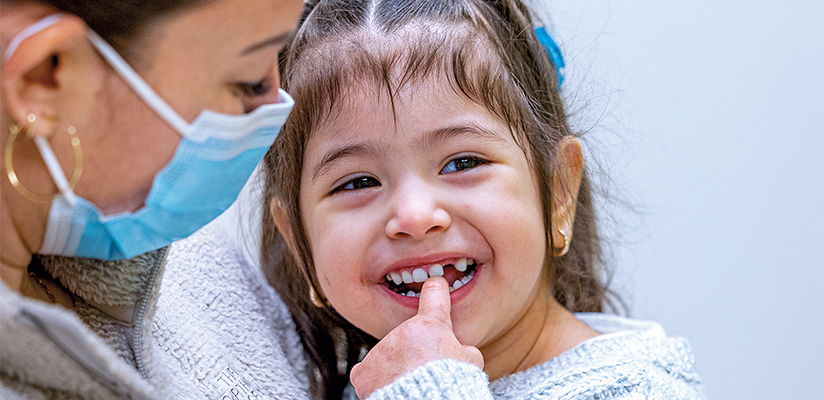 "Without the Vascular Anomalies Program, Kimberly would have been referred to multiple specialists and clinics for diagnosis and treatment," said Regan Williams, MD, pediatric surgeon with the Vascular Anomalies Program. "Instead of families having to connect the dots between specialists, we can meet in the same room, review a patient's case and figure out the best way forward for each child."
Benign Birthmarks and Rare Anomalies
Vascular anomalies fall into two broad categories: benign or aggressive vascular tumors that can cause bleeding or clotting complications and vascular malformations that occur when arteries, veins or lymphatic channels develop abnormally. The most common diagnosis seen in Le Bonheur's Vascular Anomalies Program is infantile hemangioma — a benign growth
of blood vessel tissue.
Wright says it is unclear why these anomalies develop in the first place. Premature birth is a risk factor, but Le Bonheur's experts hope that a deeper understanding of genetics will uncover causes (and potential therapies) for these conditions.
"Most hemangiomas show up in the first month after birth, and many don't require any treatment at all. But if they start to interfere with a child's function or cause a cosmetic defect, it's time for us to intervene," said Wright.
Because of this, the Vascular Anomalies team sees children at a range of ages and even adults who don't have other options for the multidisciplinary care that vascular anomalies can require.
When the team determines that a child needs treatment, a variety of options are available at Le Bonheur based on the type and severity of the anomaly. Many vascular anomalies are asymptomatic and do not require any treatment at all.
For more complicated vascular lesions, Le Bonheur's specialists provide treatment options specific to a child's needs. Sclerotherapy, a minimally invasive radiology procedure, is a common treatment for vascular malformations where medication is injected into the blood vessels to reduce the size of lesions, thereby easing symptoms of pain and dysfunction. In rare cases, surgery may be required to remove the lesions, but Le Bonheur's specialists avoid this invasive treatment unless necessary for a child.
"Vascular anomalies patients are very heterogeneous — they have different conditions that need different types of therapies," said Cliff Takemoto, MD, a pediatric hematologist in the program. "This requires input on treatment from a team comprised of various specialties."
But many times the largest barrier to treatment is simply getting children in the door. The Vascular Anomalies team sees two major issues in getting these patients the appropriate care. Conditions are so uncommon that their pediatrician doesn't recognize the anomaly, and children get bounced from specialty to specialty because they don't know about multidisciplinary centers.
"Since vascular anomalies is a relatively new field, patients get scattered all over the place and by the time we see them, they can be really scared about what's going on," said Williams. "It's a huge sigh of relief when we can tell families that we know what it is and what they can expect next."
Collaborative Care for Kids
When Interventional Neurologist Lucas Elijovich, MD, FAHA, and Williams began meeting about the idea of a Vascular Anomalies Program almost 10 years ago, they knew they had one particular strength on their side — a robust multidisciplinary team ready to work together to provide the best care for patients.
"With experts from a wide range of specialties, we were able to create a truly multidisciplinary Vascular Anomalies Program at Le Bonheur. Children can get the wide range of care and services that they need in one place and at one time," said Elijovich, director of the Vascular Anomalies Program.
The Vascular Anomalies team consists of specialists from cardiology, dermatology, pediatric surgery, neuroendovascular surgery, ophthalmology, otolaryngology (ENT), plastic surgery and radiology. This team meets twice a month before clinic to discuss patient cases and review imaging.
Le Bonheur physicians say it is the collective knowledge present in this room that sets their
program apart. Vascular anomalies can be so rare that an individual physician may not have seen a specific anomaly before, but, with a room full of experts, someone has seen it or can find someone who has.
"We have many years of combined experience that comes from training with a high volume of vascular anomalies patients from all over the country and the world," said Wright. "While individually we might not always have the answer, patients get the benefit of all the people here and the contacts each of us has nationally and internationally."
The Future of Vascular Anomalies
It took every member of the Vascular Anomalies team to determine what was happening to little Kimberly Femat. After extensive tests, Williams conducted a diagnostic surgery during which she discovered that Kimberly had infantile hemangioma covering her mesentery, the blood supply to the intestines. After blood transfusions and medication, she has been stable for an extended time and only sees her team for follow-up every few months.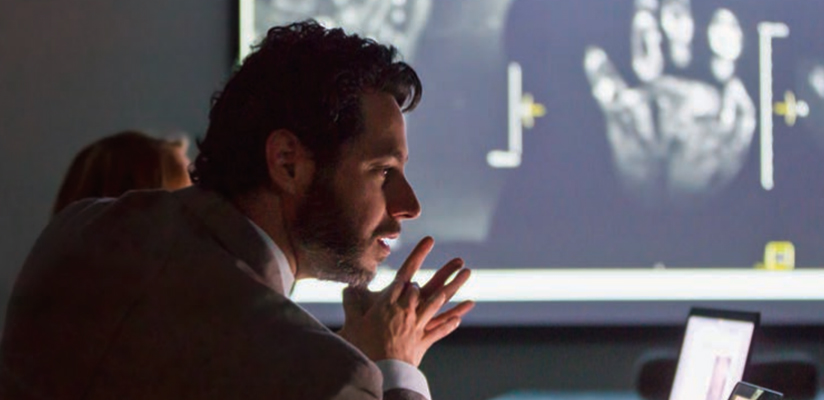 "It's a privilege to see patients like Kimberly over months and years of their lives and see how they are growing and thriving," said Wright. "Knowing we have played a small part in helping them, especially when it's a complicated and confusing case, makes this work very rewarding."
The Vascular Anomalies team is looking forward to the future of vascular anomalies treatments as the field has changed significantly in recent years. Targeted genetic treatments are on the horizon as the study of the genetic component of vascular anomalies is exploding, says Takemoto.
"Vascular anomalies is such a fun field because it's still innovating," said Williams. "So much of medicine is already known, but many aspects of vascular anomalies are still unknown, so it's actually really exciting."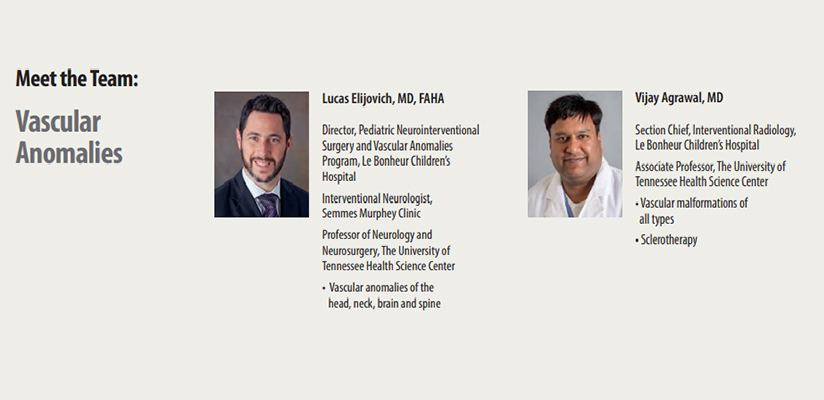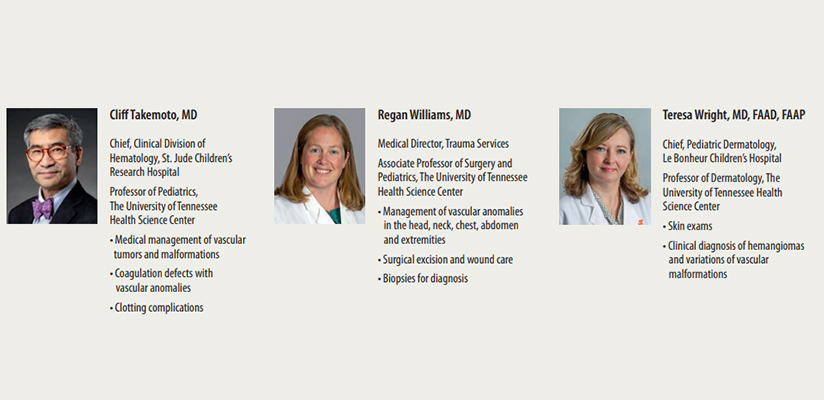 Le Bonheur Children's Hospital depends on the generosity of friends like you to help us serve 250,000 children each year, regardless of their family's ability to pay. Every gift helps us improve the lives of children.
Donate Now