Le Bonheur Children's Hospital Endowment
Children deserve a healthy future. As the region's only comprehensive children's hospital, Le Bonheur Children's is uniquely positioned to address every issue children in our community face – from broken bones to brain tumors and everything in between.
We need your help to ensure children have healthy futures for generations to come.
The challenges our children face require resources, partners and a renewed commitment. Join us in investing in our community. We are building a $100 million endowment to ensure Le Bonheur is always there for future generations of children.
An endowment is a permanent fund — it's our savings account. We will spend only the investment income we earn — around 5 percent each year — to pay for the programs that we know our children need.
With your help we will:
Serve all children regardless of their parent's ability to pay.
Invest where we have the potential to achieve the greatest impact.
Contribute to the elimination of childhood disease across the world.
Attract and retain the best and brightest minds in pediatrics.
Serve as a premier training program for pediatric health care providers.
This is an opportunity to create a legacy of perpetual support for future generations.
Your gift provides sustainable funding to ensure that Le Bonheur can grow and serve children today and for years to come.
Every gift is multiplied. When you give to the Le Bonheur endowment, your gift will be matched. Your support can last for lifetimes.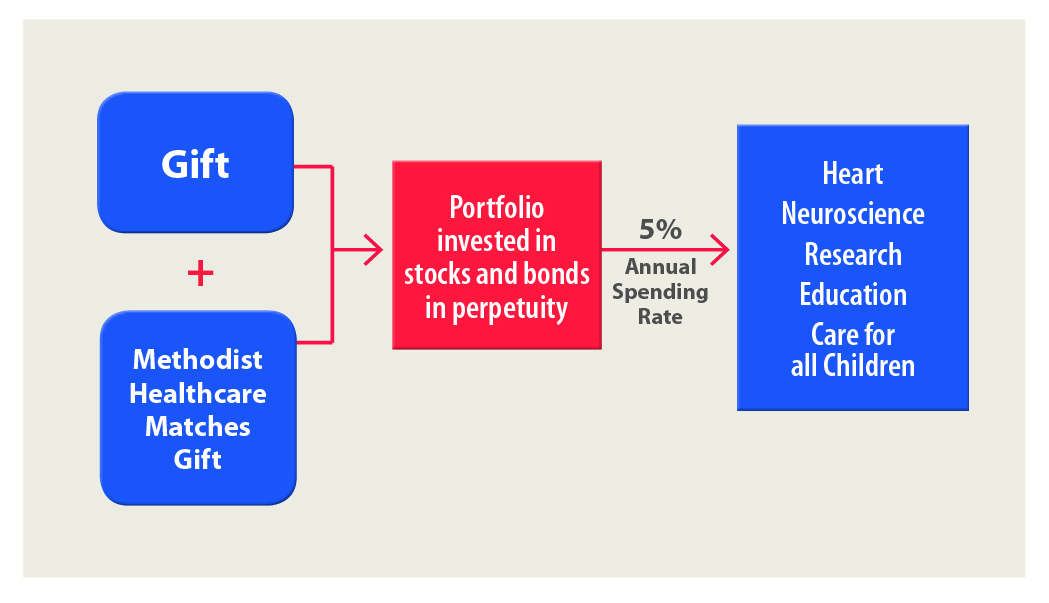 Quality and Safety Innovation Grants
The Le Bonheur Children's Hospital Quality and Safety Innovation Grants will allow employees and physicians to apply for grants to fund projects that can improve our quality of care.
We know that safety and quality are foundational to who we are, and that we owe it to children to find better ways to serve them. The grants will be funded from Le Bonheur's endowment. We're excited to be able to offer this program to foster ingenuity, innovation and new ideas.