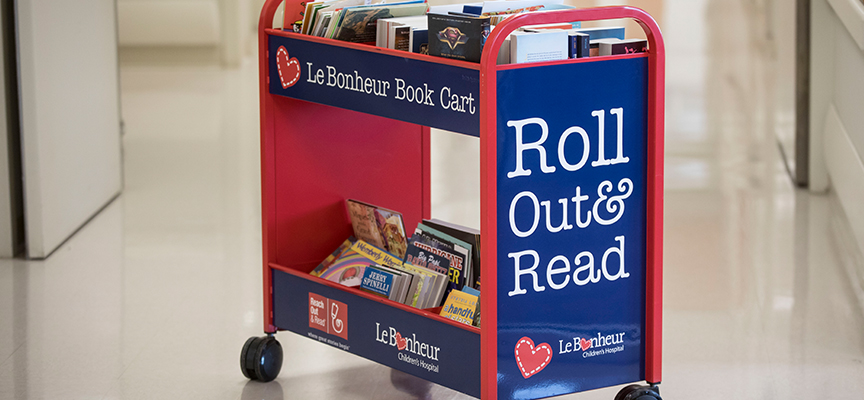 Le Bonheur Children's Hospital and The University of Tennessee Health Science Center's participate in a local Reach Out and Read program, which gives young children a foundation for success by incorporating books into pediatric care settings and encouraging families to read aloud together. Reach Out and Read's evidence-based program builds on the unique relationship between parents and medical providers to develop critical early reading skills in children, beginning in infancy.
Program participants read books aloud to patients, siblings and family members prior to clinic appointments at Le Bonheur's Outpatient Center.
Available Volunteer Shifts:
Monday: 8-11 a.m., 1-4 p.m.Tuesday: 8-11 a.m., 1-4 p.m.
Wednesday: 9-11 a.m., 1-4 p.m.
Thursday: 8-11 a.m., 1-4 p.m.
Friday: 8-11 a.m.
Volunteers are needed to cover 1-2 hour shifts during the above clinic hours.
Reach Out and Read Volunteer Requirements
Minimum age of 18 years.
A positive "self-starter" attitude.
Flexibility to work in a fast-paced and unpredictable environment.
Basic understanding of child development.
Strong communication and people skills.
Ability to demonstrate excellent customer service consistent with Le Bonheur patient experience standards.
Ability to understand and follow direction.
Potential to work effectively with others and without constant supervision.
Ability to process and maintain confidential information.
Program volunteers will attend an orientation and training to understand hospital expectations and to receive coaching on how to read aloud, interact with children and families, and promote literacy in the home. All required competencies, education and screenings will be completed prior to a volunteer's first shift.
For more information or to get involved, email lbvolunteers@lebonheur.org or call 901-287-5225. To learn more about Reach Out and Read, visit www.reachoutandread.org