Expert Care Closer to Home
Anything that matters to children, matters to us. Everything we do gives each child we serve at Le Bonheur a chance to enjoy a healthier and safer childhood.
Recognized among the nation's "Best Children's Hospitals" by U.S. News & World Report for 11 consecutive years, Le Bonheur is always on the side of children, advocating on their behalf so we can provide them with the care they need.
We know that keeping kids closer to home is always the best option, and that's why we have expanded specialized pediatric services in the region.
From the ordinary bumps and sniffles of childhood to its most life-altering extremes, Le Bonheur Children's is prepared for whatever a child's life might throw at us. We are never surprised by what kids bring with them when they come through our doors.
It's been that way since we opened in 1952. We've mattered to children every day since.
Le Bonheur Children's at Jackson-Madison County General Hospital
Le Bonheur Children's is committed to providing expert pediatric care to the children of West Tennessee. In May 2022, Le Bonheur Children's will open a 21-bed inpatient unit inside Jackson-Madison County General Hospital. Le Bonheur and West Tennessee Healthcare are working together to improve access to specialized pediatric care. This collaboration will improve the health status of West Tennessee children by enhancing access to expert, cost-effective care.
Our shared mission will give West Tennessee kids access to expert pediatric care close to home.
Inpatient Information
Physician Resources
Frequently Asked Questions
We know the pediatric unit at Jackson-Madison County General Hospital already has lots of talented, dedicated doctors and nurses – so expect to see many familiar faces. Those doctors and nurses will become Le Bonheur employees, along with some new faces, to bring an enhanced level of expert care to the unit.
Our primary goal is to provide expert care for West Tennessee children closer to home. When more complex care is needed in Memphis, together we can provide a higher level of coordination among our teams.\n
The Le Bonheur Children's inpatient unit at Jackson-Madison County General Hospital will open on May 17.
For many years, Jackson-Madison has been there for West Tennessee kids and will continue to be. We're focused on making sure that the transition into a collaboration between Le Bonheur and West Tennessee Healthcare is seamless and will provide more pediatric specialty services in West Tennessee. Kids in this community are our top priority.
Yes, the pediatric team at Jackson-Madison General Hospital will continue to work in Jackson and become part of the Le Bonheur family. We know that the Le Bonheur and West Tennessee staffs are at the heart of all we do, and we look forward to bringing these two groups together.
No, the Jackson Outpatient Center will continue regular operations.
Ready to join our team in Jackson?
We are hiring multiple positions in our Le Bonheur inpatient unit at Jackson-Madison County General Hospital. Click below to apply. Search by keyword "Jackson."
Apply Today
Le Bonheur Children's Outpatient Center — Jackson
In its continuous commitment to the children of West Tennessee, Le Bonheur Children's Hospital opened a new 30,0000 square-foot facility in Jackson, Tenn., in 2018. The Jackson Le Bonheur Children's Outpatient Center features 20 exam rooms and provides a variety of diagnostic services and subspecialty clinics.
To make an appointment, please call 901-287-7337 or 1-866-870-5570.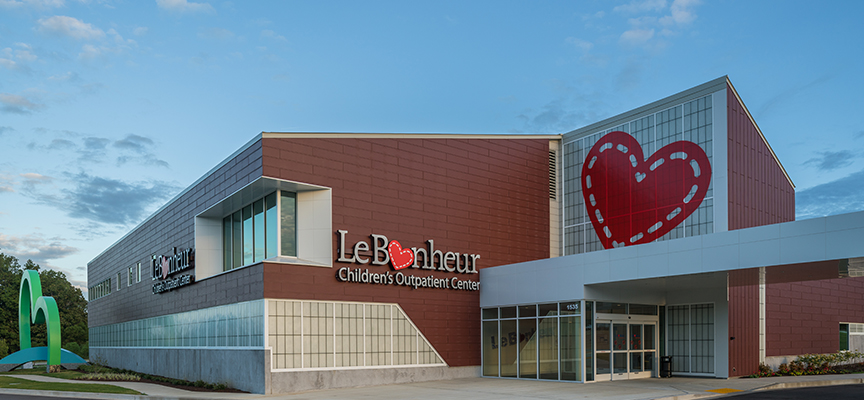 Community Services
Le Bonheur on the Move (LOM) is a mobile medical unit that travels in rural West Tennessee to provide affordable, accessible healthcare services for children. This is accomplished by partnering with school systems who have identified a need for their children. LOM supports the efforts of primary care providers by identifying the health care needs of children, offering preventative health services and education, and linking children to appropriate medical and/or behavioral health services. LOM also refers children who have or are at risk for developing a chronic condition to RN Health Education. Registered Nurse Health Educators provide education about healthy living and make referrals to primary care or specialists when needed.
Le Bonheur Community Outreach's Behavioral Health Care Navigation is a school-based program currently being piloted in Bells Elementary and Crockett County Elementary Schools. The goal of this program is to identify the social, emotional, and behavioral needs of children, offer interventions to address needs in the home and school environments and link children to appropriate community resources.