Le Bonheur's Patient Advocate can help address your questions and concerns regarding your child's medical or nursing care, help with communication issues with your medical or nursing teams and help resolve other problems that may arise during your time with us.
Our Patient Advocate will listen to understand your needs and make sure your voice is heard. You may reach the Patient Advocate at 901-287-6350.
Meet Our Patient Advocate
Le Bonheur's Patient Advocate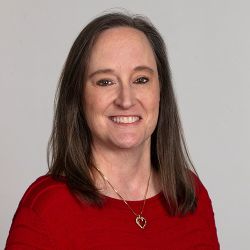 Amy
Amy has been Le Bonheur's Patient Advocate since 2019. Before becoming a Le Bonheur Associate, Amy was a medical transcriptionist for 25 years. She also volunteered regularly for the Parent Mentor Program and was involved with the Family Partners Council. Amy knows what it's like to spend time in the hospital, her child has been a long-time Le Bonheur patient. "I love my position at Le Bonheur as the Patient Advocate. I enjoy listening to families and helping them with any needs that may arise while here, to be a listening ear and be that connection between the families and the teams when there are difficult situations," said Amy.