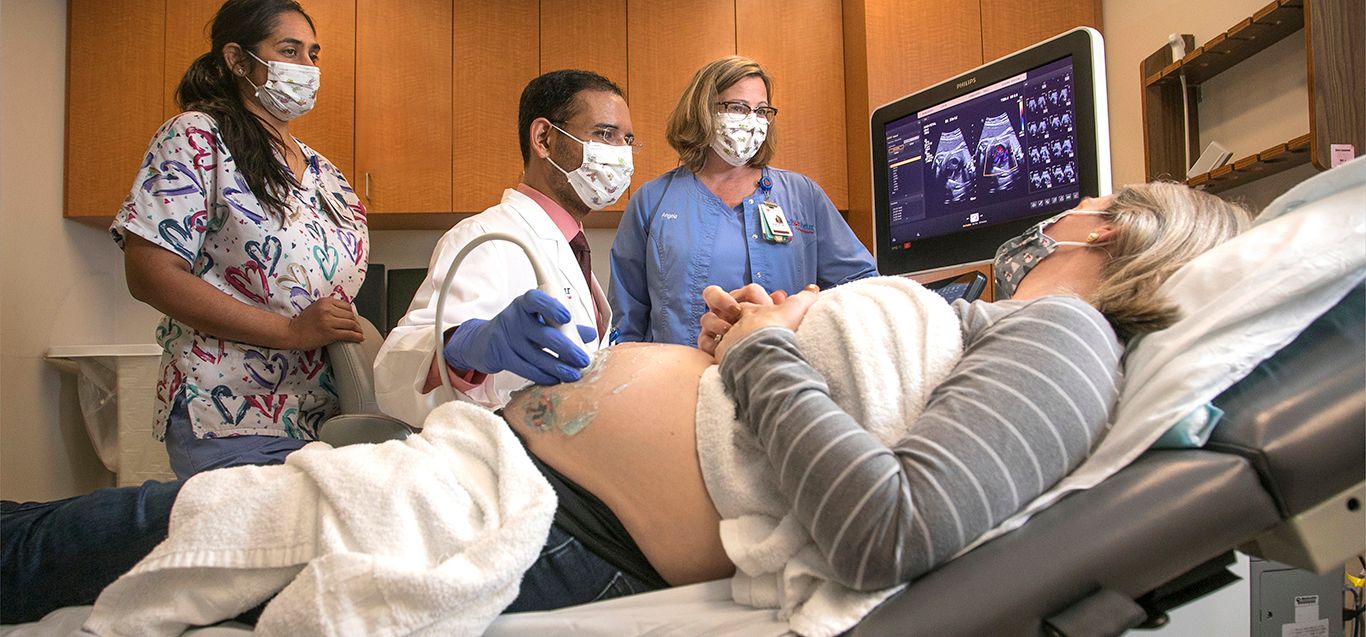 Fetal Cardiology: What is it? Why is it important?
Posted: July 20, 2021
Children can have variety of heart problems, most of which are present since birth due to developmental defects of the heart. Many of these problems can be corrected either fully or partially using variety of interventional techniques after birth.
The outcomes of such defects have improved drastically over last 20-30 years with improvement in diagnosis and treatment strategies. The field of pediatric cardiology, which deals with heart problems in children after birth, has thus advanced tremendously in last decade. Not only do these children need expert diagnosis and treatment, but their families are also in a constant need of support, education, and help.
The spectrum of heart problems covered in pediatric cardiology is very wide. It can range from a simple hole in the heart to missing one chamber completely. Thus, one can imagine that the treatment options also vary significantly. As a parent, it is hard enough to digest the fact that your child has a "heart problem." Add to it the need to understand treatment strategies, outcomes, survival in complex heart defects, quality of life and so many other questions, and it can become quite overwhelming and hard to cope after your child is born and in need for quick decision making.
In my personal experience, the majority of parents would rather prefer to know about their child's heart problems in advance to give them a chance to digest the details and discuss appropriate questions in order to be prepared for what is coming. They would rather have an opportunity to discuss their child's heart problem in a non-urgent setting, more than once, so they can have the best understanding to participate in making an educated management plan along with their child's cardiologist. For children born with heart defects, the only time that can meet the above criteria would be during pregnancy. This is the pioneering need for the field of Fetal Cardiology.
Fetal Cardiology is aimed to deal with heart problems in fetuses – giving an opportunity for the families to be prepared before the birth of the child.
The following are several very important care components of the field of Fetal Cardiology:
To provide an expert fetal diagnosis with a comprehensive fetal echocardiogram (ultrasound focused to look specifically at fetal heart)
To provide detailed explanation and counseling using heart diagrams and sharing statistics of outcomes
To make management plans during pregnancy
To make delivery planning in conjunction with obstetrician and maternal-fetal medicine specialists
To coordinate care with other pediatric subspecialties at birth
To allow smooth transition of care to pediatric cardiology after birth
To provide emotional and spiritual support to families
Knowing the diagnosis well ahead in time not only prepares the parents but also gives ample time to the cardiologists and cardiothoracic surgeons to work out the technical details of intervention.
Often fetuses with complex heart defects need care from multiple other subspecialties, for example: obstetricians and maternal fetal medicine specialists for planning of delivery time and mode of delivery; neonatal intensivists (provide intensive care to baby immediately after birth); cardiac intensivists (provide intensive care to baby in cardiac ICU); cardiac surgeons; cardiac interventionalists (provide non-surgical intervention on heart by cardiac catheterization); pediatric surgeons (do surgery for associated lesions of belly or chest except the heart); genetics specialist to know presence of genetic abnormality or syndromes; and palliative care specialists.
Planning multispecialty care allows for all the subspecialties involved to tease out finer aspects of coordination and be prepared to deal with every circumstance. Fetal Cardiology is thus a culmination of several different care aspects in single specialty that can hold these different care arms together to make sure comprehensive cardiac care is delivered to the fetus and the family.
Advancements in diagnostic technologies have aided the field very much. Sophisticated instruments have made it possible to recognize even the most complex of fetal heart problems. As an effect, certain centers in the United States have started offering non-surgical interventions in fetuses. Thus, it is equally important to have cardiologists available who are trained in Fetal Cardiology to carve out the best use of the available technology. Recognizing the crucial importance of the field, the number of fetal cardiologists has grown in last 10 years but they are still not widely present due to the need for very advance training. Newer imaging techniques like Fetal Cardiac MRIs are under development to aid care. As a result, overall outcomes of heart defects in children have improved.
Fetal Cardiology care at the Le Bonheur Children's Hospital Heart Institute aims to not only provide exact diagnoses of heart problems, but to improve parents' understanding and to guide them through the intervention plan.
We have achieved this goal through our team of trained fetal cardiologists and sonographers. Counseling sessions for complex fetal heart problems can last as long as 1.5 to 2 hours in our clinic. We strive to go over as much detail of the diagnosis as is available and
Discuss possible treatment options during pregnancy and after pregnancy using different diagrams
Discuss outcomes at our centers and remain transparent about risks and complications
Encourage parents to read about the fetal heart problem and bring all the questions to us in subsequent counseling sessions
Arrange for the families to meet other subspecialists as needed
Arrange for the families to have tours of delivery room, neonatal intensive care units, cardiac intensive care units and surgical facilities
Provide excellent social services available to meet the non-medical needs of the family.
Our patient's families are very well equipped to go through the journey and feel much more at peace knowing they are in the best hands.
We walk with families during pregnancy at every step to be with them and guide them through this tough road ahead. We have witnessed satisfaction and gratitude from our patient's families when, post-intervention, they come and meet us in outpatient follow up clinic – and for us that is what fetal cardiology is all about!