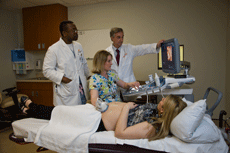 The Fetal Center at Le Bonheur Children's diagnoses and treats cardiac conditions before birth such as fetal arrhythmias, fetal cardiac dysfunction, or structural problems within the baby's heart. If heart defects are detected, we work with our families to develop a care plan for the baby – including frequent monitoring during pregnancy, planning for the baby's delivery, working with siblings to educate them on their new baby brother or sister, setting up meetings with doctors your baby will need to see after delivery, and providing the emotional or spiritual support your family may need. Our Fetal Center team includes:
Maternal fetal medicine specialists
Pediatric subspecialists (cardiologist, neonatologist, geneticist, etc.)
Your primary OB/GYN
Ultrasonographers
Program Director
Lactation consultants
Spiritual care advisors
Child Life specialists
Parent mentors
Fetal Center specialists meet weekly to determine the best course of treatment for mother and baby. In some cases, procedures can be done before the babies are born to provide the optimal outcome.
For more information, contact us at cardiac@lebonheur.org or 1-866-870-5570.