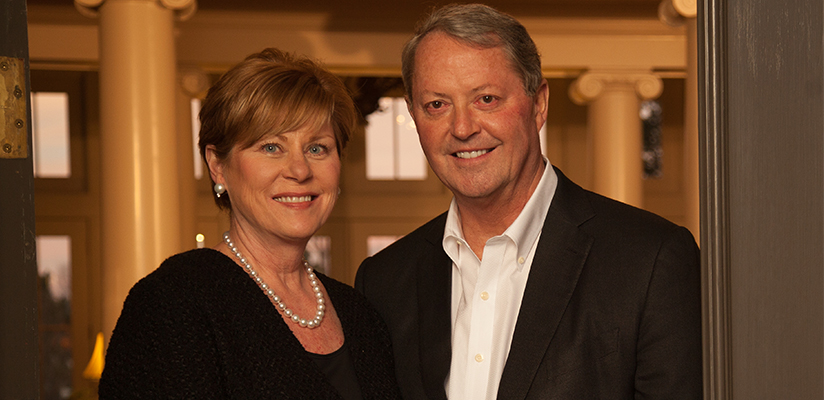 MEMPHIS, Tenn. – Le Bonheur Children's Hospital has established The Susan and Alan Graf Endowed Chair in Pediatric Heart Surgery with a $3-million dollar transformational gift from Susan and Alan Graf. Their investment, which includes the creation of an Endowed Chair of Pediatric Heart Surgery, will allow Le Bonheur's Heart Institute to continue to grow and care for children for generations to come. Alan Graf recently retired as Executive Vice President and Chief Financial Officer of FedEx Corp. and Susan is founder of FedExFamilyHouse and a member of the hospital's founding organization, Le Bonheur Club, as well as a member of Le Bonheur's National Leadership Council. They are longtime supporters of Le Bonheur and FedExFamilyHouse.
"Susan and Alan Graf have long been advocates for children and committed supporters of Le Bonheur Children's. This gift will help Le Bonheur's Heart Institute advance the science of caring for children with heart disease and help Le Bonheur grow its nationally-recognized pediatric program," said Le Bonheur Children's President and CEO Michael Wiggins, DBA, FACHE. "Their generous gift will support world class surgeons — ensuring outstanding clinical care is delivered —while teaching the next generation of physicians. The gift will also help the Heart Institute continue to attract patients from across the nation, building a program of excellence that also benefits kids in our own community."
Le Bonheur's Heart Institute is nationally ranked by U.S. News & World Report as one of the top pediatric cardiology programs in the country.
Le Bonheur recently began construction to expand the hospital to meet growing needs for pediatric critical care. Plans include the creation of a 31-bed dedicated Cardiovascular Unit, adding 10 Cardiovascular Intensive Care Unit beds to the existing 10-bed unit, and creating room for an 11-bed stepdown cardiac unit. The expansion allows for children to receive world-class treatment for decades to come.
The Endowed Chair in Pediatric Heart Surgery continues Le Bonheur's tradition of excellence as an elite destination for skilled cardiovascular surgeons to practice, providing opportunities to care for patients, train the next generation of physicians and conduct ground-breaking research.
The Grafs' investment will be matched by Methodist Le Bonheur Healthcare to help ensure families can continue to rely on expert care at Le Bonheur Children's.
About Le Bonheur Children's:
Le Bonheur Children's Hospital in Memphis, Tenn., treats children through community programs, regional clinics and a 255-bed state-of-the-art hospital. Le Bonheur serves as a primary teaching affiliate for the University Tennessee Health Science Center and trains more than 350 pediatricians and specialists each year. Nationally recognized, Le Bonheur is ranked by U.S. News & World Report as a Best Children's Hospital.
For more information, please call (901) 287-6030 or visit lebonheur.org. Connect with us at facebook.com/lebonheurchildrens, twitter.com/lebonheurchild or on Instagram at lebonheurchildrens.
---