Le Bonheur Children's Hospital has been selected by the Ryan Seacrest Foundation as the recipient of its next Seacrest Studio. These state-of-the-art broadcast media centers built in children's hospitals allow patients to explore a new world of radio, television and new media while showing them a new realm of possibilities and potential careers.
Scheduled to open in early 2023, the 1,275 square foot studio will be located prominently in the Event Space on the main lobby level at Le Bonheur. Seacrest Studios are charitable endeavors of the Ryan Seacrest Foundation, founded by media entrepreneur, radio personality and television host and producer Ryan Seacrest, and his family. The Ryan Seacrest Foundation hopes to contribute to children and their families' healing process and lift the spirits of the Le Bonheur staff.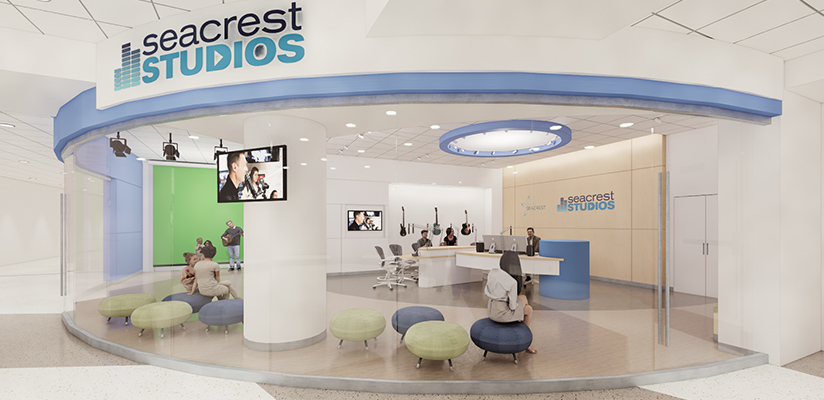 "Since the foundation's inception, I have had the pleasure of witnessing the power that entertainment and creative expression has had on thousands of patients across the country," said Ryan Seacrest. "I am thrilled to bring together the patients of Le Bonheur Children's Hospital, their families and the Memphis community to continue sharing joyful and meaningful experiences as we make a slow and steady return to normalcy."
Ryan made the announcement this morning on "LIVE with Kelly and Ryan," the award-winning syndicated morning television talk show he co-hosts with Kelly Ripa.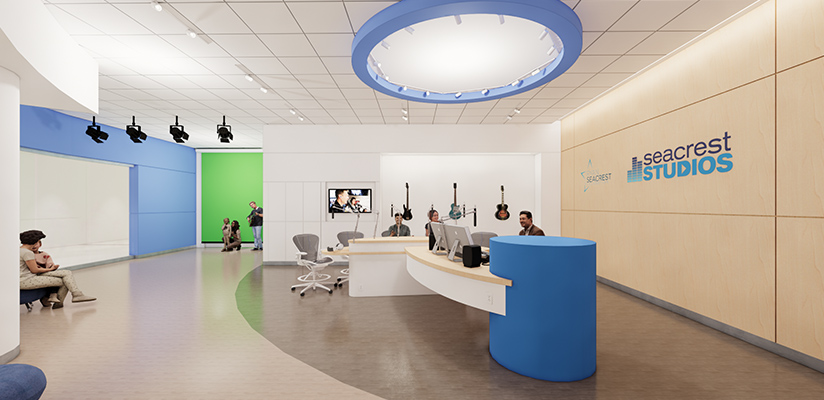 The Seacrest Studio at Le Bonheur Children's will be used to provide a variety of programming to patients, whether they are physically in the studio or watching through a closed-circuit network from their rooms. Patients will have the opportunity to host their own radio and television shows, play games, watch live musical performances and interview celebrity guests. The studio will be encased in glass, allowing patients, staff and visitors to view the daily programming happening inside.
"At Le Bonheur Children's, we are always working to meet the physical, emotional and developmental needs of the more than 500,000 children we see each year. We strive to continually improve and enhance the Le Bonheur experience for patients, families and our staff," said Le Bonheur President/CEO Michael Wiggins, DBA, FACHE. "Our new Seacrest Studio will bring entertainment and fun to patients and their families, in addition to boosting the morale of our pediatric experts. We are so grateful to the Ryan Seacrest Foundation for choosing Le Bonheur for this studio."
Seacrest Studios was built on the commitment to aide in the healing process of children receiving medical care at hospitals and their families. Its programming allows children to tap into their creativity that helps them thrive, experimenting with radio and television broadcasting in these media centers while bringing an uplifting spirit to the hospital's communities. Today, the The Ryan Seacrest Foundation has successfully installed 11 broadcast media centers in pediatric hospitals nation-wide, including in Atlanta, Boston, Charlotte, Cincinnati, Dallas, Denver, Nashville, Orange County, Orlando, Philadelphia and Washington D.C. It is slated to open its newest studio at Cohen Childrens Medical Center in Queens, N.Y. in 2023, with addition new studios to be announced later this year.
About Le Bonheur Children's
Le Bonheur Children's, based in Memphis, Tenn., provides expert care for children in more than 45 pediatric subspecialties, encompassing robust community programs, a pediatric research institute and regional outpatient centers in Jackson, Tenn., Tupelo, Miss., and Jonesboro, Ark. Le Bonheur also features a 255-bed hospital in Memphis and a 21-bed satellite hospital within Jackson-Madison Country General Hospital in Jackson, Tenn. As the primary pediatric teaching affiliate for the University of Tennessee Health Science Center, Le Bonheur trains more than 350 pediatricians and specialists each year. Nationally recognized, Le Bonheur has been named a U.S. News & World Report Best Children's Hospital for 12 consecutive years and is a Magnet-designated facility, the ultimate credential for high-quality patient care and nursing excellence.
For more information, please call (901) 287-6030 or visit lebonheur.org. Connect with us at facebook.com/lebonheurchildrens, twitter.com/lebonheurchild or on Instagram at lebonheurchildrens.
About Ryan Seacrest Foundation
The Ryan Seacrest Foundation (RSF) is a non-profit 501(c)(3) dedicated to inspiring today's
youth through entertainment and education-focused initiatives. RSF's primary initiative is to
build broadcast media centers — Seacrest Studios — within pediatric hospitals for patients to
explore the creative realms of radio, television and new media. Founded in 2009, RSF currently
has Seacrest Studios at hospitals in Atlanta, Boston, Charlotte, Cincinnati, Dallas, Denver,
Orange County, Philadelphia and Washington D.C, Nashville and Orlando. For more information,
visit ***.ryanseacrestfoundation.org
---