Conditions we treat
The Adult Congenital Heart Disease program treats several congenital heart diseases, including:
patient ductus arterious (PDA)
secundum atrial septal defect (ASD)
atrial septal defect
isolated ventricular septal defect (VSD)
ventricular septal defect
isolated aortic valve disease
isolated mitral valve disease
isolated patent foramen ovale (PFO)
mild pulmonic stenosis
isolated dextrocardia
anomalous left coronary artery from pulmonary venous drainage
atrioventricular canal/septal defects (partial or complete)
coarctation of aorta
Ebstein's anomaly
infundibular right ventricular outflow obstruction (moderate to severe)
pulmonary valve regurgitation
tetralogy of fallot
pulmonic valve stenosis
sinus of Valsalva fistula
double outlet ventricle
mitral atresia
pulmonary atresia
pulmonary aterial hypertension
Shone's syndrome
Transposition of the Great Arteries
tircuspid atresia
truncus arteriosis/hemitruncus
other abnormalities of AV connections (criss-cross heart, isomerism, etc.)
Common procedures
Le Bonheur's ACHD program provides a variety of treatments. The some common include:
Atrial Septal Defect (ASD) Closure

An ASD is a hole in the wall between the upper receiving chambers of the heart. This causes excess blood to be shunted to the right side and then out to the lungs, which over time, can lead to dangerous elevations of the pressures in the blood vessels in the lungs. ASDs can be closed surgically or in the catheterization lab with special devices.
Pulmonary Valve Replacement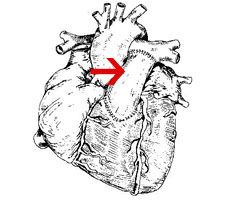 Many infant congenital heart repairs require surgery on the pulmonary valve, which sits between the right ventricle (right-sided pumping chamber) and the pulmonary artery (that carries "blue" blood to the lungs). As patients get older, continued leaking or narrowing of the pulmonary artery can require replacement. Pulmonary valve replacement is often done with a tissue valve conduit (human or animal artery and valve) placed in the same position as the patient's original pulmonary artery. This has become one of the most frequently performed operations on adults with congenital heart disease. Sometimes, a patient can be a candidate for the Melody valve procedure. Talk to your cardiologist about the best option for you.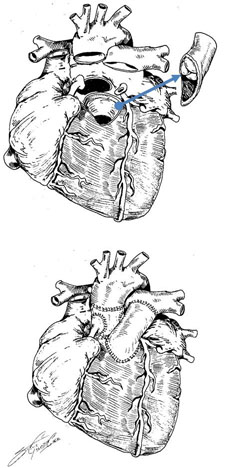 Ross Procedure
No perfect replacement valve for the aortic valve exists. The Ross procedure replaces the diseased or damaged aortic valve with the normal pulmonary valve from the opposite side of the heart. A human or animal valve is then used to replace the pulmonary valve that was transplanted to the aortic position.
This way, the new aortic valve (autograft) can last sometimes twice as long (more than 20 years) as standard tissue valve replacements, and has the major advantage over mechanical valves in not requiring lifelong blood-thinning medications.
As with most pulmonary valve replacements, the tissue valve (conduit) used to replace the artery on the right side degenerates over time, still requiring replacement with future surgery.
Original cardiac illustrations were created and provided by the late Le Bonheur Cardiothoracic Surgeon Steven Goldberg, MD.