Cerebral Palsy (CP) is a group of disorders of movement and posture development, causing activity limitation and attributed to non-progressive disturbances that occurred in the developing fetal or infant brain. The motor disorders of cerebral palsy are often accompanied by disturbances of sensation, cognition, communication, perception and/or behavior, and/or by seizure (International Consensus Definition of Cerebral Palsy).
CP affects two to three in every 1,000 children. Terms such as "diplegia," "hemiplegia" or "quadriplegia" are often used to describe the part of the body affected. The muscle tone and movement disorders associated with CP can be characterized as "spastic," "dyskinetic" or "ataxic."
The Cerebral Palsy Clinic strives to offer comprehensive, specialized care for individuals diagnosed with cerebral palsy or other neuromuscular conditions that began during childhood. We help children and their families achieve greater well-being so that they may live life to their greatest potential.
The Cerebral Palsy Clinic was made possible through a transformational gift from the Children's Foundation of Memphis to the Campbell Foundation with the support of pediatric orthopaedic surgeons of Campbell Clinic and many healthcare specialists of Le Bonheur Children's Hospital.
Stay up to date with news and information by following Campbell Clinic's Facebook and Twitter pages.
Why choose Le Bonheur?
Our medical and rehabilitation specialists provide a broad range of services working closely with patients and families to develop comprehensive treatment plans. Because neuromuscular conditions affect patients differently, we are committed to finding the very best treatment for each person. In addition, we actively research various conditions, treatments and outcomes in order to advance our care and ensure that every child develops to their fullest potential.
Although cerebral palsy can't be cured, treatments can help ease symptoms and improve your child's abilities.
As the only multidisciplinary center in the region that provides comprehensive care to children with cerebral palsy (CP), we are dedicated to improving functional outcomes of children affected by CP and other movement disorders. Our treatment plans are individualized to meet each child's specific needs and goals.
Our team is led by a board-certified orthopedist with expertise in CP and related movement disorders.
Members of our team include orthopedic surgeons, nurse practitioners, research nurse, physical, occupational, and speech therapists, social worker, orthotist, and seating/mobility specialist. In addition, we collaborate closely with other providers involved in the child's care to maximize appropriate community functioning (e.g., neurologists,

pediatricians,

developmental pediatricians, neurosurgeons, educators and other therapists, etc.).
We offer home visits to assess any need for specific equipment or accessibility concerns at home as well.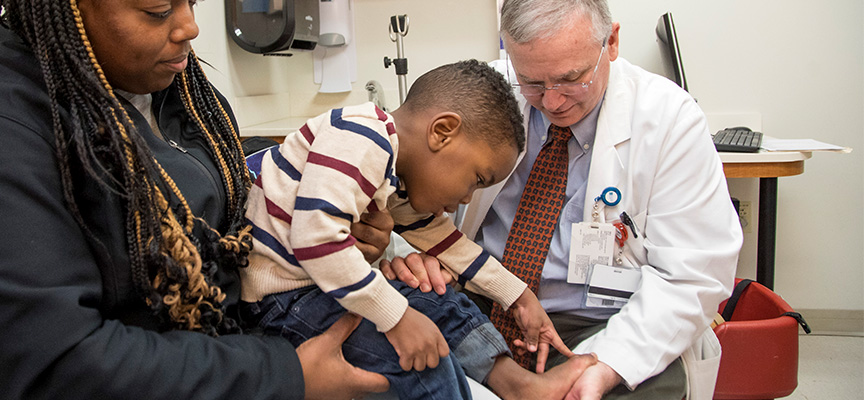 Who do we treat?
Any child or young adult up to the age of 14 with a diagnosis of cerebral palsy
A child who has difficulty walking or delay in motor skills
A child who has been suspected to have cerebral palsy but has not been currently diagnosed as such
A child at risk for cerebral palsy due to factors such as prematurity or lack of oxygen at birth
A child diagnosed with a movement disorder (e.g., dystonia)
What do we offer?
Equipment Closet
Patients who would benefit from trialing equipment are identified in clinic and the appropriate piece of equipment is then trialed. This allows the parents to become educated on the type of equipment as well as have a say in whether or not they think this equipment will be reasonable in their home. The equipment closet allows parents to "try out" recommended devices and assess the usability of them in their homes due to size restraints, weight etc. The use of the equipment closet allows the physical, occupational and speech therapist to give parents/caregivers hands-on examples of the equipment in order to determine what type of equipment will best meet their individual needs.
Modified Gait Lab
When planning medical care for children with CP, we find it helpful to assess the child's gait (pattern of walking) as a diagnostic tool to better understand the conditions, forces and factors affecting the child's walking patterns. The gait lab allows our team to evaluate and observe the mechanics of the child's gait and determine the best intervention to improve the patient's mobilization.
Treatment Options
We provide comprehensive, individualized and evidence-based treatment, which may include any or all of the following:
Medications for tone reduction (including Baclofen, Botox injections, etc.)
Referrals for Pulmonology, feeding and GT tubes, Endocrine, speech and swallow studies, Cardiology, Neurology, seizures, sleep disturbances, feeding difficulties and behavioral concerns
Physical therapy recommendations, including bracing and equipment
Orthopedic surgeries for tendon contractures, foot deformities, spinal abnormalities and hip dysplasia
Additional Tests/Evaluations
When necessary, we refer for additional diagnostic tests/evaluations to help refine treatment. Additional procedures may include: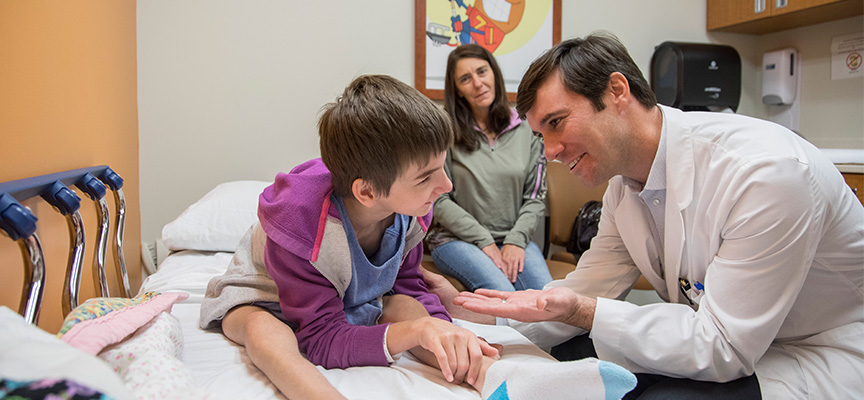 Your First Appointment
Your first appointment may take up to two hours. It includes a clinical interview to gather history, neurological examination, and evaluations by the team. The first visit may include evaluation of your current equipment by orthotic and seating experts. To help with our assessments, we may request video recording while walking and X-rays of your child in a seated and/or lying position.
After completion of the evaluations, we will recommend a comprehensive treatment plan with input from all members of the team, including you and your child.
We request that you bring equipment used by your child to the appointment (e.g., braces, canes, walkers, gait trainers, wheelchairs). Please also bring any previous test reports (e.g., MRI), medical summaries, medication list, school documents (e.g., IEP or 504 Plan), most recent therapy evaluations, and any videos taken at home or during therapy.
We will send you a new patient or return visit form, which you can fill out any time prior to the appointment.
Research
A lot of research is still needed in the field of CP. We are motivated to develop research projects designed to improve treatments available to treat children with CP. You may be asked permission to enroll your child in a research database and registry.
Education Resources