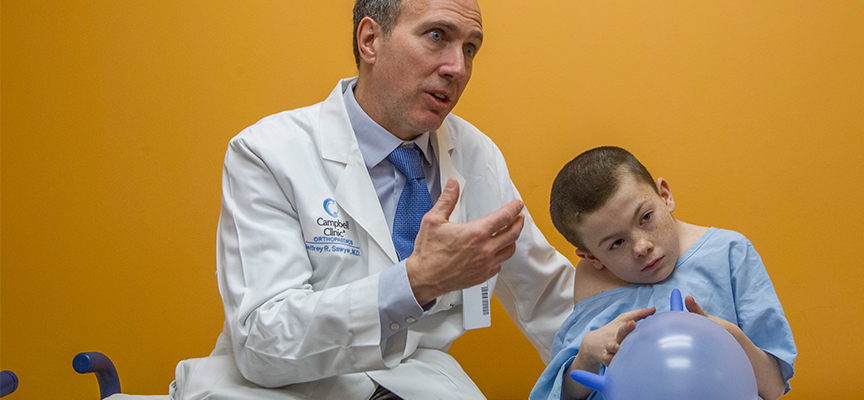 Our spine center team can help prepare and support you and your family throughout your child's care. The comprehensive nature of our program provides the most effective treatment for your child. Features of our program include:
Specialized clinics dedicated to treating scoliosis give children access to physicians, nurse practitioners, residents, nurses, dieticians and physical therapists in one clinic visit.
Our low-dose EOS imaging system – one of only a few in the country - captures head-to-toe images of children in a standing, weight-bearing position. The technology provides up to 89 percent less radiation dosage than a traditional CT and captures images in less than one minute.
MAGEC (Magentic Expansion Control) is a unique alternative to traditional growing rods, allowing surgeons to straighten and correct the spine gradually and noninvasively. Candidates for the MAGEC device undergo an initial surgery to implant an adjustable magnetized growing rod. Once the rod is implanted, it can be lengthened externally with a hand-held magnetized device, which eventually straightens the spine, eliminating the need for additional surgeries during the same time span. Dr. Sawyer is one of the only surgeons in the country offering this treatment option.
Young children or those with severe spinal deformities may be treated with a vertical expandable prosthetic titanium rib (VEPTR), a metal rod curved to fit the back of the chest that is periodically lengthened to grow with your child. Surgeons attach the device to the rib cage or pelvis to help the spine become straighter, allowing for improved breathing and lung development.
Le Bonheur and Campbell Clinic are members of the Chest Wall and Spine Deformity study group, a group of leading VEPTR centers in North America. The group is researching better treatment options for children with early onset scoliosis.
Spinal cord monitoring allows techniques to observe motor and sensory functions of the spinal cord during surgery, an added protection to ensure successful surgery.
Our team performs more than 100 spinal surgeries each year, including anterior fusion, posterior fusion, spine stapling and VEPTR procedures. Learn more about your surgical visit to Le Bonheur.
A new technique for correcting curvature, spine stapling is available for patients who are good candidates for the procedure.