"While strokes can look similar in adults and kids, strokes in children can occur for many different reasons, which need different treatments and means of prevention," said Beth Anne Cavanaugh, MD, the new director of the Le Bonheur Neuroscience Institute's Pediatric Stroke Program.
The Pediatric Stroke Program provides comprehensive care for children recovering from acute stroke as well as essential stroke prevention for children at risk for stroke due to underlying conditions. Led by Cavanaugh, who is board-certified in vascular neurology, the Pediatric Stroke Program is a collaboration among various specialties and organizations to create a one-stop clinic for children. Neuro-interventionists are always on call for stroke emergencies. St. Jude Children's Research Hospital Director of Clinical Hematology Cliff Takemoto, MD, works within the Pediatric Stroke Program as a close partner with a special interest in preventing stroke in children with sickle cell disease.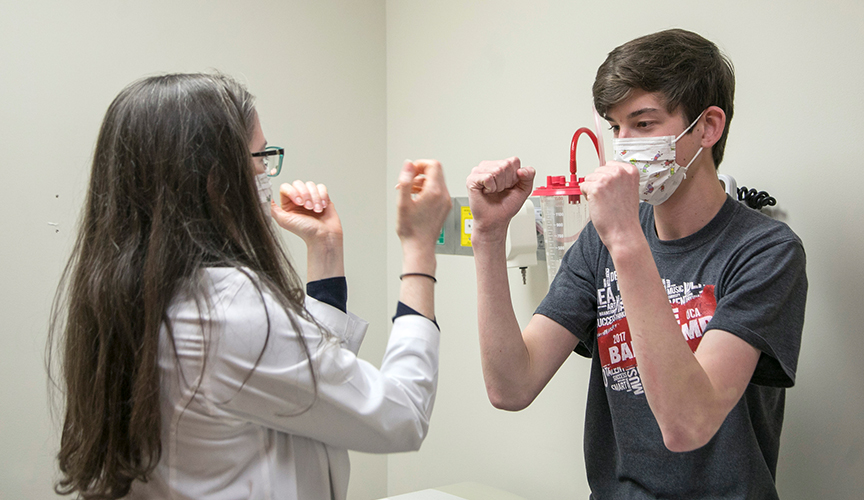 "Children at risk for stroke or recovering from stroke need support from a variety of specialties," said Cavanaugh. "Le Bonheur has specialists who can care for each of these unique needs including cardiologists, orthopaedists and epileptologists who help address underlying conditions or care for post-stroke complications."
Le Bonheur's advanced technology enables physicians to quickly and accurately provide treatments and prognostication for this patient population. Le Bonheur has a dedicated interventional radiology suite available for the treatment of acute strokes as well as transcranial magnetic stimulation (TMS) and magnetoencephalography (MEG) to provide the most accurate brain imaging for assessment of brain function, research and aid in prognostication.
Treatment of pediatric stroke and its complications doesn't end after a clinic visit. Physicians collaborate with physical, occupational and speech therapy as well as early intervention and development to provide the best recovery possible for children after a stroke.
"Our collaborative approach allows children to have comprehensive care for any and all of the complications they are experiencing after stroke or the risk factors they have for stroke," said Cavanaugh.
Le Bonheur Children's Hospital depends on the generosity of friends like you to help us serve 250,000 children each year, regardless of their family's ability to pay. Every gift helps us improve the lives of children.
Donate Now