National diagnostic stewardship initiative reduces blood culture, antibiotics overuse
Diagnostic stewardship can reduce blood culture overuse in the Pediatric Intensive Care Unit (PICU) and thereby reduce the use of broad-spectrum antibiotics, according to research published in JAMA Pediatrics. The research was published by the Bright STAR Authorship Group, which included Le Bonheur Children's Medical Director of Infection Prevention Nick Hysmith, MD, MS. He shared the results of a clinical decision support tool developed by critical care intensivists in Le Bonheur's PICU led by Sachin Tadphale, MBBS, MPH.
Results showed that implementation of a decision support tool for blood culture guidance reduced blood culture rates by 33% and the rate of broad-spectrum antibiotic use by 8%.
Bright STAR is a national quality improvement collaborative that aims to educe over testing and bacterial culture overuse, also known as
diagnostic stewardship, thereby decreasing antibiotic use and the potential for antibiotic resistance in critically ill children. Le Bonheur Children's Hospital was one of 14 sites that participated in this effort to reduce unnecessary blood cultures.
"Blood cultures are the gold standard to identify sepsis, but they can be taken excessively, typically leading to antibiotic use for non-specific symptoms," said Hysmith. "By reducing unnecessary blood cultures, we hoped to reduce the use of broad-spectrum antibiotics and the possibility of critically ill children developing antibiotic resistance."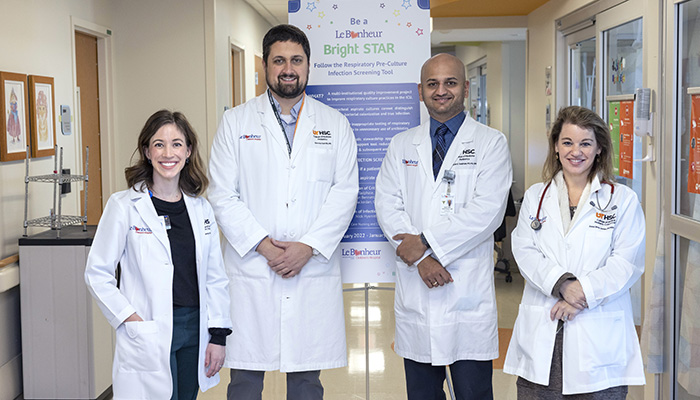 Each site developed a clinical decision support tool to reduce blood cultures, targeting relatively stable patients with a fever but no additional signs of sepsis. The purpose of the tool was to determine which patients could be monitored without blood culture, where appropriate, after thoughtful evaluation. To measure the impact of this tool, analyses of specific outcomes were conducted 24 months before to 18 months after the new tool was implemented in each of the study sites. A project team was formed at each site to conduct a pre-implementation assessment and then develop a clinical decision support tool and implementation plan. The major goals were standardizing the decision to order a blood culture and highlighting any patient safety concerns. Le Bonheur implemented the decision tool in the PICU as well as the Intermediate Care Unit (IMCU) and Neuro Intensive Care Unit (Neuro ICU).
RESULTS FROM THE 14-SITE STUDY INCLUDED:
• Reduction in total blood cultures from 37,527 to 20,340.
• Reduction in blood culture rates at 13 of 14 sites.
• 33% relative reduction rate in mean number of blood cultures per 1,000 patient days per month.
• 13% relative reduction of total days of broad-spectrum antibiotic use per 1,000 patient days per month.
• 35% reduction in central line blood stream infection (CLABSI) rates.
• No change in Clostridioides difficile (C. diff) infection rates.
• Similar rates of PICU mortality, length of stay and readmission after implementation.
• Only one episode out of 793 positive blood cultures where the new clinical diagnostic tool may have delayed a blood culture.
"The results of this study clearly show that creating an efficient clinical tool to identify the need for a blood culture can safely reduce over testing in the PICU, and that reducing blood cultures can reduce antibiotic use as well," said Hysmith. "We're proud to be a part of this first multicenter collaborative effort to use diagnostic stewardship to reduce unnecessary blood cultures."
The Bright STAR Collaborative hopes to take these findings and implement them on a wider scale while monitoring for effectiveness and patient safety.
Le Bonheur Children's Hospital depends on the generosity of friends like you to help us serve 250,000 children each year, regardless of their family's ability to pay. Every gift helps us improve the lives of children.
Donate Now