For more than 100 years, a dedicated group of women in Memphis have been serving children in need. Le Bonheur Club began as a sewing circle of 19 compassionate women in 1923. Today, the Club has blossomed into a robust membership of more than 400 service-driven women.
Le Bonheur Club's contributions along the way have helped the hospital grow from a small community hospital to a nationally-ranked health care leader. This transformation would not be possible without the leadership and vision of the Club's presidents throughout the years.
Billie Anne Williams
President 1976-1977
When Billie Anne Williams joined Le Bonheur Club in 1964, her first task was selling Gold Tags — special Le Bonheur bumper stickers whose proceeds benefitted the hospital. Billie Anne proved to be an adept saleswoman, reminding people that by purchasing a Gold Tag, they were ensuring that Le Bonheur would be there to care for their child or grandchild in the future.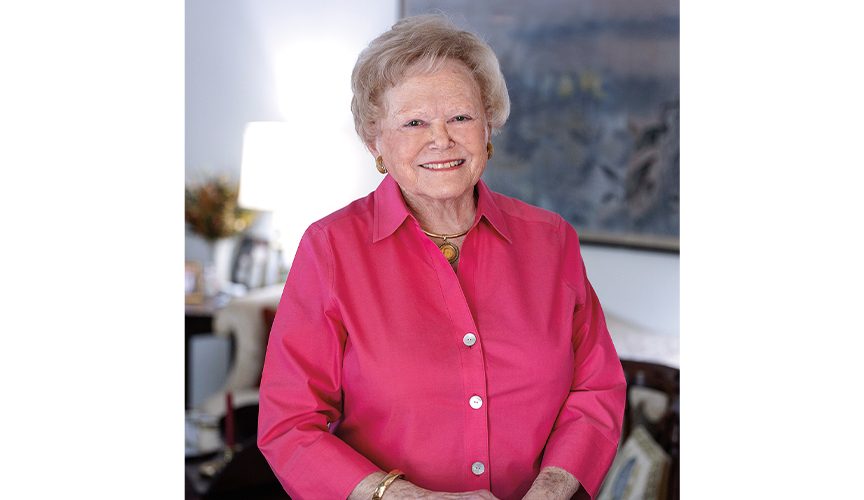 When Billie Anne wasn't going door to door selling Gold Tags, she was volunteering in the sewing room where Le Bonheur Club members made hospital gowns and other items for patients. Each member was required to complete 48 volunteer shifts per year.
Billie Anne quickly became an integral member of Le Bonheur Club and enjoyed rolling the library cart down the hospital's hallways, reading to patients, serving coffee to parents, and helping kids select a toy from Bunny Lane prior to surgery. A former teacher, Billie Anne loved having the opportunity to work with kids and give back to the community.
In 1976, Billie Anne was elected president of Le Bonheur Club, serving a one-year term. During her tenure, she helped lead a $2-million capital campaign to add a new wing to the hospital.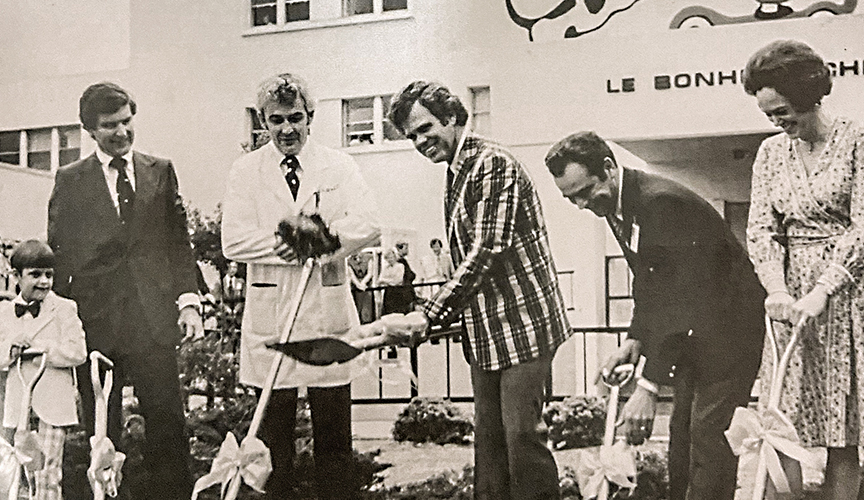 "Being a part of the groundbreaking for the new wing of the hospital was the most memorable moment of my presidency," Billie Anne said. "With the additional hospital beds, more kids were able to access the care they needed at Le Bonheur."
Several original members of the Club still attended meetings during Billie Anne's presidency and she knows that they, along with the Founding Mothers, would be proud of what Le Bonheur Club and the hospital have become today.
"It is incredible to see the progress that Le Bonheur has made through the years," Billie Anne said. "I'm proud to be a part of Le Bonheur's history as it has grown from a small community hospital to a nationally-ranked health care leader that specializes in many areas."
Debbie Florendo and Barbara Hodges
President 2005-2006 and President 2016-2017
Le Bonheur Club members often talk about the Club being a sisterhood, but for Debbie Florendo and Barbara Hodges, Le Bonheur Club truly is a family affair. As the only sisters to serve as president of Le Bonheur Club — Debbie from 2005-2006 and Barbara from 2016-2017 — getting to give back to the community together has been a life-changing experience.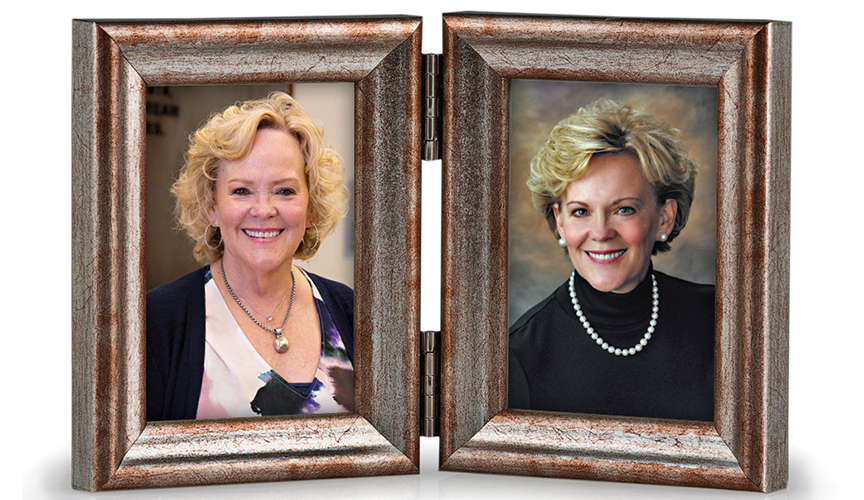 Debbie was working part-time as a medical technologist at Methodist Hospital and decided to join Le Bonheur Club as a way to give back to the hospital. She found she enjoyed participating in activities where she got to interface with patients and their families — especially serving them from the coffee cart. Debbie would wheel the cart from floor to floor delivering coffee and donuts to families, bringing comfort and a smile when they needed it most.
During Debbie's tenure, she devoted countless hours to the Christmas Cottage fundraising event which generated thousands of dollars in revenue for the hospital. Vendors decorated trees and sold holiday items — a local Mississippi potter even created a signature Le Bonheur Club pattern.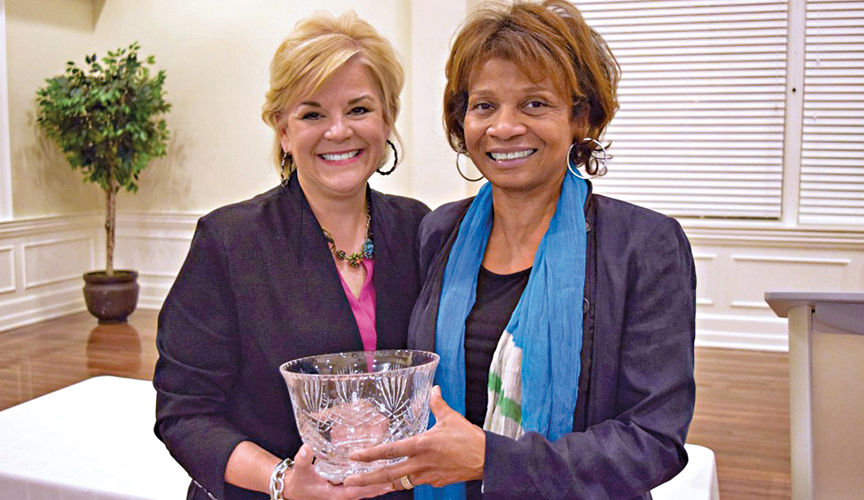 While Debbie enjoys face-to-face volunteering, she said there is a job for everyone in the Club.
"Joining Le Bonheur Club is a wonderful opportunity to give back to the community," Debbie said. "To get the most out of the experience I tell new members to be active, participate and join a committee. There is a role for each member in the Club that fits their specific talents and interests."
Barbara saw the positive impact her sister was able to have while serving as Le Bonheur Club's President, so when she was offered the role a decade later she jumped at the opportunity.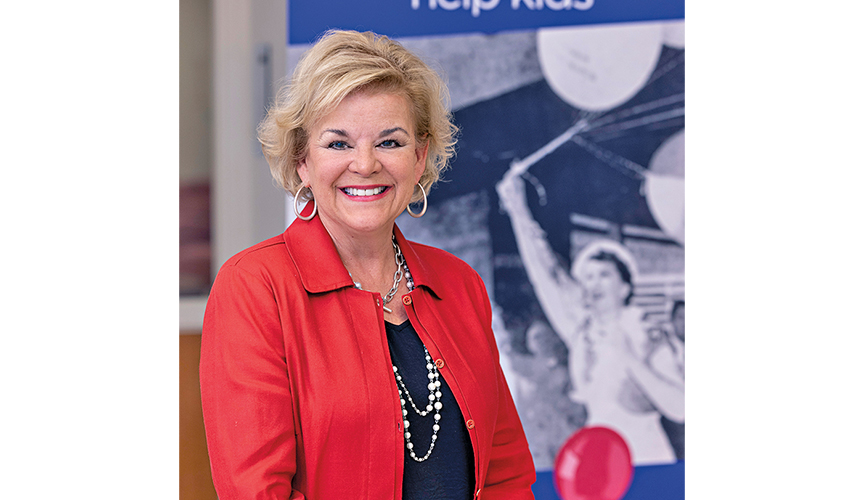 While Barbara enjoys fundraising for the Club through benefit events, she has found it especially rewarding to work on crafts with patients in the hospital's Family Resource Center and help parents feel at home via items from the hospitality cart.
One of Barbara's most memorable moments during her time as President was presenting the Pat Klinke Award to Le Bonheur Club member, Sirella Joyner.
The Pat Klinke Award is given to the Le Bonheur Club member who embodies the spirit and vision of the Club's founding members, which includes a love of children and a concern for their welfare in our community. This member must also have a strong dedication to Le Bonheur Children's Hospital and Le Bonheur Club.
"Being able to honor Sirella meant so much to me," Barbara said. "Sirella is an exemplary Le Bonheur Club member and she has devoted so much time and effort to helping both the hospital and community."
For Barbara and Debbie, the Club's longevity and devotion to its mission makes them proud.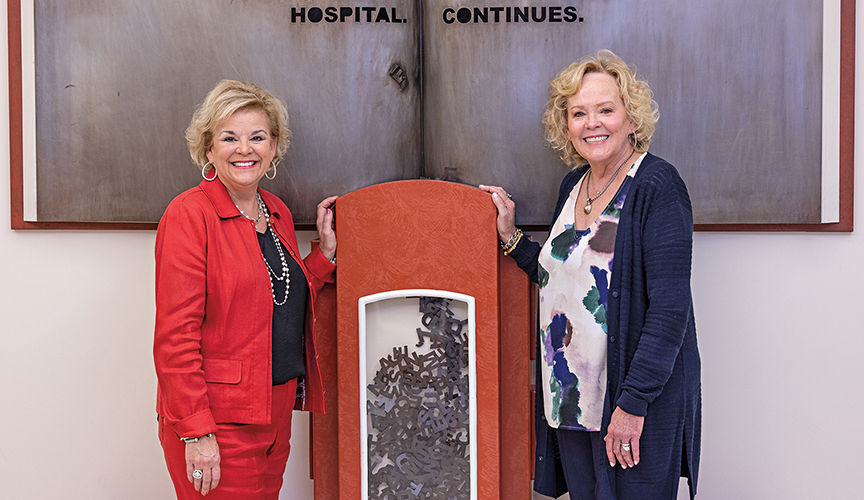 "I think it would be hard for the Founding Mothers to fathom that the Club has not only survived 100 years, but it is thriving," Barbara said. "From a small sewing circle that gathered for 40 hours a week to help kids in the community, to raising money to start the hospital, Le Bonheur Club was established by an incredible group of women whose legacy lives on today."
Debbie noted that Le Bonheur Club's charge to help kids has remained the same through the years.
"While many other organizations and clubs have seen membership dwindle, Le Bonheur Club is still going strong," Debbie said. "I hope Le Bonheur Club carries on with our mission of helping children and doing so with our servants' hearts."
While devoting thousands of hours to the hospital they love, the sisters have also forged a deeper bond and have been able to spend meaningful time together helping others.
Jill Crocker
President 2007-2008
As a mother of two, Jill Crocker has witnessed firsthand the impact Le Bonheur has on the lives of children and their families.
In 1996, Jill was pregnant with her first child when she was asked to join Le Bonheur Club. Despite juggling a demanding career and the impending arrival of her son, Jill's deep love for Le Bonheur and her expertise in fundraising made joining an easy decision.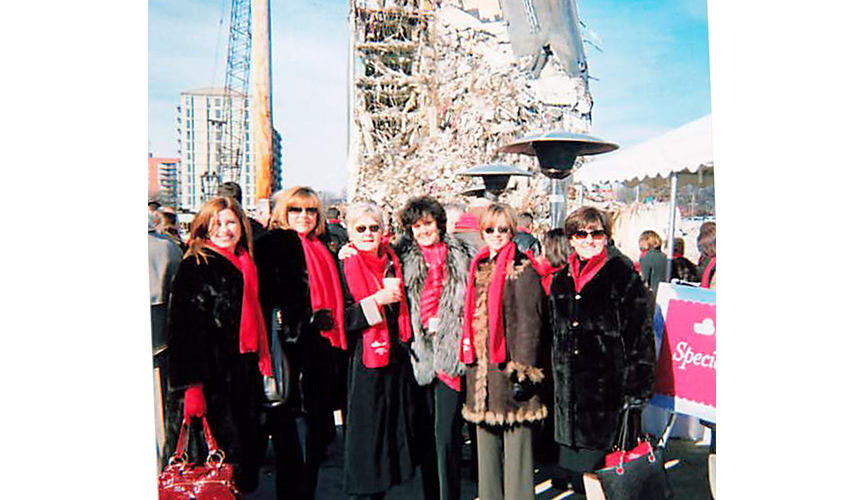 The more Jill became involved in Le Bonheur Club and learned about its history, the more she wanted to participate. In addition to completing volunteer shifts inside the hospital, Jill's passion is sharing the story of Le Bonheur.
When Jill was approached to serve as president in 2007, she immediately agreed. During Jill's term, ground was broken for the new hospital, which is a day she will never forget.
Jill said that being part of Le Bonheur Club and witnessing the next generation of the hospital was life-changing.
"When I think about the fact that the first children served at Le Bonheur in the 1950s are now adults and leaders who are making a difference, I feel inspired," Jill said. "There is no telling what the kids we help today will achieve and being a part of a new phase of the hospital in 2008 was momentous."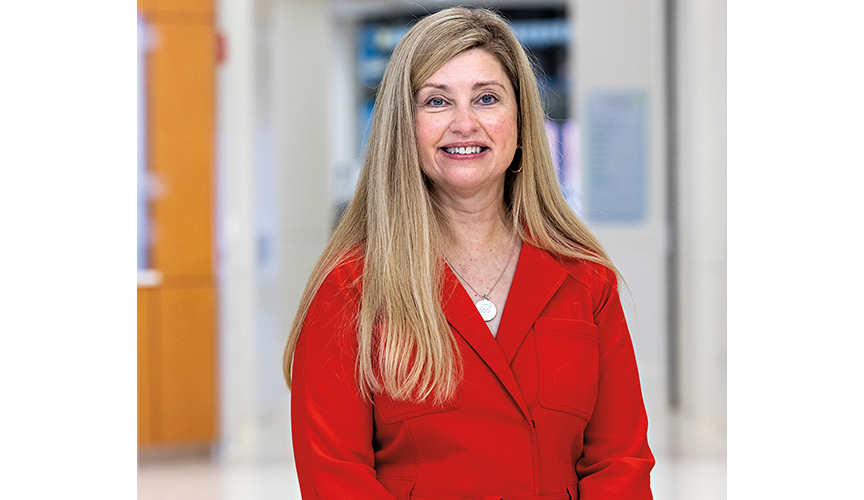 As both the hospital and Le Bonheur Club look to the future, she hopes they adapt to community and Club member needs while honoring their storied histories. With the hospital always on the forefront of addressing the next challenges in medicine, it is important for Le Bonheur Club to be hand in glove with the hospital to achieve their goals.
"The founders of Le Bonheur Club were smart and passionate women and today they would be saying 'what can we do next to help and treat more children,'" Jill said. "They were not easily satisfied with the status quo and I hope we have that same attitude of doing more to help children as needs in our community evolve."
Karen Eskin
President 2017-2018
On a crisp fall day in 2002, Karen Eskin received the call no parent wants to get: Her 7-year-old son Brendan had been hit by a car in the carline at school. When Karen arrived on the scene, Brendan was not moving and was airlifted to Le Bonheur.
Le Bonheur doctors diagnosed Brendan with a fractured skull, head trauma, and a broken clavicle and femur. He was not expected to make it through the night. Karen was terrified.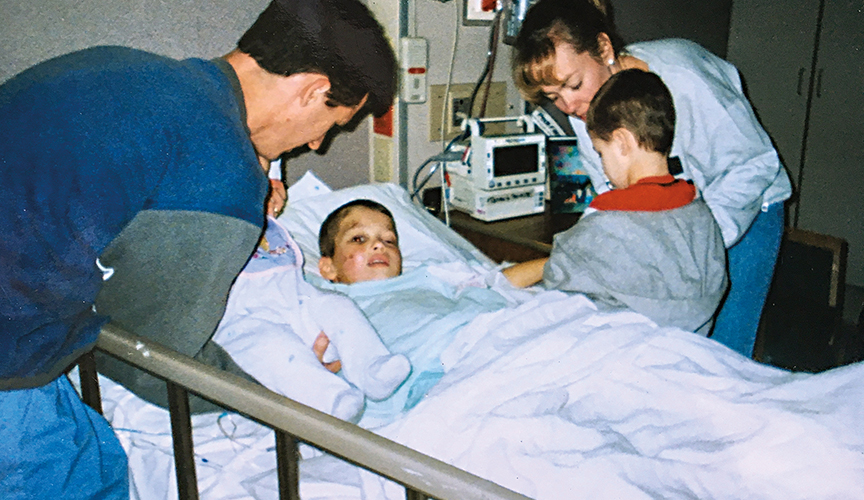 Friends and community members rallied around Karen and her husband, Marc, as they provided meals and helped care for the Eskins' two other children who were 6 months and 3 years old at the time.
Thankfully, Brendan survived his first night in the hospital — yet he faced a series of grim diagnoses. Doctors warned Karen that Brendan would likely be a quadriplegic and he might not regain his senses of hearing or sight. Brendan underwent countless surgeries and required Le Bonheur's round-the-clock critical care.
Brendan had been in a coma for 10 days in Le Bonheur's Pediatric Intensive Care Unit when imaging showed that his skull fracture had healed. He miraculously woke up and began the long recovery process. Brendan was able to regain his mobility and retained both his vision and hearing.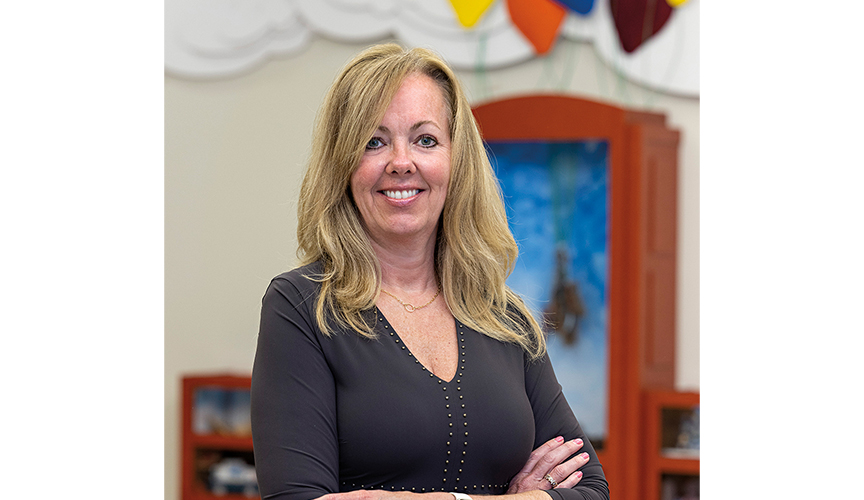 "I was so grateful to the doctors, nurses and staff at Le Bonheur that took care of my son," Karen said. "They became like family and were there for us during the worst experience of our lives."
In 2004, Karen joined Le Bonheur Club as a way to give back to the hospital and show appreciation for the care
Le Bonheur provided her son. Karen hoped by joining, she could make an impact on another parent's life just as so many people had impacted hers during Brendan's hospital stay.
"Whether you're stocking Bunny Lane, reading to a patient, or manning the hospitality cart, volunteering for Le Bonheur Club is fulfilling and rewarding every single time you are at the hospital," Karen said. "The outpouring of love at Le Bonheur is like nothing you've ever seen before — you feel the spirit of what it is to be there, from the medical team to the rest of the staff, and it's different from any other hospital I have ever been in."
When the opportunity presented itself to serve as the Club's president in 2017, Karen was honored to lead.
"As president, every decision we had to make, every dollar we had to spend, I always weighed it against how it benefitted the kids and families at the hospital," Karen said. "They are the first priority and I always considered them above anything else."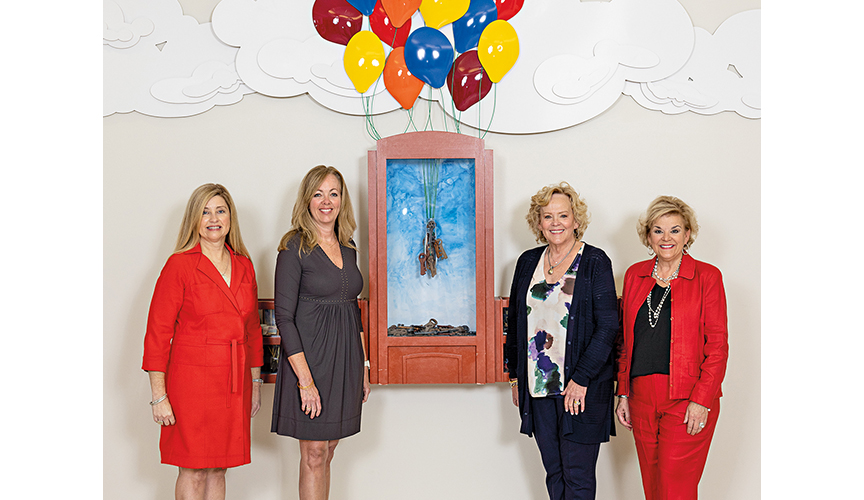 Sharing her family's story has not always been easy for Karen, yet it is the reason for her Le Bonheur Club career.
"My most memorable experience in the Club was when I told my story at a meeting for the first time," Karen said. "I had told individuals but I wasn't able to fully explain the story in front of a group without becoming extremely emotional. When I was finally able to share Brendan's journey at a Le Bonheur Club meeting, it was so therapeutic and I was blown away by the compassionate response I received from fellow Club members. Le Bonheur will always be a part of our family and an integral part of our story — Brendan still has the Beanie Baby he selected from Bunny Lane more than 20 years ago."
Le Bonheur Children's Hospital depends on the generosity of friends like you to help us serve 250,000 children each year, regardless of their family's ability to pay. Every gift helps us improve the lives of children.
Donate Now