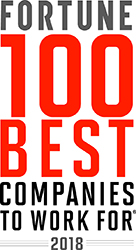 We strive to provide the most exceptional healthcare for all children. And for over 50 years, we have done just that. A staff of more than 1,800 Associates focuses on providing the best family-centered care for children throughout the Mid-South, Tennessee and across the country. Our reputation as a dedicated and compassionate community servant makes it the preferred place of employment for many healthcare workers.
Exclusively Pediatric
Everything about our children's hospital is designed especially for kids. From specially sized equipment to colorful artwork, red wagons and playrooms, our Associates understand the special needs of children and adolescents.
Patient and Family Centered Care
The goal of our Associates is to create partnerships with families that help children get better quicker. As part of the Le Bonheur family, you would work side by side with our pediatric professionals and with other parents to develop and carry out treatment plans that apply evidence-based medicine in a safe and supportive environment. With special touches like parent sleep rooms, "Dining on Call" and free WiFi, we allow the family to participate in the care of their child every step of the way.
Are you ready to join us?
Apply for a job at Le Bonheur
Visit our online career center and select "Le Bonheur Children's Hospital" from the list of Methodist Le Bonheur Healthcare facilities.