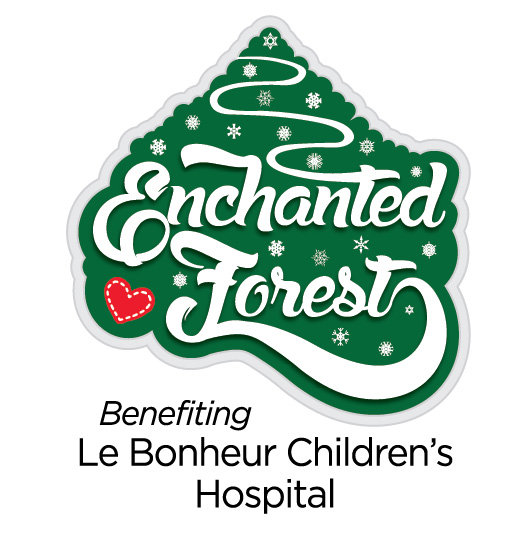 The Enchanted Forest Festival of Trees, benefiting Le Bonheur Children's Hospital, will run from Saturday, November 20 - December 31, 2021 at Museum of Science & History - Pink Palace.
Begin your visit with a stroll through the magical Festival of Trees that
fills the Pink Palace Mezzanine with beautifully decorated trees. Once
inside the exhibit, children of all ages will be charmed by the animated characters set in the magical snowy setting of The Enchanted Forest. Teddy bears beckon, elves are busy at work and penguins play in the snow. Be sure to check out the model trains and the spectacularly sweet gingerbread village as well. Finally, Santa cheerfully greets guests at the end of the Forest and poses for holiday photos. A perfect holiday tradition for the whole family to enjoy!
This year we are looking forward to keeping The Enchanted Forest tradition alive, however you will notice some important changes in response to COVID -19 precautions. Most notably, this year you will need to purchase a ticket in advance to reserve the date and time for your visit. Buy your tickets today. We will be limiting the number of guests per hour to abide by all indoor social distancing requirements. All guests over the age of 2 will be encouraged to wear a mask while in the exhibit. We ask that you please respect the social distancing guidelines that will be displayed throughout the exhibit and refrain from touching any part of the exhibit.
Tickets are selling quickly. Please purchase tickets online in advance to ensure entry to the Enchanted Forest.
Available dates & time slot options may be limited/sold out – especially during weekends.
Santa will still be joining us this year and he looks forward to receiving all of the children's lists and wishes, however, this too will be a little different this year. The Enchanted Forest will be presenting Santa in a snow globe this year! The snow globe (plexiglass) will keep Santa and our guests safe while still allowing him to hear the children and interact with them through the barrier. Guests will be seated on benches in front of the snow globe and will be allowed to remove their masks for the picture with Santa.
Unfortunately, due to COVID restrictions, we are unable to fly Santa in by helicopter this year but he is looking forward to visiting with everyone safely inside the exhibit.
General Dates
Saturday, November 20 - December 31, 2021
Closed Mondays and Tuesdays, Thanksgiving Day, Christmas Day, and December 26
Hours of Operation
Wednesday - Saturday: 10:30 a.m. - 5 p.m.
Sunday: noon - 5 p.m.
Box Office closes at 4:30 p.m.
Cost
Adult: $6
Seniors: $5
Children ages 3 -12: $5
Schools and Group Reservations
If your school or group is interested in visiting the Enchanted Forest all reservations must be made in advance through the Museum of Science & History - Pink Palace Box Office (901) 636-2362.
Museum of Science & History - Pink Palace
3050 Central Avenue
Memphis, TN 38111
901-636-2362
Festival of Trees
Click here to see our Festival of Tree winners.
Gingerbread Village
Click here to see our Gingerbread Village winners.
Penguin Pal
Learn more about how to donate to our Penguin Pal Program.
Picture with Santa
Come visit the Enchanted Forest and get your picture made with Santa. Packages start at $10 and all proceeds benefit Le Bonheur Children's Hospital. This year, in compliance with COVID-19 restrictions, Santa will be in his Santa House in a snow globe. Guests will be seated on benches in front of Santa's snow globe for a socially distant picture. Masks may be removed for the actual picture. This picture is sure to be one for the memory books!
---